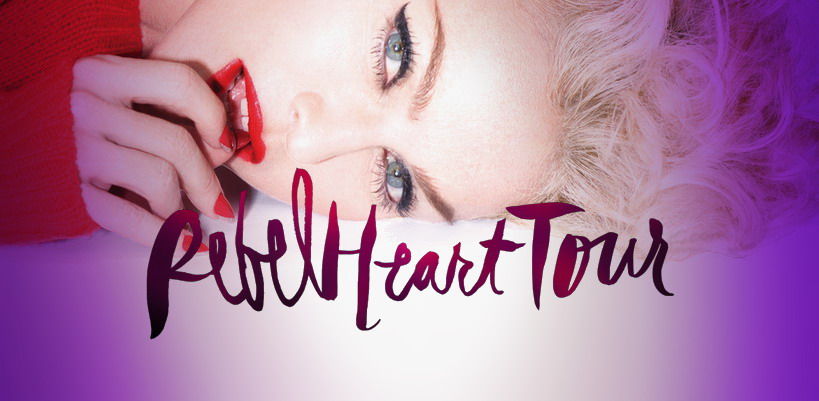 Join Madonna on stage at the Rebel Heart Tour in Sydney
During the past 7 months, Madonna saw a lot of amazing and funny Unapologetic Bitches joining her on stage.
If you think you got what it takes to be the #FinalUnapologeticBitch, post a video of you dressed for the show and showing your best dance moves to your Instagram along with the #FinalUnapologeticBitch hashtag. You may be selected to join her on stage during her March 19 & March 20 shows in Sydney! Good luck!!
Update #71: The Rebel Heart Tour will be professionally shot in Sydney!
Madonna today announced that she will film her Sydney Australia concerts at the Sydney Olympic Park NSW on March 19th and 20th. These are the final shows of her seven-month Rebel Heart world tour where Madonna has performed 80+ shows in over 20 countries.
Throughout the tour Madonna has pulled several actors, comedians, fans, fellow musicians and even a news anchor to the stage for a special dance as her "Unapologetic Bitch." This weekend in Sydney Madonna will choose a few fans as her "Unapologetic Bitches," all which will be documented by the taping this weekend.
Danny B. Tull and Nathan Rissman, both of whom have worked extensively with Madonna on her feature films and tour movies, will direct the live video which will be part of a larger project to be released at a later date.
Wanna be a part of it?
Get the last tickets HERE
—
Update #70: North America Rebel Heart Tour Box Scores – SOLD OUT
Madonna's Rebel Heart Tour Surpasses $100 Million Mark
Madonna takes the No. 2 slot on the latest Hot Tours roundup based on January ticket sales reported from her ongoing Rebel Heart Tour that covered North American and European markets during a 15-week span in the fall. The trek resumed on Jan. 6 following a two-and-a-half week break at the end of the year, opening with a two-show engagement at Mexico City's Sports Palace arena. Sold out shows in seven U.S. cities followed in January along with a two-night stint in San Juan, Puerto Rico at the end of the month.
Altogether during the first month of the year, the pop diva performed for just over 150,000 fans at 12 concerts, adding $19.3 million to her tour's overall gross that has now topped the $100 million mark. Since the Sept. 9 opening performance in Montreal, the Rebel Heart tour has reached $107.3 million in ticket sales at 61 concerts. A total of 819,792 fans have seen the tour in 14 countries through the end of January.
The latest box scores, courtesy of Billboard…
Jan. 6-7, 2016
Palacio de los Deportes – Mexico City, Mexico
Gross Sales: $4,537,609
Attend/Capacity: 31,696 /31,696 (SOLD OUT)

Jan. 10, 2016
AT&T Center – San Antonio, Texas
Gross Sales: $1,915,670
Attend/Capacity: 14,543 /14,543 (SOLD OUT)

Jan. 12, 2016
Toyota Center – Houston, Texas
Gross Sales: $1,671,630
Attend/Capacity: 11,604 /11,604 (SOLD OUT)

Jan. 14, 2016
BOK Center – Tulsa, Okla.
Gross Sales: $1,559,410
Attend/Capacity: 10,891 /10,891 (SOLD OUT)

Jan. 16, 2016
KFC Yum! Center – Louisville, Ky.
Gross Sales: $1,856,200
Attend/Capacity: 14,558 /14,558 (SOLD OUT)

Jan. 18, 2016
Bridgestone Arena – Nashville, Tenn.
Gross Sales: $1,430,485
Attend/Capacity: 11,569 /11,569 (SOLD OUT)

Jan. 20, 2016 – Philips Arena
Atlanta, Ga.
Gross Sales: $1,500,635
Attend/Capacity: 10,609 /10,609 (SOLD OUT)

Jan. 23-24, 2016
American Airlines Arena – Miami, Fla.
Gross Sales: $2,555,425
Attend/Capacity: 26,468 /26,468 (SOLD OUT)

Jan. 27-28, 2016
Coliseo de Puerto Rico Jose Miguel Agrelot – San Juan, Puerto Rico
Gross Sales: $2,352,219
Attend/Capacity: 18,539 /18,539 (SOLD OUT)

Madame X is available in Box Set, CD, Vinyl and Cassette!
Get your copy HERE!
comments powered by

Disqus