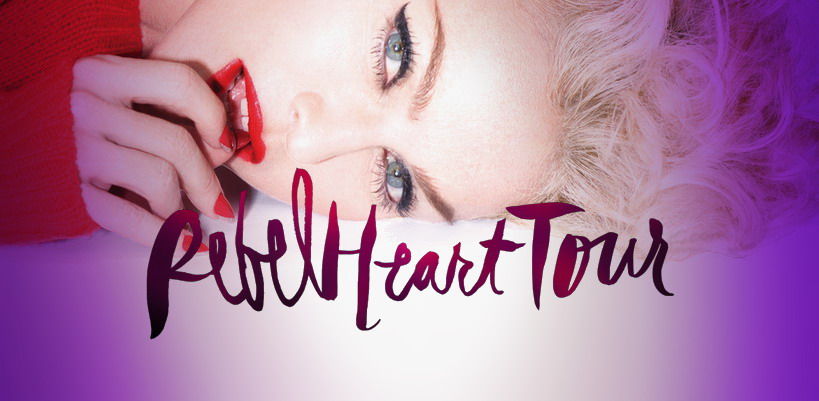 Update #69: European Rebel Heart Tour Box Scores – Part 3 – SOLD OUT
The final Rebel Heart Tour box scores are in and Billboard can confirm that the whole European leg was sold out!
Madonna heads up the weekly tally of Hot Tours, ranking No. 1 based on grosses from the final four venues of her Rebel Heart tour's European trek during November and December.
She wrapped the 16-city fall run in Scotland on Dec. 20 at Glasgow's 13,000-seat arena, SSE Hydro. Concerts at two more U.K. venues, Manchester Arena and Birmingham's Barclaycard Arena as well as the Swiss arena Hallenstadion in Zürich led up to the fall finale. Revenue from all four sold out performances totaled $7.5 million from 47,267 sold tickets.
The Rebel Heart tour's opening jaunts through North America and Europe amassed sold ticket revenue totaling $88 million during its 15-week span.
From 49 sold out concerts at 36 venues on both continents, overall 2015 attendance reached 669,315.
The numbers…
Dec. 12, 2015
Hallenstadion – Zurich, Switzerland
Gross Sales: $1,773,189
Attend/Capacity: 11,306 / 11,306 (SOLD OUT)

Dec. 14, 2015
Manchester Arena – Manchester, U.K.
Gross Sales: $2,342,186
Attend/Capacity: 14,177 / 14,177 (SOLD OUT)

Dec. 16, 2015
Barclaycard Arena – Birmingham, U.K.
Gross Sales: $1,863,342
Attend/Capacity: 12,119 / 12,119 (SOLD OUT)

Dec. 20, 2015
SSE Hydro – Glasgow, U.K.
Gross Sales: $1,574,416
Attend/Capacity: 9,665 / 9,665 (SOLD OUT)
Update #68: Madonna not allowed to perform 'Holy Water' in Singapore
Will Madonna be a true Rebel Heart and perform 'Holy Water' in Singapore?
Madonna will not be allowed to perform the song Holy Water at her upcoming first Singapore show at the National Stadium on Feb 28, says the Media Development Authority (MDA).
An MDA spokesperson says in a statement…
Madonna's upcoming Rebel Heart Tour concert has been rated R18 as it contains sexually suggestive content which is more suitable for adults.
This is reflected in the consumer advice so that the public can make an informed choice.
The concert organiser must comply with the terms of the license, which states that the concert should not contain content or materials which offend any race or religion, and that the performance overall must fall within the guidelines of the R18 rating.
Minor adjustments were made to ensure R18 licensing conditions could be met without compromise to the delivery of a first-rate and world-class performance.
The final running order and set list for the Singapore performance will be determined by the artiste and revealed at the show itself within the set guidelines.
In determining the rating, MDA had carefully reviewed the proposed setlist and consulted the Arts Consultative Panel. Religiously sensitive content which breach our guidelines, such as the song Holy Water, will thus not be performed in Singapore.
According to a statement from Live Nation Lushington, one of the parties involved in arranging the Madonna show for Singapore…
The artiste management and tour management worked closely with MDA on providing show, video and lyric content and the suggested set list for Singapore.
Update #67: Singapore date confirmed again
After announcing the Singapore Rebel Heart Tour date and removing it a day later from Madonna's official website, Mediacorp VizPro just confirmed Madonna is definitely coming to Singapore.
No date has been set yet…
After decades of waiting, your prayers will be answered. Madonna is coming to Singapore with her 'Madonna Rebel Heart Tour 2016'. Are you ready to catch her at the Singapore National Stadium?

Posted by Mediacorp VizPro on Monday, January 4, 2016
Ticket info…
Tickets go on sale on Tuesday, 12 January 2016, at 10AM.

Madonna Rebel Heart Tour 2016 – Singapore
Date: 28 February 2016, Sunday
Time: 8pm
Venue: National Stadium
Ticket Prices: VIP $1288 / $688 / $588 / $488 / $388 / $288 / $188 / $108 (excludes booking fee)

Madonna Icon Fan Club Pre-sale:
7 Jan (Thu), 10am to 8 Jan (Fri), 5pm

Citi® card members Pre-sale:
9 Jan (Sat), 10am to 10 Jan (Sun), 5pm

OCBC card members Pre-sale:
11 Jan (Mon), 10am – 5pm

Public sale:
12 Jan (Tue), 10am

Purchase Tickets via:
Online: www.sportshubtix.sg
Telephone Hotline: 3158 7888
On Site: National Stadium Box Office
Outlets: All SingPost Outlets

Please note that this concert is rated "R18″ with the consumer advisory on "Sexual References". Only those above 18 years of age will be permitted into the venue.
—
Update #66: European Rebel Heart Tour Box Scores – Part 2 – SOLD OUT
Billboard just announced the second batch of European Rebel Heart Tour box scores and they were all sold out!
Madonna leads Billboard's latest Hot Tours ranking with the newest reported box office sales data from her global trek.
The new Hot Tours tally includes grosses from 14 shows in eight markets during the European leg of the tour.
Box office revenue from all eight markets totals $22.6 million from 194,827 sold tickets at 14 performances. One venue, Turin, Italy's Pala Alpitour, hosted the pop legend for three shows (Nov. 19, 21-22). Arenas in four cities, Barcelona, London, Amsterdam, and Paris, brought in the tour for two nights.
Overall sales from the Rebel Heart Tour now total $80 million from 45 concerts during the first two legs of the tour, through Dec. 10.
622,048 fans have seen the tour since the opening jaunt through North America that ran from Sept. 9 until Oct. 29. The run through Europe followed, kicking off on Nov. 4 in Germany.
Billboard has received sales data from Europe through the two nights in Paris on Dec. 9 and 10. Revenue from shows in Zurich and three U.K. markets, Manchester, Birmingham and Glasgow, have yet to be reported from the fall leg.
The Rebel Heart Tour's European leg wrapped on Dec. 20 in Glasgow. The tour will restart in North America on Jan. 6 in Mexico City for a pair of shows, before swinging back to the U.S. for eight performances. Following that, Madonna will play Puerto Rico, a series of Asian countries, first-ever shows in New Zealand, and her first tour of Australia in over 20 years. The tour is scheduled to close on March 20, 2016 in Sydney.
Madonna's previous tour, the 88-show MDNA Tour, raked in $305 million in 2012.
Here are the official numbers …
Nov. 16, 2015
Jyske Bank Boxen – Herning, Denmark
Gross Sales: $1,000,551
Attend/Capacity: 12,263 / 12,263 (SOLD OUT)

Nov. 19, 21-22, 2015
Pala Alpitour – Turin, Italy
Gross Sales: $3,694,172
Attend/Capacity: 34,752 / 34,752 (SOLD OUT)

Nov. 24-25, 2015
Palau Sant Jordi – Barcelona, Spain
Gross Sales: $2,312,846
Attend/Capacity: 28,104 / 28,104 (SOLD OUT)

Nov. 28, 2015
Sportpaleis – Antwerp, Belgium
Gross Sales: $2,135,032
Attend/Capacity: 19,315 / 19,315 (SOLD OUT)

Nov. 29, 2015
SAP Arena – Mannheim, Germany
Gross Sales: $1,213,890
Attend/Capacity: 10,883 / 10,883 (SOLD OUT)

Dec. 1-2, 2015
O2 Arena – London, U.K.
Gross Sales: $4,861,403
Attend/Capacity: 28,670 / 28,670 (SOLD OUT)

Dec. 5-6, 2015
Ziggo Dome – Amsterdam, Netherlands
Gross Sales: $3,559,122
Attend/Capacity: 30,023 / 30,023 (SOLD OUT)

Dec. 9-10, 2015
AccorHotels Arena – Paris, France
Gross Sales: $3,868,967
Attend/Capacity: 30,817 / 30,817 (SOLD OUT)

Madame X is available in Box Set, CD, Vinyl and Cassette!
Get your copy HERE!
comments powered by

Disqus