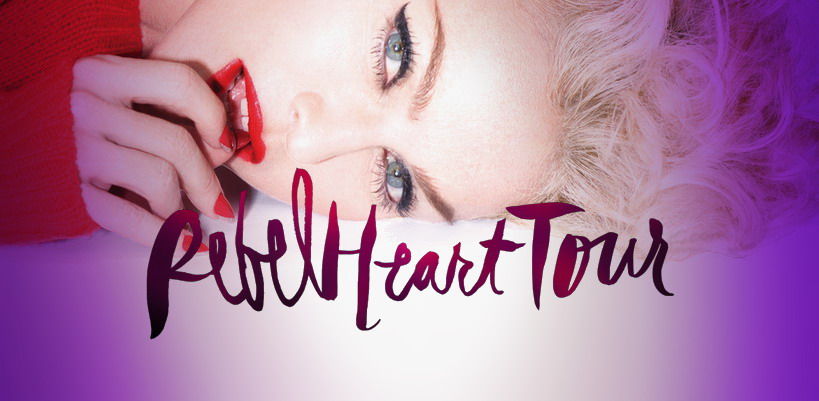 Update #65: Singapore concert date removed from tour schedule
The Singapore date has been removed from Madonna's official Rebel Heart Tour page and the following email has been sent out…
Dear Madonna Fan,

You recently received an email from us announcing a Madonna concert in Singapore. We regret to inform you that our information was inaccurate and that details on the show will be forthcoming.

If you have purchased an Icon Live Pass for this pre-sale offer, we will automatically refund your order; you do not need to do anything. We will send you a confirmation message once we cancel your transaction.

Thank you for your support of Madonna, and we will endeavor to improve our service to avoid such errors in the future.

Sincerely,
The Icon Team
Madonna.com
A representative from the official website said…
Once Madonna's Singapore concert details are finalised, all members will be sent an announcement with the proper on-sale schedule information.
—
Update #64: Madonna to perform in Singapore on February 28th
Madonna announced new Rebel Heart Tour date at the Singapore National Stadium in Singapore on 28 February 2016.
Lifetime Legacy members will receive first access to tickets starting Thursday, December 17 at 10am SGT. Icon Live Pass access begins at 11 am SGT.
—
Update #63: Brisbane Dates Changed to March 16th & 17th
Live Nation announced that due to scheduling changes, Madonna's Brisbane concert dates previously scheduled on Saturday, March 26th and Sunday, March 27th will move ahead one week with the revised dates changed respectively to Wednesday, March 16th and Thursday, March 17th. There is no change to the venue which remains the Brisbane Entertainment Centre.
Tickets for the Brisbane concert previously scheduled on March 26th will be valid at the Wednesday, March 16th event. Tickets for the Brisbane concert previously scheduled March 27th will be valid at the Thursday, March 17th event.
Current tickets are valid for the corresponding rescheduled dates and do not need to be exchanged.
Any ticket holders unable to attend on the new rescheduled dates must contact Ticketek before 5pm on Monday February 1st, 2016, to arrange a full refund (including your ticket insurance premium, if relevant). Visit Ticketek on www.ticketek.com.au or call 132 849 for more details.
There are options for fans that have purchased flights with Live Nation partners Qantas and Jetstar with a Qantas Group spokesperson saying, "Qantas and Jetstar are offering Madonna fans the opportunity to change their flights without incurring fees. Changing your booking is quick and easy, ring 13 13 13 for Qantas or 131 538 for Jetstar or your travel agent."
—
Update #62: Madonna starts show 1h late, calls angry fans "diva bitches" and cuts setlist short
Madonna has hit out at fans who complained about her taking to the stage an HOUR late for her Manchester Arena show calling them "diva b******s".
She launched an angry rant at fans who booed her after she was delayed on stage because of a problem with the video system in the arena.
She explained her lateness in a foul mouthed rant at the crowd saying…
The video crashed. We had no video and we had to wait until we could reboot.
No selfish diva b**** reason.
If you diva b****es want to keep complaining about it don't come to my show.
An earlier announcement was made that the show wouldn't end until 11.30pm, according to reports from irate fans inside the venue.
The situation, according to the announcement, was 'beyond the artist's control'. There were reports of loud booing and people walking out.
However, the artist did not appear to the stage until shortly after 10pm.
The show subsequently ended abruptly with no encore after because of the technical hitch that left her an hour late to the stage.
The gig is Madonna's only show in the north west of England as part of her Rebel Heart Tour.
Setlist…
Iconic
B***h I'm Madonna
Burning Up
Holy Water" (contains excerpts from "Vogue")
Devil Pray
Messiah (video interlude)
Body Shop
True Blue
Deeper and Deeper
HeartBreakCity (contains excerpts from Love Don't Live Here Anymore)
Like a Virgin (contains elements of Heartbeat and Justify My Love)
S.E.X. (video interlude contains elements of Justify My Love)
Living For Love
La Isla Bonita
Open Your Heart
Dress You Up / Into the Groove/ Everybody/ Lucky Star / Dress You Up (Reprise)
Who's That Girl
Rebel Heart
Illuminati (video interlude)
Music (contains elements of Give It 2 Me)
Candy Shop
Material Girl
Source: Manchester Evening News
—
Update #61: Multi-angle videos added
Check out these great multi-angle videos created by fans.
Definitely check it out…

Madame X is available in Box Set, CD, Vinyl and Cassette!
Get your copy HERE!
comments powered by

Disqus