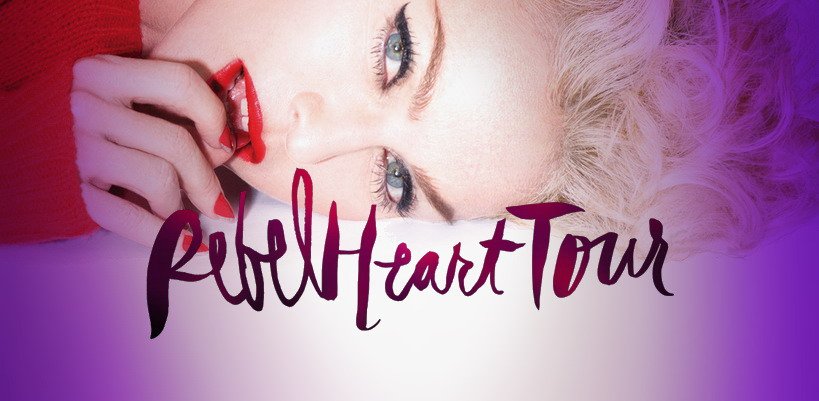 Update #55: Backstage look at the Rebel Heart Tour with Swarovski
—
Update #54: Multi-angle videos added
Check out these great multi-angle videos created by fans.
Definitely check it out…
Get your tickets HERE!
—
Update #53: Second Hong Kong concert sells out in 30 minutes
All tickets for Madonna's second concert in Hong Kong on February 18 again sold out within 30 minutes of going on sale at 10am on Friday, in a repeat of the earlier rush for tickets for her first performance on February 17.
Concert organisers Live Nation Lushington (Hong Kong) said more than 20,000 tickets were put on sale for the shows at AsiaWorld-Arena. The concerts are believed to have sold out faster than any others in Hong Kong.
On Wednesday a second Madonna concert was added in Bangkok for February 10 after all tickets to the initial February 9 show in the Thai capital sold out in less than an hour. The Bangkok shows will be staged at the city's 15,000-seat Impact Arena.
—
Update #52: New Rebel Heart Tour Support Artists Announced
Madonna today announced that Montreal born producer and DJ Lunice will open the Rebel Heart Tour dates in Edmonton on October 11th and 12th at Rexall Place, and Las Vegas on October 24th at MGM Grand Garden Arena. A disciple of hip hop, Lunice is an international sensation – overthrowing the live arena everywhere he goes with his unique style and approach to music.
Additionally, Los Angeles-based DJ, producer and pop artist Michael Diamond will open more dates on the Rebel Heart Tour including San Jose on October 19th at SAP Center and Glendale on October 22nd at Gila River Arena. Diamond who is a producer on Madonna's heralded Rebel Heart album has already wrapped a support slot in five cities with the Material Girl including Boston, Philadelphia, Chicago, Atlantic City, and Toronto.
—
Update #51: Rebel Heart Tour Box Scores – SOLD OUT
Madonna does it again!
The first 10 Rebel Heart Tour concerts were all sold out!
Here are the exact numbers, courtesy of Billboard…
Sept. 9-10, 2015
Montreal, Quebec
Gross Sales: $3,420,984
Attend/Capacity: 26,468 / 26,468 (SOLD OUT)

Sept. 12, 2015
Washington, D.C.
Gross Sales: $2,014,706
Attend/Capacity: 13,271 / 13,271 (SOLD OUT)

Sept. 16-17, 2015
New York, N.Y.
Gross Sales: $5,230,985
Attend/Capacity: 28,371 / 28,371 (SOLD OUT)

Sept. 19, 2015
Brooklyn, N.Y.
Gross Sales: $2,789,910
Attend/Capacity: 14,258 / 14,258 (SOLD OUT)

Sept. 21, 2015
Quebec City, Quebec
Gross Sales: $1,078,608
Attend/Capacity: 13,051 / 13,051 (SOLD OUT)

Sept. 24, 2015
Philadelphia, Pa.
Gross Sales: $1,434,010
Attend/Capacity: 10,544 / 10,544 (SOLD OUT)

Sept. 26, 2015
Boston, Mass.
Gross Sales: $1,941,750
Attend/Capacity: 12,780 / 12,780 (SOLD OUT)

Sept. 28, 2015
Chicago, Ill.
Gross Sales: $2,522,365
Attend/Capacity: 14,026 / 14,026 (SOLD OUT)

Madame X is available in Box Set, CD, Vinyl and Cassette!
Get your copy HERE!
comments powered by

Disqus