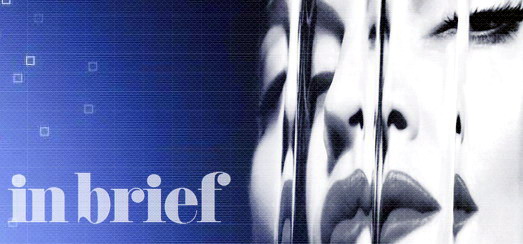 Girl Gone Wild remixes
The Girl Gone Wild Remix EP is available on iTunes USA and iTunes Canada.
Tracklist…
Girl Gone Wild (Avicii's Umf Mix) – 5:16
Girl Gone Wild (Dave Audé Remix) – 8:05
Girl Gone Wild (Justin Cognito Remix) – 4:48
Girl Gone Wild (Kim Fai Remix) – 6:33
Girl Gone Wild (Lucky Date Remix) – 5:06
Girl Gone Wild (Offer Nissim Remix) – 6:49
Girl Gone Wild (Dada Life Remix) – 5:15
Girl Gone Wild (Rebirth Remix) – 6:49
Guy Oseary sets the record straight on Twitter
It seems Guy Oseary had enough of all the wrong MDNA data being written and reposted by magazines and websites.
He tweeted…
Gossip writer out to attack today with full disregard. MDNA U.S. tour is 97 percent SOLD OUT with many months to go THANKS to the fans #FACT

MDNA album reached number 1 on the charts in 37 countries worldwide.. THANKS to the fans.. and 40 markets on iTunes… #FACT
"Truth or Dare by Madonna" website
The official "Truth or Dare by Madonna" website has been launched: www.truthordaremadonna.com
Dick Clark Dies At 82
"Even though I told him in 1984 that I wanted to rule the world, it's Dick Clark who ruled the world. He loved what he did and his energy and enthusiasm were boundless. A great man. I bow to his memory and everything he did with his life." – Madonna
Nicki Minaj: Kissing Madonna Was The Strangest Thing
Nicki Minaj was stunned and trembling when Madonna planted a kiss on her lips during a video shoot, insisting she was convinced it was a dream.
She teamed up with Madonna to film a video for their track "Give Me All Your Luvin'" in December, just days ahead of Minaj's 29th birthday.
Madonna shocked the star by presenting her with a cake and kissing her full on the lips as an early birthday gift – and Minaj admits the saucy surprise left her speechless.
Read what she told Graham Norton.
Madonna photograph by Steven Meisel on auction
An incredible photograph of Madonna by Steven Meisel is currently for sale on Bonhams, one of the world's largest auctioneers of fine art and antiques.
All the details…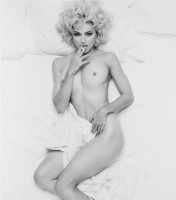 AskBillboard's columnist, Gary Trust answers Madonna question
Ask Billboard is updated every week. People submit their questions about Billboard charts, sales and airplay, as well as general music musings.
The latest Madonna question: WHAT IS GOING ON WITH MADONNA?
Read more…
Paul van Dyk: At her age Madonna should know better!
After Madonna's speech at the Ultra Music Festival in Miami, many in the DJ community criticised Madonna. Paul van Dyk told Billboard it was "the biggest mistake of her career".
He's back, this time it's the Vancouver Sun who interviewed him.
Read more…
Sexiest pin-ups in music ever
The LA Weekly compiled a list of the sexiest pin-ups in music ever. Madonna came 7th.
Speaking of women who don't age, Madonna has to take the cake. The Queen of Pop has had an iconic career spanning over three decades and she's been a pin-up all through, right down to the present. And yes, she's 53!
Full list…
1. Shakira
2. Britney Spears
3. Debbie Harry
4. Beyonce
5. Avril Lavigne
6. Shirley Manson
7. Madonna
8. Liz Phair
9. Sheila E
10. Jennifer Lopez
11. Taylor Swift
12. M.I.A.
13. Nico
14. Stevie Nicks
15. Gwen Stefani
16. Joan Jett
17. Brody Dalle
18. Courtney Love
19. Grace Jones
20. Samantha Fox
Madonna charity reaffirms commitment to Malawi
American pop diva Madonna's Malawi charity on Friday pledged to continue its work as the country makes a new beginning under President Joyce Banda.
Raising Malawi said in a statement…
This is a critical time for Malawi as President Banda attempts to steer Malawi back toward more successful times. It is also a crucial moment for the friends of Malawi to continue to show their support.
Raising Malawi remains a committed friend to Malawi and has expanded support in 2012 into the area of education.

Madame X is available in Box Set, CD, Vinyl and Cassette!
Get your copy HERE!