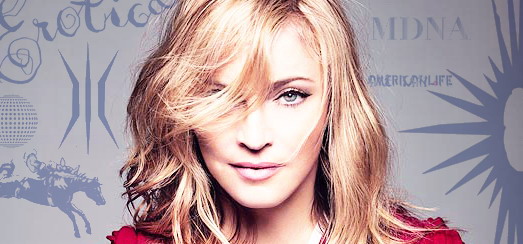 Ask Billboard is updated every week. People submit their questions about Billboard charts, sales and airplay, as well as general music musings.
Today, a question about Madonna was answered…
Question was WHAT IS GOING ON WITH MADONNA?
Hi Gary,
I'm sure that you have followed Madonna for years. I am a huge fan, but I have to ask you, what is going on with her musical career? There was such a great amount of anticipation for "Give Me All Your Luvin," the first single from her new album, "MDNA," highlighted by her Super Bowl performance. I was so excited.
I have to say, though, how disappointed I am with both "Luvin' " and new single "Girl Gone Wild." I really do like "MDNA," but I don't understand why she released singles that sound dated while the rest of the album has such modern/futuristic-sounding songs. I wish "I'm Addicted" or "Turn Up the Radio" were the first two singles. Madonna was always at the forefront, even in recent years with "American Life," "Confessions on a Dance Floor" and "Hard Candy."
I'm not happy. Please advise.
Thanks,
Gus Tornatore
Glen Head, New York
Here's the answer from AskBillboard's columnist, Gary Trust…
Hi Gus,
A new Madonna album feels like a visit from an old friend, doesn't it? After 30 years, it's always exciting to see what chapter she adds to her storybook career.

I can see why there might be some disappointment with "MDNA," as "Luvin' " departed the Billboard Hot 100 after just six weeks. Still, it became her record-extending 38th Hot 100 top 10. "Wild" has yet to dent the Hot 100, although it has become her likewise record-padding 42nd No. 1 on Dance/Club Play Songs.

Enough with the numbers, though. Pure opinion? "Luvin' " is, to me … ok. I really like the verses but I don't think that the chorus is among her best. I like "Wild" a lot more, although it took a few listens. Once the "hey-hey-hey" hook got stuck in my head, I was hooked.

Not sure I'd agree that "Luvin' " and "Wild" weren't smart single choices, as radio seems to be on-board with the picks. After "Luvin' " reached No. 24 on Billboard's Nielsen BDS-based Pop Songs chart, "Wild" looks set to debut when the list is updated on Monday (April 16). If "Wild" charts, Madonna will have sent two singles from the same album onto Pop Songs for the first time in more than a decade. She last did so with "Music," when the title cut and follow-up "Don't Tell Me" reached Nos. 2 and 4, respectively, in 2000-01.

After listening to "MDNA" for a couple weeks, I'd rank my favorite cuts in this order: 1, "Superstar" (hooky and poppy, like the bulk of her '80s smashes); 2, "I F**ked Up" (so catchy that if not for, you know, its title, it could be an AC hit; odd that it's included only on the album's deluxe edition second disc); 3, "Wild"; 4, "Masterpiece" (a pretty ballad and another possible AC hit); and 5, "Love Spent" (especially the second half, when the song takes an especially melodic turn).

How do I think "MDNA" stacks up among Madonna's 12 studio albums? Why not rank them? Here's how I would (and will!) count 'em down:

12, "Erotica," 1992
A little too heavy on grooves, as opposed to hooks, for me, although "Rain" is one of my favorite Madonna singles.

11, "Bedtime Stories," 1994
Again, her mid-'90s segue to R&B-lite meant a move away from her core pop sound. Still, "Take a Bow" and "Love Tried to Welcome Me" show off her talents in a slightly different style.

10, "Hard Candy," 2008
Twenty-five years after her first pop hit, Madonna hit No. 5 on Pop Songs with "4 Minutes."

9, "MDNA," 2012
As of now, this rank seems right. Nothing wrong with that, considering the strength of her catalog.

8, "Like a Virgin," 1984

7, "Madonna," 1982
These albums would perhaps be higher on my list if I had been following Madonna's career at the time. (Second-through-fourth grade schoolwork, Wiffle Ball and "Krofft Superstars" came first back then.) Both sets, of course, feature her early pop hits, of which "Dress You Up" remains my favorite.

6, "American Life," 2003
Although it was light on hits – "Life" remains her only studio set not to have produced a Hot 100 top 10, as insightful Chart Beat reader Rich Signorelli recently pointed out – radio may have missed one: the hypnotic, acoustic-driven pop/gospel "Like a Prayer"-like "Nothing Fails."

5, "Confessions on a Dance Floor," 2005
I really liked all four of the set's singles, especially "Sorry," which, again, radio might've been smart to have considered more seriously.

4, "Music," 2000
In retrospect, the title track is reminiscent of Justin Timberlake's "SexyBack," a hardcore dance song that eventually sounded at home on pop radio. It became Madonna's 12th and most recent Hot 100 No. 1.

3, "True Blue," 1986
As a pure pop fan, I'm drawn to Madonna's hits that sound so effortlessly written. For all the buzz over the years regarding her image, fashion and controversial religious imagery, it's easy to overlook her songwriting skills. "Live to Tell," "Open Your Heart" and "La Isla Bonita" still stand out, with the lattermost song seemingly influencing her next single, "Who's That Girl" with its Latin pop touches. ("Girl" remains my favorite Madonna song overall.)

2, "Like a Prayer," 1989
Beyond the title track and "Cherish," semi-hit (No. 20) "Oh Father" and album tracks "Till Death Do Us Apart" and "Dear Jessie" further exhibited Madonna's songwriting strength (with credit, as well, to her longtime writing collaborator Patrick Leonard).

1, "Ray of Light," 1998
After the birth of daughter Lourdes in 1996, Madonna's music, with the assistance of William Orbit, mingled with new age. "Frozen" and "The Power of Goodbye" (a co-write with Rick Nowels) show, again, her ability to succeed in so many styles. A recent Twitter exchange between Madonna and Katy Perry revealed Madonna's affinity for the album. " @MadonnaMDNAday which evolution of you in your career has been your favorite/most fulfilling, besides the present?" Perry posed. " @katyperry Ray of Light. That was a good moment," Madonna responded. ("I wanna see you in the front row somewhere this year. okay?," she added.)
What about the fans…
What about YOU?
WHAT'S YOUR TOP 12 MADONNA ALBUM?
Let us know…

Madame X is available in Box Set, CD, Vinyl and Cassette!
Get your copy HERE!