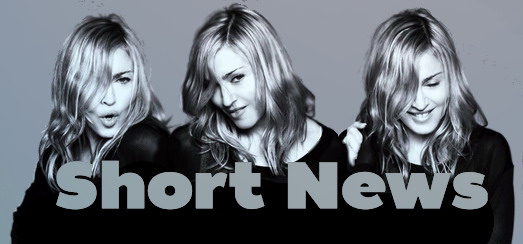 "The Man Behind the Throne" Documentary comes to New York
The documentary "The Man Behind the Throne" directed by Kersti Grunditz about choreographer Vincent Paterson features some never-before seen rehearsal footage of Madonna's Blond Ambition Tour, including "Keep it Together", "Like a Virgin" and "Oh Father".
The movie will be shown at the Walter Reade Theater in New York on Monday, February 3rd, as part of Dance on Camera 2014.
Details and tickets available at filmlinc.com
Here is the official trailer…
Miley Cyrus talks Madonna
During an interview with the New York Times, she talked about her VMA performance and mentioned Madonna…
Last night, I was talking about some Madonna performances, and I said, "At some point, everything becomes irrelevant." Like, no one even thinks about when she did "Like a Virgin" at the V.M.A.s. That just becomes a standard, where it's just like, "Oh, that's her thing." So, I feel like now that I did the V.M.A.s, that just kind of became a standard for me, and then anytime I do anything else, they're like, "Miley kept it tame tonight."
Madonna to celebrate New Year in Gstaad?
According to Page Six, Madonna will be spending the holidays once again in Gstaad, Switzerland, with designer Valentino.
Sources tell us Madonna, newly single after breaking up with her boy toy Brahim Zaibat, planned to spend the holidays and celebrate New Year's in the ritzy ski resort, along with her daughter Lourdes. We're told Valentino has been prepping for her arrival by decking out three four-story-tall trees in white and golden lights. Local sources said he's also throwing his annual New Year's Eve party, which will climax with fireworks over the mountains. On Christmas Eve, the ever-tanned "emperor" and his partner, Giancarlo Giammetti, were spotted toy shopping for friends' kids. When a pal suggested the designer try out one of the hula hoops he was buying for one of the children, Valentino laughed and declined, saying he "only hula-hoops at home." Also spotted in Gstaad was jeweler Laurence Graff pushing a stroller with his girlfriend.
Ariana Grande wants Madonna's muscles
Madonna NYC83 by Laura Itzkowitz for Untapped Cities
Laura Itzkowitz took some incredible pictures at the Richard Corman exhibition at the Milk Gallery in New York. Originally set to run until December 15, the show has been extended until December 21.
For more pictures, check out Untapped Cities.
Who the F**k is Arthur Fogel? to premiere on EPIX
Premium entertainment network EPIX announced that "Who the F**k is Arthur Fogel?" will make its World Premiere on Wednesday, January 29, at 8PM ET.
The documentary premiered at the 2013 Toronto International Film Festival in March, the same festival where Madonna showed her W.E. movie in 2011.
"Who The F**k Is Arthur Fogel" pinpoints the turning point in Live Nation Entertainment CEO Arthur Fogel's career — and the global touring business — and has been directed by Fogel's lifelong friend Ron Chapman.
Check out this very interesting teaser…
Secret Project Revolution in Vigo, Spain
Projection of Madonna and Steven Klein's #secretprojectrevolution film in Vigo, Spain, November 16th, 2013.
For more videos of the various #SecretProjectRevolution screenings around the world, click HERE!
Baby loves Madonna!
Cute, funny or just cruel? What do you think?
Jo Kwon performs Vogue at Seoul Concert

Wood Madonna Art Piece

Madame X is available in Box Set, CD, Vinyl and Cassette!
Get your copy HERE!