Vote for Madonna at RCFA's "Best Dressed Of The Year 2013"
The Red Carpet Fashion Awards takes a look back at 2013 and choses their "Best Dressed Of The Year 2013".
Go HERE and vote for Madonna in Givenchy at the MET Gala.
In case you forgot, here is a reminder…
Voting closes late on Friday December 20, with the results published on Monday and Tuesday next week.
Thanks Mark Joseph Yumang
Madonna spotted at Stanton Social
According to Gotham Magazine, Madonna dined at Stanton Social with a party of six that included her daughter Lourdes on December 11th. She wore a sleeveless white top, while Lourdes and rest of the group wore sweaters and jeans. The order: tuna poke, shishito peppers, veggie sliders, quesadilla, butternut squash ravioli, and mac & cheese. Dessert was mousse, a pumpkin sundae, donuts, cheesecake, and hot chocolate milk shots. Time to open the front button on your jeans, everyone.
New "Drowned World" remix by William Orbit
Madonna Official Store Discounts & Free Shipping
For a limited time only – spend $50 in the Madonna offical store and receive Free Standard shipping!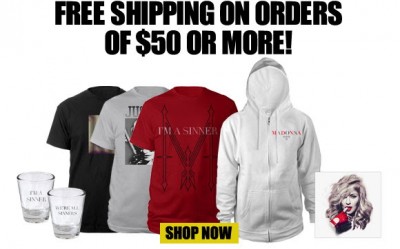 If you're an Iconer, go check your emails for a special discount-code on the lithographs
Iconers Exclusive!
For a limited time only — all lithographs in the Madonna official store are just $25! Plus receive Free Standard shipping on your order of $50 or more!

To receive your special litho pricing: first login to madonna.com, then click the STORE link in the navigation.

Use the code that's included in the email at checkout for free shipping.
Both offers are valid until 12/25/2013 @ 11:59 PM PST.
Madonna's rep confirms split with Brahim Zaibat
According to Us Weekly, Madonna's rep has confirmed that she has split from her boyfriend Brahim Zaibat after three years of dating.
A source also told them…
It ran its course. They were dancing and working together all the time and then they barely saw each other.
Lola as Betty Rizzo
Madonna attended the LaGuardia High School's production of 'Grease' in Manhattan on Friday, in which her daughter Lourdes takes on the role of Betty Rizzo.
Pictures and video HERE.
Material Girl posted an exclusive selfie from Lola backstage!
Madonna's pal Ondine Massot passed away Madonnarama reader Chad Siwik just informed us that Ondine Massot, Madonna's pal from the 70s passed away after battling cancer.
It is with much sadness that I inform you Ondine Massot passed away at 11:05 Friday morning, December 6th, peacefully in her sleep. She was in no pain and will be cremated, as she wished. Anyone who knew Ondine would tell you she was a bright light who shone with generosity, love, charisma and grace. R.I.P. Ondina Massot June 20th 1949 – December 6th, 2013
Here she is on Hard Copy talking about Madonna…
Ondine wrote her abbreviated biography on June 21st, 2013.
Madonna appeals "Frozen" plagiarism ruling Today, Monday December 9th, the appeal process in the "Madonna Frozen trial" has started at the Court of Appeal in Mons, Belgium. Back in 2005, the Belgian composer Salvatore Acquaviva won a plagiarism case against Madonna over the song "Frozen", claiming that it resembled too much to his own song "Ma vie fout le camp." The judge ordered to withdraw "Frozen" from sale in the country. He also ordered the record companies to get radio and TV stations in the country to stop playing the song. The case should have started a lot sooner, but the appeal was halted due to a third party, French composer Edouard Scotto Di Suoccio, who claimed that both songs were based on his own composition "Bloodnight" released in 1983. According to one of Madonna's lawyer, all three songs were compared at the new trial in Paris and any similarities were dismissed. This new ruling is used as one of the arguments for the appeal. One of Madonna's advocates also added…
"Frozen" was composed by Patrick Leonard in 1996. He presented it to Madonna, who then revised it and added lyrics. Madonna only had a small part in the composition. So we're not speaking of a "Madonna trial" here.
When Benedict Cumberbatch met Madonna In a recent interview with GQ, "The Hobbit: The Desolation of Smaug" actor Benedict Cumberbatch mentions his strange meeting with Madonna…
She said, 'You're the one with the strange name'. I said, 'Yes, I am, Madonna'
MAD for Madonna Documentary
Matteo Maccarinelli's "MAD for Madonna" documentary is still accepting applications.
Deadline: December 16th 2013.
For more details…
Michel Altieri – Burning Up

Madame X is available in Box Set, CD, Vinyl and Cassette!
Get your copy HERE!