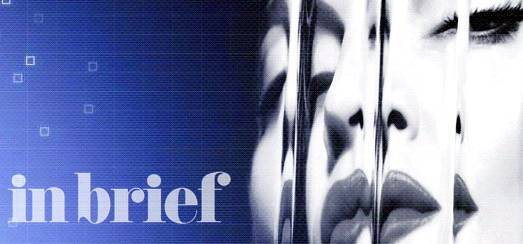 MDNA Tour Blues?
Do you miss the MDNA Tour and do you want to relieve the expierence?
Head on over to the MDNA Tour page that includes over 14,400 pictures, plenty of videos and reviews!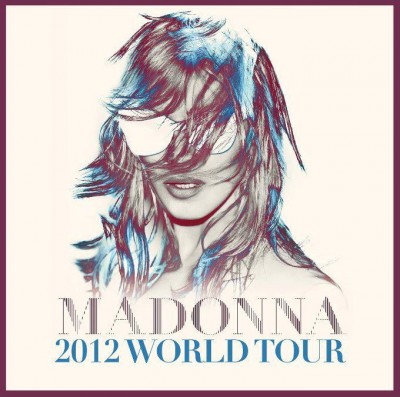 Larry Gagosian reminisces about the days Madonna was his driver
He's long been thought of as the most powerful man in the art world but even in his early days Larry Gagosian attracted star quality.
Kim Gordon from Sonic Youth was his first framer as he set up his fledgling poster business. And when he started making his living as an art dealer, Madonna was his driver.
Talking to Interview magazine, he recalls the time that his artist-client Jean-Michel Basquiat came to live with him in LA and dragged his girlfriend along.
He said, 'Her name is Madonna and she's going to be huge… So Madonna came out and stayed for a few months and we all got along like one big, happy family… I lost my license at one point and Madonna actually became our driver for a while.

Madonna drove us around! But she was no joke. Even then you could see the discipline and focus and ambition. She'd go running every morning. She'd do yoga. She'd be on the phone with her people. You got the sense she was serious. I wouldn't say that we're really friends anymore, but whenever I see her, we have this nice history.
New Jean Paul Gaultier Ad
Jean Paul Gaultier revealed the first ad of his Spring/Summer 2013 campaign shot by Sebastien Kim featuring Ginta Lapina as Madonna and other breakthrough stars on the modeling scene as David Bowie, Grace Jones and Boy George…
Models: Ginta Lapina, Hannelore Knuts, Jeneil Williams, Maria Kashleva
Hair: Diego Da Silva (Tanager)
Makeup: Lloyd Simmonds (Carole)
Art Direction: Babeth Djian
Photographer: Sebastian Kim (Jed Root)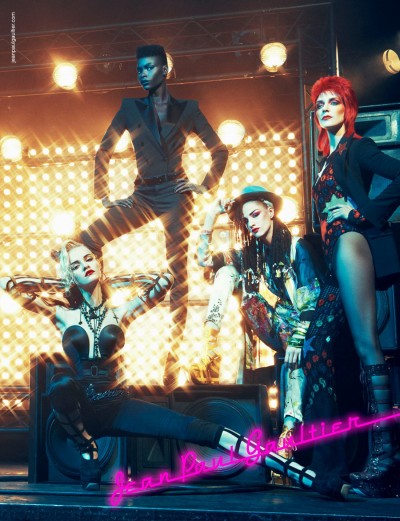 Source: Design Scene
The Confessions Tour in HD
The Confessions Tour will be broadcasted in HD this Sunday, January 13th, on MTV Live HD at 00h00 and 22h00 CET!

Tom Kelly, Acclaimed Songwriter, speaks on Writing "Like a Virgin" for Madonna
SPIN Magazine's 20 Best Pop Albums of 2012
SPIN names Madonna's MDNA the #13 Best Pop Album of 2012…
It's not her breakup album (that was Hard Candy). It's not her return to the club (that was Confessions on a Dance Floor). It's not her midlife crisis (that was American Life). Madonna's 12th studio album didn't fit neatly into a box, so too many folks didn't pause to figure it out. Their loss: MDNA is cheeky and glitchy and more fun than a flotilla of Nicki Minajs barking "I'm a business-woman!" If you can't hear Madge winking her way through EDM stunners "Girl Gone Wild" and "Some Girls," or retro bouncers "Give Me All Your Luvin'" and "I'm a Sinner," you're letting your assumptions about the Queen's reign speak louder than her still-solid studio work. C.G.
Music by Alisa from Vladivostok (Russia)
Thanks Aleks
Italian "Swept Away" Actress Mariangela Melato Dies at 71
Mariangela Melato, the Italian actress best known for her role as a high-maintenance prima donna in Lina Wertmuller's 1974 adventure comedy Travolta da un insolito destino nell'azzuro mare d'agosto (Swept Away), died Friday in Rome from complications related to pancreatic cancer. She was 71.
Hailed as one of Italy's most eclectic and versatile theater actresses, Melato also played the villain General Kala in Mike Hodges' sci-fi thriller Flash Gordon (1980) and starred opposite Ryan O'Neal in the comedy So Fine (1981). But the blonde star remained best known for her portrayal as the marooned socialite who falls for a common sailor, played by Giancarlo Giannini, in Swept Away.
The film was remade with Madonna in Melato's role for 2002's Swept Away, directed by Guy Ritchie.
Madonna Lists Her Beverly Hills Home for $22.5 Million
Just two months after Madonna listed her Manhattan duplex for $23.5 million, she's put her Beverly Hills home on the market at a slightly more $22.5 million!
The 17,000 square-foot home sits on a generous 1.17 acres of some of the priciest property in the country, smack in the middle of Beverly Hills.
The estate features 9-bedrooms, 15-bathrooms, two dining rooms, a screening room, assistant's offices, a gym, two guest houses and a resort-style pool with a cabana, of course.
Thanks @BaloneyZ

Madame X is available in Box Set, CD, Vinyl and Cassette!
Get your copy HERE!