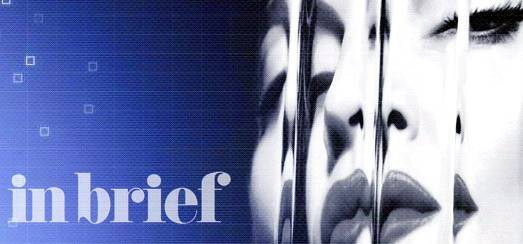 Backstage at the MDNA Tour
The Material Girl team has been provided with NEVER BEFORE SEEN pictures of the "quick change area" under the stage for the MDNA tour! These pictures are the from the last United States MDNA show in Miami, Florida. We had so much fun hanging out with M and her dancers behind the scenes. Take a look!
Three Madonnas Take Centre Stage at Madame Tussauds
Madame Tussauds London has revealed a brand new wax figure inspired by Madonna's recent MDNA Tour, which will be joined – for THREE WEEKS only – by two more new figures of the legendary performer in 'Sticky and Sweet' style and 'Like a Virgin', before they take up residence at the new Madame Tussauds Tokyo in March 2013.
PR Manager Nicole Fenner said…
This is a first time we have ever launched three different figures of one performer here at Madame Tussauds London, so it's a very special event.
We are very lucky to be able to bring together these three extremely striking portrayals of one of the most influential and iconic contemporary music artists of all time and we know fans are going to relish the opportunity to meet not one BUT three Madonnas. But our two Japanese bound figures will be with us only until Thursday January 3, so those who want to see her in triplicate should make plans to do so now!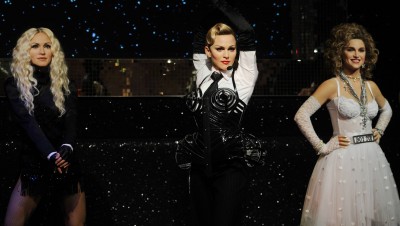 Sean Penn about marriage: I've Never Been Loved!
Apparently Sean Penn, who was married to Madonna from 1985-1989 and Robin Wright from 1996-2007, talked about his failed romances, in a new interview with Esquire.
He said…
There is no shame in my saying that we all want to be loved by someone.
As I look back over my life in romance, I don't feel I've ever had that.
I have been the only one that was unaware of the fraud in a few of these circumstances blindly.
When you get divorced, all the truths that come out, you sit there and go, 'What the f–k was I doing? What was I doing believing that this person was invested in this way?' Which is a fantastically strong humiliation in the best sense.
It can make somebody very bitter and very hard and closed off, but I find it does the opposite to me.
Despite his apparent angst toward his exes, Penn was recently panting over Madonna from the front row of her Staples Center concert.
The new MDNA "Red Lips" long sleeve tee
Let's celebrate the South American leg of the MDNA Tour with this new "Red Lips" Long Sleeve Tee! Order your copy now and receive FREE shipping with orders $50 & up (€45/£35) with this coupon code: MDNFREESHIP12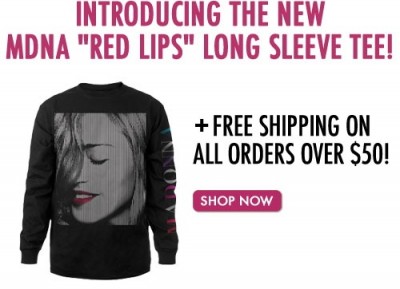 (Free shipping offer is valid through December 17, 2012 @ 11:59pm PST.)
Madonna's Brother Christopher Ciccone Admits They Are 'Finally In A Good Place'
Madonna's brother Christopher Ciccone has spoken out about their relationship to In Touch, saying that things between them are now fine and they're 'in a good place.'
He says…
"She's been on the road, so we email each other.
I actually went to see her recent show in LA.
It was great.
I can't imagine that she's still working that hard.
It's amazing.
We have a strictly brother-sister relationship right now."
Madonna at AfroReggae
We already posted the pictures of Madonna in Rio de Janeiro attending the AfroReggae. Here's a video..
Larry Gagosian on Madonna
In last month's issue of Interview magazine, gallery tycoon Larry Gagosian gives a rare interview to the magazine's publisher.
He even mentioned Madonna when asked about Jean-Michel Basquiat…
Interview: Jean-Michel Basquiat lived at Gagosian's home in Los Angeles for a year. He also brought along a special guest named Madonna.
Larry Gagosian: One day Jean-Michel said,"My girlfriend is coming to stay with me." I was a little concerned — one too many eggs can spoil an omelet, you know? So I said, "Well, what's she like?" And he said, "Her name is Madonna and she's going to be huge." I'll never forget that he said that. So Madonna came out and stayed for a few months, and we all got along like one big, happy family.
Rig Rundown with MDNA Tour's Monte Pittman
Music/Guitar lovers and Monte Pittman fans, you'll find this very interesting!
Facebook's Year in Review
Facebook released its "Year in Review", a look back at the people, moments and things that created the most buzz in 2012 among the billion people around the world on the social network.
Madonna is the only female singer included in the "Public Figures" category, coming at #6. Congratulations MDNA!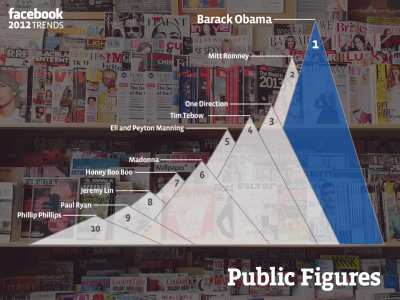 Adam Lambert to cover a Madonna song
VH1 Divas host Adam Lambert slipped that he was "allegedly" chosen by Madonna's camp to cover one of her songs for the show. As a "proud Madonna fan", he stopped short of revealing which Madonna hit he'll perform, but he did give the low-down on what tackling a track by that iconic diva means to him.
Which Madonna song do you think he'll glam rock the best?
Watch December 16 at 9PM ET/8C to see the performance along with the rest of Divas lineup.
Vote For Madonna At This Year's World Music Awards
Madonna is nominated in 6 different categories at this year's World Music Awards, the devoted ceremony taking place in Miami on December 20th:
– Best song (Give Me All Your Luvin')
– Best Album (MDNA)
– Best video (Girl Gone Wild)
– Best female
– Best Live act
– Best Entertainer
Make sure to cast your vote now! www.worldmusicawards.com
Madonna goes FFFU
When Madonna was in Rio, she wore a "Freedom Fighters For Unity" t-shirt, which was made by a few of her fans!
We couldn't believe it when we saw it as it was the tee we did for our last concerts in NYC where we also (tried to) pass(ed) one to her! We just thought that she might like it and that it could make her happy to see that her fans are taking care about what she promotes, but we never thought that it could end like this! We're still completely excited about it and thought that this is the sign that we definitely have to keep this going! So we just started a facebook website and a twitter account to spread the word.
Just check out their Facebook and Twitter.

Madonna Canvas Art
Got a favourite MADONNA image?? Whether it be old, new, iconic or even your own live tour photo snaps?
Bring them to life today on an A3 sized stretched canvas, mounted on wooden frame, wrapped in cotton and beautifully printed to admire all year long!
Only £20 GBP / €25 Euro / $ 30 USD –
Go on Facebook or email at [email protected] for more info on how to order and for exact postage estimate.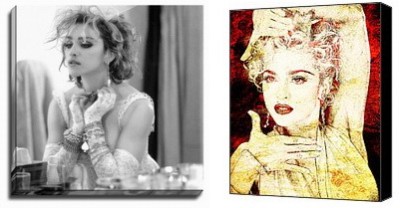 Madame X is available in Box Set, CD, Vinyl and Cassette!
Get your copy HERE!