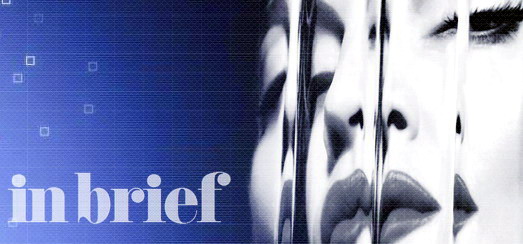 Madonna's "Bitch Club" t-shirt by The Cast
During her first Twitter session, Madonna was tweeting and answering fan questions from her living room, wearing a "Bitch Club" t-shirt, designed by New York clothing line The Cast.
Also want to be part of the club? You can order them HERE!
Madonna on the cover of French magazine "Tribu Move"
Madonna is on the cover of this month's issue of Tribu Move.
Have a look at the HQ covers…
Girl Gone Wild on the radio
Radio station 107.1 in Denver has finally added Girl Gone Wild to their play list.
Fans can go to www.hot1071denver.com/request to request that or any other Madonna single to help her stats.
Thanks John S.
Girl Gone Wild – UMF Mix (Live From Ultra Music Festival)
Watch the world premiere video for Madonna's Girl Gone Wild remixed by Avicii shot live at Ultra Music Festival!
MDNA on vinyl
The vinyl edition of MDNA is in stores. Order your copy of it now!
Order here: Amazon US, Amazon UK, Amazon DE, Amazon FR, Amazon IT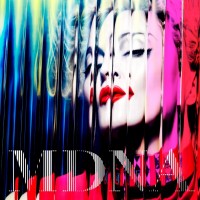 More Madonna items to order and pre-order: HERE
Madonna new vinyl reissues
After the "Original Album Series" and "The Complete Studio Albums" box sets, SuperDeluxeEdition reviewed the new Madonna vinyl reissues.
As well as releasing two Madonna box sets today, Rhino have reissued Madonna's first five albums on 180 gram heavyweight vinyl, complete with original packaging.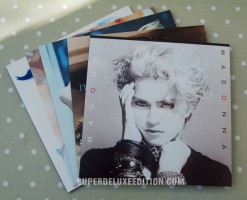 More details HERE!
Win the Madonna Triptych
Italian fans, want to win this exclusive 2m x 2m "Madonna Triptych"?
All the details HERE!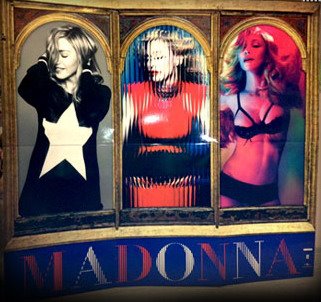 Girl Gone Wild – Thiago Antony Remix Edit by Julio Skov
Madonna "She's Going Straight to Hell" birthday cake
During Madonna's second Twitter session, she talked about a surprise party she had the day before and also posted a video of the event…
Here is a closer look at the Madonna "She's Going Straight to Hell" birthday cake…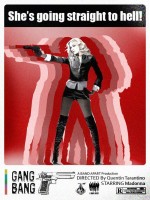 Madonna MDNA egg
Madonna fan, Paul Attwood, celebrated Easter by creating his own MDNA egg…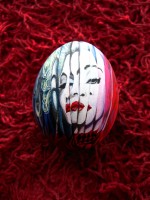 Truth or Dare VIP Party with Madonna at Macy's
Macy's Herald Square in New York City is having a private gathering with Madonna as she introduces her new fragrance, Truth or Dare on Thursday, April 12 at 8 PM.
All the details HERE!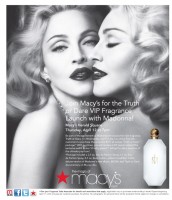 A Russian Orthodox Church theologian has called on the government to deny a visa to Madonna
After Madonna pledged her support to the gay community following March 7 passage of a law in St. Petersburg that bans promotion of gay culture and pedophelia among minors, Archdeacon Andrei Kurayev, a professor at the Moscow Theological Academy, urged the St. Petersburg authorities to ask the Foreign Ministry to deny a visa for Madonna.
Read the rest of the article…
"Truth or Dare by Madonna" Ultimate Fan Game
Play the "Truth or Dare by Madonna" ultimate fan game and win tickets to the MDNA tour, limited edition MDNA lithographs and more…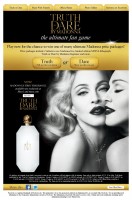 Gang Bang by Lucio Palmiero
Lucio Palmiero created a storyboard for his own version of Gang Bang directed by Quentin Tarentino. Here it is…
Nicki Minaj: Madonna Has Re-invented Pop Culture
Nicki Minaj has spoken out about Madonna and says that the singer is huge inspiration for her.
Read the rest of the article…
Piranha Boutique Nightclub presents Madonna Madness with Kenneth Blake
Katy Perry: Madonna is everything to me
Much like her pop-star peers, Katy Perry cites Madonna as a big influence, especially on her "Part of Me" 3-D concert movie, which hits theaters July 5, which was partially inspired by the Madonna's 1991 film "Truth or Dare."
Read the rest of the article…
Sofia Boutella: Madonna is amazing!
Former dancer with Madonna, Sofia Boutella, talks about her upcoming film StreetDance 2 and her experience working with Madonna.
Give Me All Your Luvin' (Bangkok Version)
Fans from Bangkok created this great "Give me all your Luvin'" parody and also added their own version of "Girl Gone Wild" at the end!

Madame X is available in Box Set, CD, Vinyl and Cassette!
Get your copy HERE!