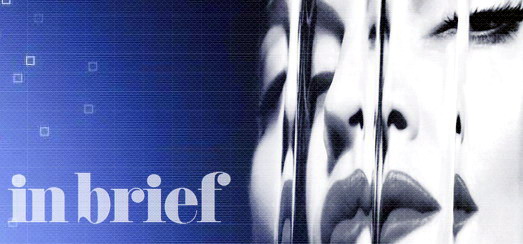 Guy Oseary and Piers Morgan: A picture is worth a thousand words
Poor Piers Morgan, who has tried getting attention the past couple of months for his talk show by bashing Madonna, is at it again.
On Twitter he posted…
Welcome to Twitter @MadonnaMDNAday – you're still banned from my show. Love Piers x
To which Guy Oseary replied…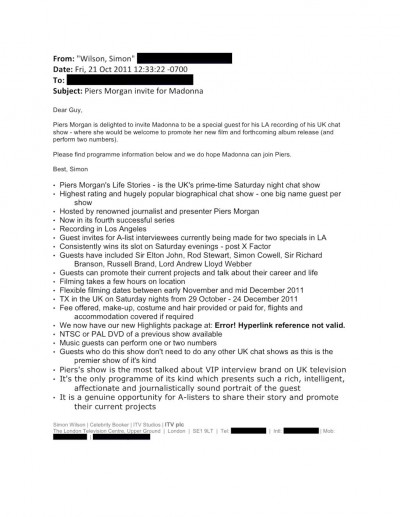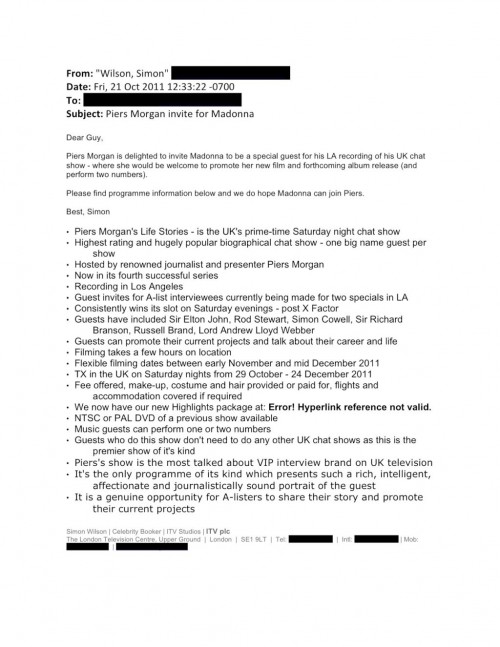 Owned!
LMFAO and Martin Solveig at the MDNA tour
We already know LMFAO are going to open for Madonna in London and Nice.
Now Live Nation UK just revealed that Martin Solveig will join them in London at the Hyde Park concert. He will also be opening for Madonna at the three different dates in Italy.
Lil Wayne video for the Madonna World Tour
Lil Wayne has been spotted, dressed as the pope, shooting a video for Madonna. According to the rumours, it's for one of the Madonna World Tour backdrop videos…
Madonna Luvin' and not Leavin'
Madonna's legend on Billboard's Dance/Club Play Songs chart grows this week, as "Give Me All Your Luvin'," featuring Nicki Minaj and M.I.A., rises 2-1 to become her 41st leader on the list. She pulls further ahead of runner-up Janet Jackson, who's banked 19 toppers.
The coronation adds yet another honor to Madonna's illustrious chart history.
If we include the Material Girl's leading entries on other active, current-based, domestic Billboard charts, her chart-topping total swells to a whopping and even 150 No. 1s.
Here are Madonna's No. 1 sums on the following lists:
41, Dance/Club Play Songs
33, Hot Dance Singles Sales
15, Hot Singles Sales
12, Billboard Hot 100
9, Radio Songs
9, Music Video Sales
7, Billboard 200
7, Dance/Mix Show Airplay
5, Adult Contemporary
3, Internet Albums
2, Digital Albums
2, Digital Songs
2, Hot Digital Tracks
1, Pop Songs
1, Dance/Electronic Albums
1, Tastemaker Albums
Mirroring the tempo of so many of her hits, when it comes to topping Billboard charts, Madonna doesn't appear to be slowing down.
She could reign again soon on Dance/Club Play Songs, where "Girl Gone Wild" bounds 46-20 as the chart's Greatest Gainer, indicating potential for the track to become Madonna's 42nd No. 1 on the tally within weeks.
And, next week's release of the Material Girl's 12th studio album of new material, "MDNA," could lead to No. 1 arrivals on multiple surveys the following week.
Madonna and Quentin Tarantino Gang Bang
In our MDNA review we wrote that "Gang Bang" reminded us of Quentin Tarentino's amazing "Death Proof" movie.
During the Larry Flick and Jimmy Fallon interview, Madonna said she was inspired by Quentin Tarantino for the track and even told she'd like for him to direct a video.
On the MDNA twitter day the subject was brought up again and a new TarantinoForGangBang Facebook page has been created.
Do you want Quentin Tarentino to direct Madonna's video for the track "Gang Bang"?
Join the page and spread the word!
"Girl Gone Wild" goes wrestling
"Girl Gone Wild" is the official theme song for WWE's Wrestelmania 28!
This is huge news for MDNA, knowing that…
WWE broadcasts to approximately 12 million fans per week in the U.S.
The previous WrestleMania XXVII grossed more than $6.6 million and generated more than 1 million pay-per-view buys.
"WrestleMania" was the #1 non sponsored worldwide trend on Twitter the Sunday WrestleMania XXVII took place.
Have a look at the video, around the 35-second mark…
Give me all your Luvin' remixes
Madonna "Give me all your Luvin'" Remixes now available in the UK!
Madonna's 40 Biggest Billboard Hits
She's the Queen of Pop and royalty on the Billboard charts. To celebrate the release of Madonna's 12th studio album, "MDNA," we've compiled an exclusive ranking of the diva's 40 biggest Billboard Hot 100 hit singles.
All the details HERE!
Gene Simmons disses Madonna
KISS has never been inducted in the Rock and Roll Hall of Fame.
At a recent press conference where KISS announced their joint summer tour with Mötley Crüe, KISS bassist/co-vocalist Gene Simmons told Rolling Stone…
It's become a joke. We've been thinking about it and the answer is simply, 'We'll just buy it and fire everybody.
In all seriousness for the fans, for something to be called Rock and Roll Hall of Fame is such an insult to Madonna, Blondie and Tone Loc. Who the fuck knows what other disco act is in there? It's an insult to them because they don't get to be in the 'Dance Hall of Fame,' because that's what they do.
They're legitimate dance, disco artists. They don't belong in rock and roll.
Madonna to perform in Argentina?
Argentinian ticket seller Ticketek is currently updating their Madonna page. It seems Madonna will perform on December 13th in Argentina.
Other rumoured dates are December 19th in Chile and even Colombia is being considered.
Nothing confirmed yet…
Fringe! 2012 goes Madonna
Fringe Film Fest is an eclectic weekend of films, events & parties rooted in London's gay creative community & welcoming everyone COME PLAY 12th-15th APRIL 2012
As part of Fringe! 2012 they are screening Madonna's infamous documentary followed by an afterparty in collaboration with Hot Boys Dancing Spot at Dalston Superstore.
IN BED WITH 1000 MADONNAS – 13th April, 11.15pm
RioCinema, 103-107 Kingsland Road, London E8 2PB

PARTY: HOT MADONNA DANCING SPOT – 13th April, 10pm-4am
DalstonSuperstore, 117 Kingsland Road, London E8 2PB

EVENT:VOGUING – 14th April, 4pm & 15th April, 2pm
MarketSports, 1-6 Bateman's Row, London EC2A 3HH
For more info on Fringe! Film Fest visit the website at www.fringefilmfest.com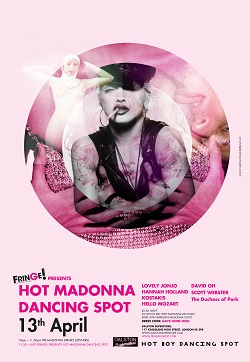 Paris Hilton on Madonna
After Madonna's appearance at the Ultra Music Festival in Miami, Paris Hilton tweeted…
@Madonna is literally one of the most amazing women on Earth! She just took over #Ultra with @Avicii #TheBoss #Legend! #MyIdol
Madonna World Tour – Sand Trailer
Sand artist Silvia Emme created her own version of the Madonna World Tour trailer.
Have a look…
Concert for Peace in Tel Aviv
Madonna and Live Nation Entertainment announced that they will be adding a second show at Ramat Gan Stadium in Tel Aviv on May 31st as part of Madonna's 2012 World Tour schedule. The added show has been declared by Madonna as a "Concert for Peace". Madonna is inviting several peace organizations to the May 31st show to honor and acknowledge people seeking peace in the Middle East. Details about the participating organizations will be announced shortly.
Madonna commented…
Music is so universal and If there's any chance that through my performance I can bring further attention and enlightenment to honor the peace efforts in the Middle East and help people come together, it would be an honor for me. It is my way of thanking those who are making so much effort toward bringing peace to the Middle East.
Jean-Paul Gaultier would have killed for Madonna
OUT magazine chose the 6 best quotes from their interview with Jean-Paul Gaultier.
On Madonna…
I said later, if she hadn't asked me to make clothes for her, I would've killed the one that she did ask.
PopMatters' take on Madonna's Discography
PopMatters created their own The Top 15 Madonna Singles of All Time and The Top 10 Madonna Album Cuts of All Time.
Have a look and let us know what you think.
Madonna and Fabergé
"The Big Egg Hunt" by Fabergé, a big event in which 209 egg-shaped sculptures will be placed around London for 6 weeks.
These magnificent eggs have been created by leading artists, designers, architects and jewellers.
Mr. Brainwash designed the "Life is Beautiful" egg, which features Madonna.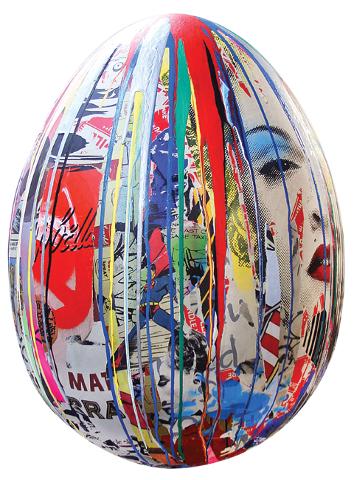 More info can be found at The Fabergé Big Egg Hunt
Madonna to be arrested in Russia?
After Madonna spoke out about the St Petersburg anti-gay bill, the author has said that he would want Madonna charged under that law, should she speak out against it during her forthcoming concert in the city.
Korean fans celebrate MDNA
Madonna on the cover of Q
Have a look at the upcoming issue of Q Magazine…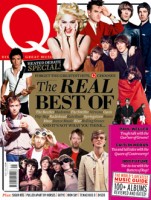 Madonna by Mert Alas & Marcus Piggott for MDNA
Have a look at some MDNA promo pictures featured in the MDNA booklet…
More pictures can be found HERE!
Gang Bang by Tracy Young
Tracy Young created her own private remix of Gang Bang.
Have a listen…
MDNA release party in Belgium
Did you miss the Belgian MDNA release party? Don't worry, we have some pictures…
For an overview of all the MDNA release parties around the world, click HERE!
Madonna Box Sets
We already talked about the different "Original Album Series" and "The Complete Studio Albums" box sets that have been released past Friday.
Have a look at the official ad…
SuperDeluxeEditions gives us a complete overview…
Original Album Series: Amazon UK, Amazon DE, Amazon FR
The Complete Studio Albums: Amazon US, Amazon UK, Amazon DE, Amazon FR, Amazon IT
More pictures at SuperDeluxeEditions
Sofia Boutella: Madonna is an "amazing and inspirational" woman
The Algerian born French dancer-turned-actress performed on Madonna's Confessions and Sticky & Sweet world tours.
Sofia says that working with Madonna was a dream come true and it was a learning curve she will never forget.
Read HERE!
Philippe Zdar: He said no to working with Madonna!
Famous for his work with Grammy Award winning alternative rock band Phoenix, French producer Philippe Zdar, who's also part of pop-house duo Cassius, recently explained to Brain Magazine why he said no to working with Madonna.
Read HERE!

Madame X is available in Box Set, CD, Vinyl and Cassette!
Get your copy HERE!