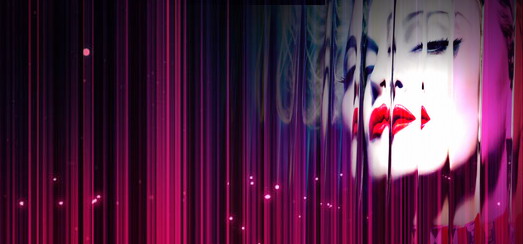 We had the opportunity to listen to the full MDNA album and wanted to share our first impressions with our readers.
How we do this? How do we review the album of the most accomplished female pop singer of all time?
Two rules : be honest and do not try to please everybody.
Some can't be pleased.
If it's catchy, they'll say it's too catchy, if it's elaborate, they'll find it too complicated.
First, MDNA is an album full of surprises. It's more than just another dance record. It's personal, dark, fun and even silly at times
So here we go, our very own review of Madonna's MDNA… track by track!
1. Girl Gone Wild
Strong solid start to the album, very catchy unapologetic 90s-inspired powered pop and totally in your face.
Still not convinced? Turn the volume up!
2. Gang Bang
A very dark deep house track with a little dubstep interlude dealing with murdering your lover and going to hell for it. It has Quentin Tarantino's amazing "Death Proof" movie written all over it. William Orbit and the Demolition Crew did a tremendous job on this song which is partly spoken. Oddly there's something sexy in this track as if it was inspired by the Erotica era. Think "Goodbye to Innocence" meets "Thief of Hearts" but way more edgy. "Bang Bang shot you dead. Shot my lover in the head… Now my lover is dead and I have no regrets." Madonna ends the song with "Now if you're gonna act like bitch, you're gonna die like a bitch."
A favorite.
3. I'm Addicted
First, people should understand that the snippet posted by Perez Hilton is the ending of the song. With its infectious beats, amazing futuristic sound and really cool lyrics about love being like a drug ("Feels like a drug and I can't get enough"), you can't help but end up being addicted yourself. At some point, the song even has a 90s Prodigy's "Out of space" vibe to it.
4. Turn up the Radio
Another collaboration with Solveig and yes, the song has hit written all over it. We understand why Madonna's Team would release it as a single. It's very mainstream pop so people will love it for sure.
Very happy and uplifting.
5. Give me all your Luvin'
Perfect for the Super Bowl. Happy song and great first single that did extremely well considering it was leaked on the Internet, months before.
6. Some Girls
Electronic fury. You'll either love it or hate it. The lyrics are really cool "Some girls got an attitude. Fake tits and a nasty mood", "Some girls make a scene, shoot their mouth and talk obscene"…
7. Superstar
Madonna mentions Brando, Travolta and James Dean in what seems to be the only filler in the album. Sweet but forgettable, Madonna goes "Oooh la la you're my superstar, oooh la la love the way that you are, oooh la la you're my superstar, oooh la la that's what you are."
Oh well…
8. I Don't Give A
This one's Minaj's second appearance on "MDNA" and it's one of the best songs of the album. Penned by Madonna, Martin Solveig and Nicki Minaj, Madonna sings unapologetically about her personal life, her marriage and how she does not care about people's judgements. The chorus goes "I'm gonna be ok. I don't care what the people say. I'm gonna be alright I heal fast and I've got it right." The ending is just powerful and amazing. Nicki Minaj says it best "There's only one queen and that's Madonna, bitch."
9. I'm a Sinner
A catchy happy sexy psychedelic 60's-inspired song in the continuity of William Orbit's previous creations for Madonna. Think "Beautiful Stranger" meets "Ray of Light", and believe it or not, the sound remains very fresh and new! The lyrics are fun and serious at the same time, with Madonna taking responsability for being a sinner. She cites saints (Jesus, Mary, St Christopher, St Anthony…) and talks bible.
A perfect fit.
10. Love Spent
We expected a heartfelt ballad but we got an electro-pop number that opens with a combination of banjos and violons. Madonna dabbles with vocal distortion while asking her latest male subject: "Love me like your money".
Monstrous and addictive.
11. Masterpiece
More than just a Golden Globe winning song, Masterpiece is already a classic.
12. Falling Free
This song is slightly melancholic, yet uplifting at the same time. No beat, a naked voice. Madonna sings about how liberating the power of love is. Fans will be pleasantly surprised by the quality of the vocals, for sure. This showcases Madonna's voice at its purest. A piano, a guitar, some violins with Madonna singing "Deep and pure our hearts align. Then I'm free, I'm free of mind, I let loose, don't need to know. We're both free, we're free to go".

Madame X is available in Box Set, CD, Vinyl and Cassette!
Get your copy HERE!