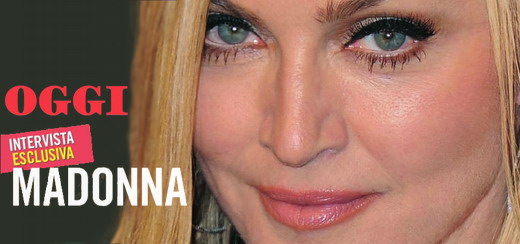 On August 26th, 2011, Madonnarama.com exclusively revealed the Orbit/Jean Baptiste collaboration.
On September 8th, 2011, we gave even more details about the team working together to elaborate some new tracks for Madonna's next album.
Last week, Madonna confirmed the collaboration herself, in an Interview that occured during the Venice Film Festival, for Italian Magazine Oggi.
Here's what she said translated in English…
OGGI: Is it true that you are working on a new CD?
MADONNA: Yes. We went into the recording studio in July and we'll be continuing once the promotion for my film is done. You'll also notice that Jean Baptiste from the Black Eyed Peas lent us a hand on a few tracks. For next year, I have a new project for a big tour.
Jean Baptiste isn't actually from The Black Eyed Peas.
He's a songwriter and record producer who worked on a few tracks for the Peas, as well as for Kid Cudi, Kelis or Macy Gray…
As we also previously stated, Jean Baptiste is not working as an independant producer for the album. He was recuited by William Orbit and works closely with his production team to develop Madonna's new music.
Have a look at the interesting portion of the article…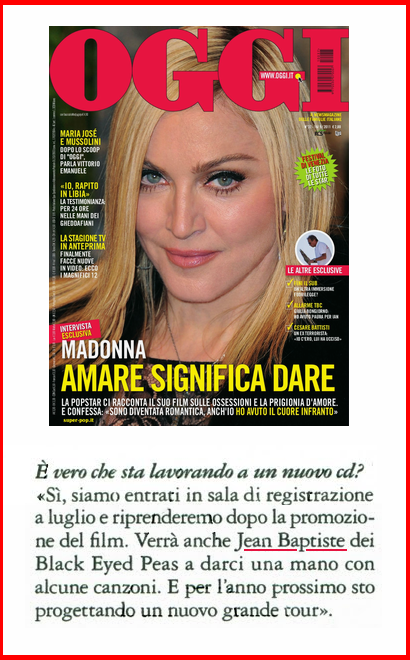 Stay tuned for more exclusive info about Madonna's new album…
Check out our previous posts on Madonna's forthcoming album…
Madonna in the Recording Studio – New Producer Exclusively Revealed!
Madonna's New Album: First Martin Solveig, Now William Orbit!
Madonna's New Album – More Info on the Recording Sessions
Madonna Confirms Working with Orbit and Gives Release Date for New Album
Madonna's New Album – Even More Info on the Recording Sessions

Madame X is available in Box Set, CD, Vinyl and Cassette!
Get your copy HERE!