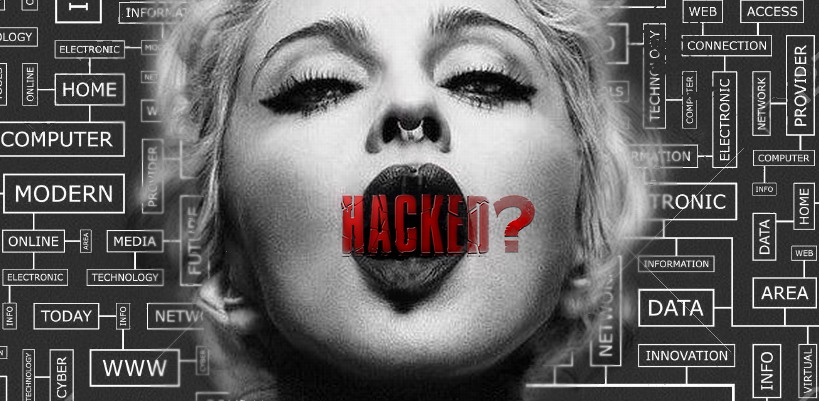 It was all over the web last week… A 39-year-old man "Adi Lederman" has been arrested by the Israeli police for allegedly hacking into Madonna's computer.
Did they get the right person or is this just another scapegoat?
In 2011, a Spanish Madonna fan Jorge Moro was arrested for the leak of Give me all your luvin', the first single off Madonna's then-to-be-released album MDNA. This made headlines all over the internet, but the media forgot to mention nobody was found guilty. Jorge Moro was released and served his purpose as a scapegoat.
In December 2014 a whole batch of demos from Madonna's upcoming album "Rebel Heart" hit the web and her manager Guy Oseary told Billboard.com they were "working really hard to solve this crime."
Madonna recently thanked "the FBI, the Israeli Police investigators and anyone else who helped lead to the arrest of this hacker" in a statement posted on her Facebook page, after a confirmation of the arrest by YnetNews.
This is very good news, but a few things still don't add up here…
– How did that person have access to tons of untouched pictures, Madonna admitted herself she never saw before (see this Instagram picture), if he only hacked Madonna's computer?

– Even very early photoshoots from the eighties and nineties, including Richard Corman, Kate Simon, Laura Levine and others have been posted online, and all in very high quality. It's hard to believe Madonna had all of this stored on her computer.

– Personal pictures shot with Madonna's own Blackberry also got out. So the alleged hacker not only had access to Madonna's computer, but also to her personal phone?

– Did he have access to every computer Madonna owned for the past ten years, because that's how long the leaks have been going on?

– Tons of HQ Pictures from different photographers taken from the early eighties until now were leaked over the past ten years, including Steven Klein, Herb Ritts, Steven Meisel, Alas & Piggott, Tom Munro, Curtis Knapp, Gilles Bensimon, Mario Testino, Tim Walker, Alek Keshishian, Jean-Baptiste Mondino, Rankin and even Guy Oseary himself who shot the cover of "Get Together" and "4 Minutes".
Does this means he hacked all these computers as well?

– Numerous music stems that were sent out to remixers, artists and producers leaked too, and those are pretty heavy files. Again, how did that person have access to all of this?

– Madonna often takes multiple hundreds of pictures during big photoshoots. In the past, complete sessions have leaked and plenty of sheets with over thousands of images have been posted online. Not only this, but large unreleased video files also made the rounds.
We're talking about multiple thousands of gigabytes of data here. It's almost impossible to download all this from one computer to another in a short amount of time without anyone noticing it.
It seems we're not the only ones that need convincing…
I'm rolling my eyes so hard right now. Oh well, I hope it all works out for you queen. Even though you and your team are so incredibly out of touch and misguided in your words and actions — Jero Aguiar Juares

It had to be someone inside that studio. I think next time you record do it the old school way and don't give access to anyone and don't put it on a computer either — Rocco Acosta

I can't see this israel hacker being the source for 10 years of constant demos, outtakes, videos, personal pictures and personal information circulating online. He must be a scape goat just like that spanish fan in 2011 — EqualRights4Every1

how can she really believe it's a foreigner hacking her personal computer when she stated herself she had never seen some of the pictures that leaked? — Poison Flower
Every fan who visited popular Madonna forums in the past couple of years remembers nicknames like "Adi Lederman" and "Tom Kashti" who didn't hide the fact that they had access to lots of unreleased material. It seems odd those guys never hid behind an alias… and where is Tom now?
Also, the Adi Lederman who supposedly got arrested, did participate in a singing contest on Israeli tv. He doesn't strike us like the typical geek or computer-savy person who's able to hack ALL those computers.

Efrat Nahmany-Bar, a lawyer for Lederman said he denies the allegations. She said Lederman has not been charged and believes there was not sufficient evidence for an indictment.
We can't help but wonder… Is this whole story just a cover-up? Who could really have access to all those files? Are we really talking about a hack here?
What do you think?

Madame X is available in Box Set, CD, Vinyl and Cassette!
Get your copy HERE!
comments powered by

Disqus