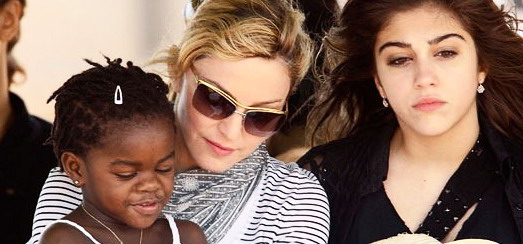 Madonna released a statement regarding the current political state of Malawi after its president, Joyce Banda, tried to nullify an election in which she could face defeat.
The official Raising Malawi website posted…
"I am so sad to see that because of the actions of their President Malawians will continue to suffer. In my philanthropic work I have seen the depths of corruption in Malawi's government. I can only hope that change will come, Malawians deserve so much better." – Madonna
A few interesting excerpts from an article by The Guardian…
Citing "fraudulent and rampant irregularities", Banda declared the national poll "null and void". Fresh elections should be held within 90 days but she would not stand as a candidate, she said, to "give Malawians a free and fair" election. "As president I have used the powers conferred upon me from the constitution."

The national electoral commission contested her annulment announcement, saying she did not have the power to cancel elections, plunging Malawi into a constitutional crisis. Maxon Mbendera, chair of the commission, insisted that the poll was "valid" and Banda was acting out of "desperation". Malawi's high court then issued an injunction stopping Banda from interfering in the electoral process.
Madonna and Malawi's president Joyce Banda didn't always see eye to eye in the past…
Madonna criticised by Malawi president, Joyce Banda

Madonna came to Malawi to build a school, an academy like the one Oprah (Winfrey) build in South Africa, but she changed her mind.
I have a problem with a lot of things around the adoption of the children and the changing of the mind and then coming back to build community schools.
Tension between Madonna and the Malawian government continues

[The President's sister] is now using her position [as Principal Secretary] in the Education Ministry to create trouble for Madonna. She is using her office to avenge on her personal grudge with Madonna and pursue her personal financial interest.
Madonna's charitable works in Malawi jeopardised?

From the look of things, Madonna's work in the country will continue facing challenges as long as the current administration continues to call the shots.

Madame X is available in Box Set, CD, Vinyl and Cassette!
Get your copy HERE!