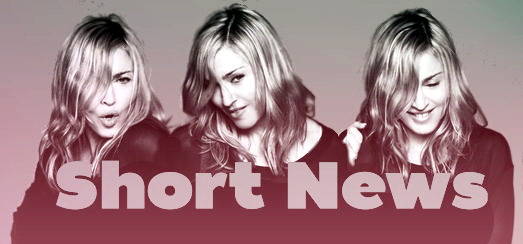 Jennifer Lawrence apparently puked at Madonna's Oscar afterparty
According to one of the "Late Night with Seth Meyers" audience members, Jennifer Lawrence had quite a rough night at Madonna's Oscar afterparty…
Jen said she was so drunk, she puked on the stairs at Madonna's afterparty, and Miley walked by and said something like, 'Get it together, girl!'
The episode featuring Jennifer Lawrence is supposed to air on May 21st.
Rita Ora: I'm so inspired by Madonna's work ethic
Digital Spy caught up with Rita to talk about her new music and of course, Madonna!
Digital Spy: A new tour will follow the album later in the year. How much involvement in the planning process do you have?
Rita Ora: I'm so involved with production – it's a part of me! I re-watched In Bed With Madonna recently – I haven't seen it for ages – and literally I'm so inspired by her work ethic and how she's involved with everything. I've always been like that, but not to that extent.
Leigh Zimmerman on Getting Scolded by Madonna
Leigh Zimmerman is an american actress, singer and dancer. She has starred in Chicago, The Producers and The Will Rogers Follies. Broadway.com spoke to the ever-engaging actress about being directed by Madonna.
Broadway.com:What was it like to be directed by Madonna in the film W.E.?
Leigh Zimmerman: That was just incredible. I played an Upper East Side socialite who everyone was tagging on to. I had this big long speech that I had to do at a huge party, and I might have blown one or two words and she was, like, "Get your speech right!"

Broadway.com: Good heavens!
Leigh Zimmerman: She was very detail-oriented—very much a perfectionist. It was a little intimidating, but I rolled with it.
Madonna Erotica Swarovski T-Shirt
Check out this Erotica Swarovski T-Shirt made by Japanese Madonna fan @rinda3dayon, featuring over 6000 Swarovski crystals…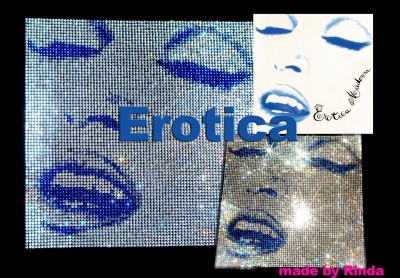 Hardy Candy Fitness trainer talks working with Madonna
Jojo Zolina, dancer and trainer at Madonna's Toronto fitness centre, talks to DNAindia's Avril-Ann Braganza…
Madonna is amazing to work with. Her spirit, talent, energy, intelligence, business sense and sheer class is inspiring. She's organised and knows what she wants. Her team knows what to expect of her and she knows what to expect from them. Madonna connects with each of the dancers and doesn't even need to speak. She just has to look at them and she knows if they need help or if they have nailed the routine.

They fly down to teach us new choreography. She is open to change as long as the choreography is the same around the world.
Jean Paul Gaultier in love with Madonna
In his latest publicity appearance for the exhibition "From the Sidewalk to the Catwalk," Jean Paul Gaultier sat down with Suzy Menkes at London's Barbican for an on-stage interview.
Here's what he had to say about Madonna…
I was in some ways in love with Madonna. I saw her dancing to Holiday [on TV] and she was dressed very well … It was exactly in my spirit and I said, 'Oh, she must be English!' because the look was not at all American. I loved her music — I love that first period of Madonna more than anything else.

Lady Gaga has more eccentricity, rather than style. What I loved about Madonna is that she had style and girls wanted to dress like her. With Gaga it's more difficult, because it's all eccentricity
Joe Mantegna saved Madonna from fan during Speed-the-Plow
Actor Joe Mantegna raced to Madonna's rescue when an eager fan jumped on stage during their Broadway play "Speed-the-Plow" in 1988.
He explains…
We were doing the play one night, we'd been doing it quite a while at that point. It's a three character play. So I said a line to her, and all of a sudden I saw this look on her face and it looked like fright! I'm thinking, 'Well, she's making an odd choice tonight with how she's doing this line.'

I notice she's looking over my shoulder and as I turned I saw a guy had come up out of the audience, jumped up on the stage and he's coming toward her. All I could think of was, 'This is a three character play, and you're not in it. We don't need a fourth.

My instinct was to turn around, so I grabbed him, I pulled him over and threw him into the wings, because by now the stagehands (were) all waiting to see what he'd do. I came back up on stage and we got back into the play.
MDNA SKIN parody by Nadya Ginsburg
Check out Nadya Ginsburg's own take on Madonna's MDNA SKIN commercial.
Did you like it or did you think Charlie Hides did a better job?
Let us know!
Sky Ferreira loves early Madonna
Sky Ferreira got rid of her trademark blonde tresses in favour of a short brunette cut. She took inspiration from late Nirvana star Kurt Cobain when choosing her new look and also has other celebrity influences.
She told Company magazine…
My hair was literally breaking off so I felt like it was time to switch it up. [Hairdresser] Guido cut it – he did Edie Campbell's bowl cut. I wanted it like Kurt Cobain's – short and choppy.
I love how Courtney Love dressed in the '90s. Sometimes I dress like Courtney, but I feel like I dress like Kurt Cobain more! I love Debbie Harry and early Madonna, when she was a bit trashy.
Madonna "Like A Prayer" (James Anthony's Big Room Mix)

Madame X is available in Box Set, CD, Vinyl and Cassette!
Get your copy HERE!