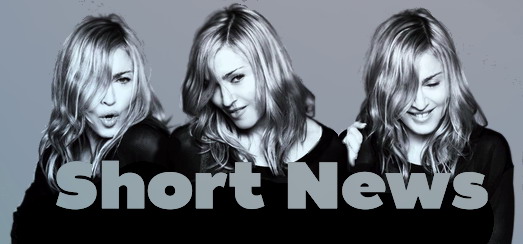 50 Cent: Madonna is forever sexy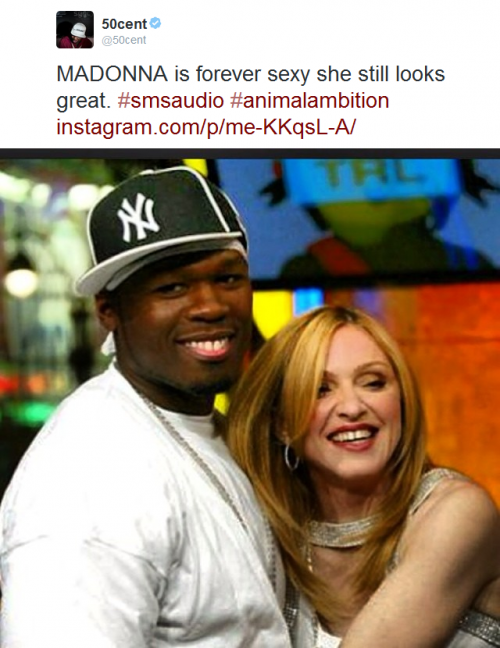 MDNA SKIN CARE (Madonna Parody)
Check out Charlie Hides' latest Madonna parody video.
Let us know what you think!
$2,500 Bra Stolen From Madonna Photo Shoot
DNAinfo reports that thousands of dollars in pricey lingerie were stolen from Madonna's latest photoshoot for L'Uomo Vogue last month at the Highline Stages, according to the NYPD and a designer's representative.
Designer Deborah Marquit stowed a $2,545 Italian lace bra, $345 thong and $515 brief under a chair about 4 p.m. March 20. Hours later, as the shoot at 440 W. 15th St. wrapped up just after midnight, a staffer noticed the bag had disappeared, police said.
A spokesperson for the company wrote in an email…
It was a Madonna shoot for L'uomo Mag and It would be ideal is if [sic] someone found the bag of lingerie. Deborah would love to get her collection pieces returned.
Deborah Marquit commented…
I am at a loss and wish the pieces would be found. I am sure there is no one from the shoot that was involved, since nothing like this has ever happened before. There are alot of people on shoots and maybe whoever found them will return them.
A spokeswoman for Madonna did not respond to a request for comment.
The Huffington Post: Young gays need to know that Lady Gaga has been copying Madonna
The article "18 Things Gay 20-Somethings Need to Know About Gay 40-Somethings and Beyond" published by David Toussaint for the Huffingtonpost contains one Madonna-related tidbit every young gay person needs to know…
Lady Gaga really has been copying every Madonna look, image, and video for the last several years.

Trust us on this one and move on.
Treccani Milano Designs Exclusive Limited Edition Pumps for Hard Candy Fitness Toronto
Italian luxury brand Treccani Milano has created exclusive limited edition shoes to mark the Grand Opening of Hard Candy Fitness® Toronto, the global luxury fitness brand created by Madonna and New Evolution Venture (NeV). The leather shoes were unveiled on Tuesday, February 11, when the music and fashion icon herself officially inaugurated the Toronto location of her luxury fitness franchise. 


The two selected Treccani Milano shoes, open-toe pumps & closed-toe pumps, are exquisite made-in-Italy designs that Hard Candy Fitness Toronto chose to match its fun, edgy and glamorous vibe, inspired by Madonna's personal style. The open-toe pumps have 11cm / 4.3 inch heels while the closed-toe pumps offer 9 cm / 3.5 inch heels. Both models are made of black patent leather and silver sole with a stylish touch of metal Hard Candy Fitness charm. They are available for purchase exclusively at Treccani Milano Boutique in Toronto and online at TreccaniMilano.com.
Emanuele Treccani Bonasia, Co-Founder of Treccani Milano, explains…
We are extremely honoured to design exclusive pumps for Hard Candy Ftness Toronto that represent the exhilarating allure of their fitness brand.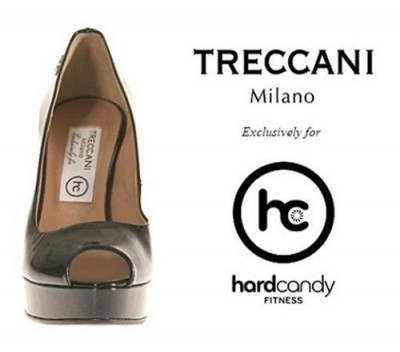 Carrie Ann Inaba: The Girlie Show was the pinnacle of my dance career
Carrie Ann Inaba, known as the famous topless "pole girl" dancer from the Girlie Show, recently gave an interview to Parade…
Parade: You also danced on Madonna's 1993 Girlie Show tour.
Carrie Ann Inaba: It was the pinnacle of my dance career. After I made it through the audition process, Madonna said, "You have to shave your head. Are you okay with that?" Well, what are you going to say? I was up for the challenge.
JoJo Covers Madonna's Borderline
American singer-songwriter and actress JoJo who had a huge hit with "Leave (Get Out)" back in 2004, performed "Borderline" at Perez Hilton's Madonna themed birthday party…
Perez Hilton as Madonna
Perez Hilton dressed up as Madonna's Blond Ambition Tour look for his Madonna themed birthday party. What do you think?

Madame X is available in Box Set, CD, Vinyl and Cassette!
Get your copy HERE!