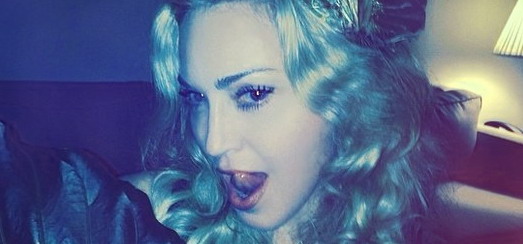 Update #9: Liz Rosenberg confirms "Messiah"
Madonna's spokesperson confirmed on Facebook that "Messiah" is the name of the song Madonna has been teasing the past few days on Instagram…
—
Update #8: Madonna reveals "Messiah" lyrics
Last week, Madonna revealed a new song "Messiah" of the new album and today we get a first look at the well-written lyrics!
Salvation through Art! #heart #messiah #livingforlov
—
Update #7: Madonna teases new song "Messiah"
Magic makes the people come together yaaaaaaaasssssssssss. #messiah
Coming soon……..#promise #keep#sorceress#deep
—
Update #6:
Disclosure neither denies nor confirms a Madonna collaboration.
Here's what they told billboard.com about their first time meeting Madonna…
She came to our gig at Governors Ball and within a few hours, there were articles being written about how we were producing her album — and we had met her that day. How could we even have done that?
—
Update #5: Diplo confirms "Bitch, I'm Madonna"
In a recent interview with Heloisa Tolipan, Diplo revealed a new title track of one of the seven songs he wrote with Madonna for the upcoming album.
Here's what he had to say…
I met Madonna because of her kids and then she invited me to a party.
We ended up writing seven songs together.
I do not usually feel pressured to write hits, but when it's an artist of this cailber, it's obvious that I want to push the bounderies a little bit further and surpass myself.
One of the songs we wrote is very cool and is called "Bitch, I'm Madonna".
—
Update #4:
Martin Kierszenbaum who spent some time with Natalia Kills and Madonna recording new tracks for Madonna's new album talked about the collaboration during an interview with Larry Flick on SiriusXM.
Here's a transcription by Madonnarama…
It was a huge honour.
Madonna invited us to come and write with her for her next project.
We just had a great time. We were supposed to be with her in the studio for a couple of days. She kindly invited us to stay a little longer, so we ended up writing a few more things.
We don't know what's going to end up on the album.
It was an absolute honour. It was so much fun.

Madonna is so very musical. For me, being such a big fan for so long, it was so exciting to hear her vocal in the room, right next to me, sounding exactly like all of those records we all love.
She's a pleasure to work with, because she's also so in tune with who she is and what she wants to sing.
It was really great collaborating with her and with Natalia [Kills].

It was one of those wonderfully musical sessions that yielded a lot of music.
She's going to decide what she wants to do with it.
It was just a privilege to be able to contribute.
—
Update #3: Madonna confirms Diplo collaboration
Madonna posted two pictures on her Instagram account confirming the new collaboration with Diplo!
Working with @Diplo got me like…………….WHAAaaat?

Diplo is a slave driver! Got me working all hours of the night in the studio. Had to sneak into the bathroom! #clicclacclicclacbitchgetoffmyback
—
Update #2: New Album Still in The Making?
Sources tell Billboard that Madonna's next full-length is not yet completed, and that she is still writing and recording new music for the set, presumably in Los Angeles.
—
Update #1: More details on Avicii's recording sessions
Carl Falk, Swedish songwriter/producer who previously worked with Nicki Minaj and One Direction, spilled some details about working with Madonna and Avicii to Dagens Nyheter, Swedens biggest newspaper:
– Eleven demos were recorded in one week at Henson Recording Studios in Hollywood with accoustic guitars and a piano.
– Six people were selected and divided in two different teams (Carl Falk/Rami Yacoub/Savan Kotecha and Salem Al Fakir/Vincent Pontare/Magnus Lidehäll). Both collaborated with Avicii.
– Madonna came in the studio in the afternoon and stayed as long as needed, sometimes until 7am. She worked closely with both teams writing, changing melodies and was very much in charge of the procces.
– Carl Falk describes her as a warm and giving person, who is fully in charge of her musical vision but also open to ideas from her writing partners.
(Big thanks to Madonnarama reader Staffan)
—
The original article continues below:
Madonna has been in the studio working on her new album for the past couple of months with various singers, songwriters and producers including Avicii, Natalia Kills, Symbolyc One, Toby Gad and MoZella.
According to fashion photographers Mert Alas & Marcus Piggott, who have collaborated multiple times with Madonna in the past, the new album is apparently complete!
Earlier today, the duo uploaded a photo of Madonna on Instagram with the following caption…
In my room listening to the NEW ALBUM!!!!! Im DYING!!!!!! LET ME LOVE YOU FROM INSIDE OUT @madonna
In case you missed the various tidbits of information regarding Madonna's upcoming album, here is an overview…
Avicii
Madonna spent her first week in the studio with Avicii and the Viking Harem (Vincent Pontare, Lars Salem Al Fakir and Magnus Lidehäll).
Madonnarama has learned that "Rebel Heart" was one of the tracks that was recorded during those sessions.
Natalia Kills
Madonna also spent some time with singer/songwriter Natalia Kills and Martin Kierszenbaum.
Martin Kierszenbaum is the founder and chairman of pop alternative label Cherrytree Records and senior executive of A&R at Interscope Records. He worked with Sting, Keane, Tokio Hotel, t.A.T.u., and also co-wrote/produced four songs off Lady Gaga's debut album "The Fame."
S1, Toby Gad & MoZella
The trio S1, Toby Gad and MoZella has also been locked with Madonna in the studio for a week.
Symbolyc One or simply S1 has worked with such artists as Beyoncé, Kanye West, Jay-Z, Erykah Badu and Babyface.
MoZella, who was signed to Madonna's label Maverick Records in 2003-2006, has written songs for Fergie, Haley Reinhart and Tessanna Chin, co-wrote Miley Cyrus' "Wrecking Ball".
Toby Gad has collaborated with tons of artists, like Beyoncé, John Legend, The Veronicas, Fergie, Natasha Bedingfield, Brandy, Jordin Sparks, Robin Thicke, Nicole Sherzinger, Jessie J, James Morisson, Kelly Clarkson and Paloma Faith.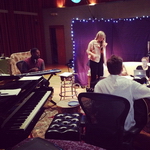 Madame X is available in Box Set, CD, Vinyl and Cassette!
Get your copy HERE!