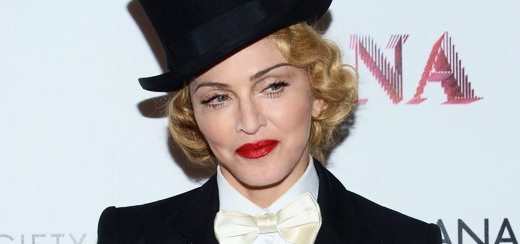 Update:
EPIX is giving you an exclusive chance to view the entire Q&A.
Have a look and enjoy…
—
The original article continues below.
Yesterday, Madonna attended the world premiere of the "Madonna: The MDNA Tour" that was screened at the Paris Theater in New York. Check out the pictures!
During the Q&A after the screening, Madonna was in a very good mood and had lots of fun answering fan questions.
She also confirmed that the MDNA Tour Workshop documentary will be included on the DVD, like we revealed last month.
You can read all about it here!
Here are some of the questions asked, transcripted by Madonnarama.
What kind of workout did you do on tour to keep yourself in shape?
I hate those questions.
I did the show every fucking night, ok?
(crowd laughs)
My workouts got smaller and smaller as the tour went on, as I became more exhausted.

What were your favourite moments from the show?
I loved all the fighting and shooting and violence for Gang Bang.
I'm sorry. It was just pretend, but it was fun.
I loved it. I got a lot of the agression out and felt so much better afterwards.
I loved "Sagarra Jo". It's such a joyful song.
I loved doing "Love Spent". It felt small and intimate. A moment to act and feel, be real.
Of course, the end of the show.
Every night of the show I had different fun moments.
Those were my highlights.

How did you go about putting this together from all those different places?
Basically me and the editor, Danny Tull, strangled each other.
There was a lot of work that got put into this, because we filmed all over the world.
The base of the show was in Miami, but we used footage from France, England, Argentina, New York…
Imagine all that footage and all that time code didn't match up.
It was a lot of hard work.
Danny Tull, wherever you are, thank you for putting up with my endless requests for perfection.
I'm still looking at it and seeing that it's not perfect.
From beginning to this moment, it has been a labor of work.
Hard work baby.

Thank you all for coming.
I can now put my legs up, have a drink and feel like I finished my job.
Fuck yeah!
Big thanks to Matthew Rettenmund from BoyCulture for the video…
The night ended with a new teaser for the #SecretProject…
Check out this interview with AccessHollywood…

Madame X is available in Box Set, CD, Vinyl and Cassette!
Get your copy HERE!