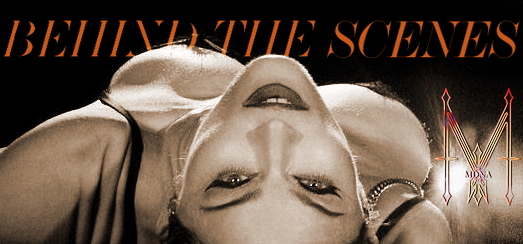 While we are waiting for the official MDNA Tour DVD release, we at Madonnarama can reveal some interesting details on the MDNA Tour workshop with Madonna, the dancers and Kalakan.
You would like to know what got scrapped? What was "Falling Free" supposed to look like? Did "Candy Shop" undergo any changes? Did Madonna slackline in high-heel sneakers singing "I'm Addicted"?
All of this and more…
An 18-minute black & white video giving us an exclusive behind-the-scenes look has already been shot and should be featured on the DVD.
Madonna invited about 20 dancers and the Kalakan trio on an initial MDNA Tour workshop before making her final decision.
The video starts with different images from the dancers' rehearsals, while choreographers Alison Faulk and Jason Young are being interviewed.
Dancers learned new choreographies, had to create choreographies themselves, present and showcase their skills. Madonna was watching.
One of the songs used for what looks like an incredible chair-routine was "Abdication" from the W.E. soundtrack by Abel Korzeniowski.
Next up are the amazing choreographers Matt Cady and Megan Lawson – Fanny Pak dance crew – teaching a complex number to the dancers.
We at Madonnarama have always been big fans of their work and both choreographies they created for the MDNA Tour, "Gang Bang" and "Human Nature", speak for themselves!
Derrell "Keesha" Bullock explains how Madonna wanted to see "a piece where men were in pumps and dancing very strong."
She gave them "Girl Gone Wild" and like he said, "they went wild."
Wearing knee high boots, he shows off the choreography with Kupono, Chaz and Matt Cady. Madonna is having a blast and calls them "Gold Stars".
Dancers and fans who like behind-the-scenes stuff will absolutely love this!
While Madonna's Bedtime Story is playing in the video, Bones The Machine and his crew showcase the piece they created, which later turned into the "Best Friend" interlude on the MDNA Tour.
The idea behind the angry clown gang choreographed by Marvin and Marion, is used as inspiration for the "Justify my Love" number.
After Brahim Zaibat, Adrien Galo, Lilou and their Pockemon crew show off their breakdance and acrobacy skills, Madonna jokingly says in French "C'est tout ?" (That's it?)
Andy Lewis who slacklined for Madonna during her Super Bowl was flown out to the workshop to teach the Pockemon crew and breakdancers how to slackline and get them up to show-level. Madonna carefully inspects everything and also requests a few combos: "Chest bounce, chest bounce, then go back to your butt."
Madonna then tries walking the lines in high-heel sneakers while singing "I'm Addicted".
What's featured next, is one of the things that got canned from the MDNA Tour, but we would have loved to see it live!
The original setlist for the MDNA Tour included Falling Free and we finally get to experience how it was supposed to look like. South Korean classical violinist Hahn-Bin has collaborated with Madonna on her latest album "MDNA" and while he is playing the violin, dancer Chaz Buzan is performing a solo.
Together with "Falling Free" this is a perfect combination and live, it would have been a spine-chilling performance.
The next portion is dedicated to Kalakan.
They perform "Open Your Heart" and "Sagarra Jo", while the dancers are being taught the choreography. They're all standing in a half circle, dancing and just having fun.
We also get a rare look at an accoustic session between Madonna and the Kalakan trio singing their revised version of Candy Shop.
In the final moments of the documentary Madonna is chilling on the slacklines, singing Don't Tell me on the guitar.
It ends with all dancers showing off their incredible skills during a huge freestyle session.
Like Madonna says during the documentary… "Please don't tell me to stop, motherfuckers!"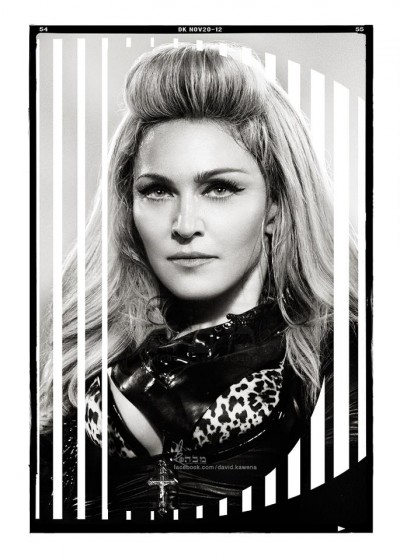 Photo Credit: David Kawena

Madame X is available in Box Set, CD, Vinyl and Cassette!
Get your copy HERE!