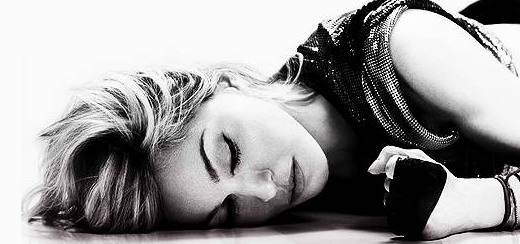 Pet Shop Boys: I'd imagine Madonna dancing to our album
For the promotion of their upcoming album, Electric, the Pet Shop Boys (Neil & Chris) gave an interview to Stereogum. When talking about the sound of the album, Madonna came up…
Neil: One of the things I love about the Electric is that there are bells — literally, bells — on almost every track. We hadn't used sounds like that since the early '80s. It reminds me of New York in 1981 or 1982 — the sound of it.

Chris: I'd imagine Madonna doing the "Dress You Up" dance to this music.

Neil: Actually, our choreographer didn't know of the "Dress You Up" dance and I had to find the video online and show it to her.

Chris: Why didn't you just ask me? I could have just shown it to you.

Neil: Don't joke, we might find ourselves doing it on stage soon. (laughs)
SEX "Great Bronze Fish" sold for $12,100
The bronze fish statue used by Madonna in one of the SEX photos, has been sold on eBay for $12,100.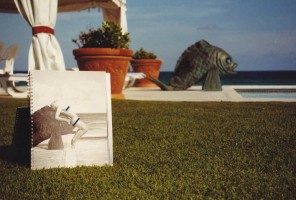 Queen of PUNK, Metgala NYC by Joey Holthaus
Joey Holthaus made these three incredible Madonna illustrations based on her latest appearance at the Met Gala and will be giving them away through a contest. Click here to participate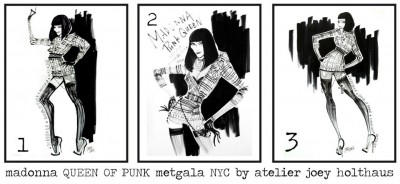 Wendy Williams on Madonna
According to Wendy Williams Show, Madonna is old and tries too hard.
(around the 4-minute mark)
Léger painting auctioned by Madonna raises $7.2 million
A French painting owned by Madonna has sold at a New York City auction for more than $7 million.
Sotheby's auction house hasn't said who bought Fernand Leger's "Three Women at the Red Table" for $7.2 million on Tuesday. The abstract work had a pre-sale estimate of $5 million to $7 million.
Proceeds of the sale will benefit the Ray of Light Foundation, which supports girls' education in Afghanistan, Pakistan and other countries.
Madonna says she wanted to "trade something valuable for something invaluable" in countries where female education is rare or nonexistent. She bought the work at Sotheby's in 1990 for $3.4 million.
Leger created the work in 1921 as part of a series depicting women with still-life compositions.
"Uniqlo Grand Prix 2013″ Madonna T-shirt design
Last year, we at Madonnarama reported that Uniqlo had launched its UT (UNIQLO T-shirt) Grand Prix 2013 annual T-shirt design contest.
The t-shirts are available in store and online (US – UK).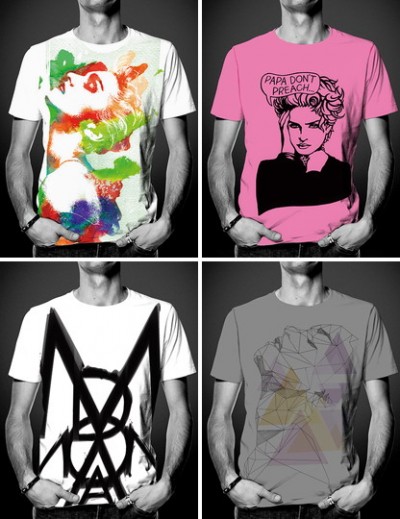 Hamish Hamilton on working with Madonna
BAFTA honoree Hamish Hamilton sat down with The Hollywood Reporter for an interview.
Here's what he had to say on Madonna…
You also did the Madonna Super Bowl halftime show?

Hamilton: The Madonna show came about simply speaking because I've done the Super Bowl halftime show now for four years, starting with The Who and most recently this year with Beyonce. Creatively each of the Super Bowls has been a very different experience. Some artists are actually quite hands off, Madonna as an artist is incredibly hands on. She, her team and I worked across all aspects of the production to make sure it was a spectacular Super Bowl performance.
Does Gwyneth Paltrow have better abs than Madonna?
Forbes: Coachella or Madonna?
Forbes asks: Would you rather go to Coachella for $370 and hear dozens of live musicians fourteen hours a day for three days or go see the Madonna show for two hours and maybe pay close to the same dollars for one ticket. What's your answer…
Peter Rauhofer passed away
Peter Rauhofer has remixed a number of Madonna songs in the past, including Nothing Really Matters, 4 Minutes, Nothing Fails, Mother and Father has recently passed away
His manager posted on Facebook…
Today the music industry has lost one of it's true heroes.
With a heavy heart I must now report that Peter Rauhofer has lost his battle with brain cancer.
He passed quietly today and is survived by his mother, Helga, who resides in Austria.
She will transport Peter back home to his final resting place there, but to all that knew Peter, his heart will always be in New York City.
It makes me sad, not only that I have lost a friend, but that the world has lost an amazing talent and that future generations will never get to understand the magic that Peter created night after night all over the world.
He is gone too soon but we will always have the vast body of music that Peter left for us.
Through his music, Peter will live forever. The brightest stars always burn out too soon. Peter, you were loved and you will be terribly missed. Goodbye my friend. Please rest in peace knowing that you have brought so much joy to so many of us. I ask that his true fans keep his legacy alive by sharing his music with anyone who may not have had the opportunity to experience it for themselves.
Madonna's official Facebook posted the following video "in honor of Peter Rauhofer"…
Madonna fan on the set of "Sorry"
Hard Candy Fitness Sydney
Material Girl – Walk off the Earth
Mario Testino: "I'm like the Madonna of photography"
Photographer Mario Testino believes his career has had such longevity because he has the ability to adapt and reinvent himself for every client, just like the Queen of Pop.
At the Vogue Festival in London he said…
Ultimately I made my range wider because I wanted to suit each publication that I worked for. Talk about reinvention – I'm like the Madonna of photography.

Madame X is available in Box Set, CD, Vinyl and Cassette!
Get your copy HERE!