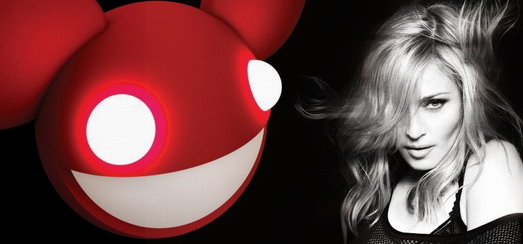 After calling out Madonna for purportedly promoting ecstasy use by making a silly reference to "Molly," a term for the pure form of the drug, at Miami's Ultra Musical Festival in March, electro house producer Deadmau5 is ready to go another round.
So, what did he have to say about Madonna in the upcoming issue of Rolling Stone…
"You want to be 'hip' and 'cool' and 'funky grandma?'"
Fine. It's not my place to say you're irrelevant.
If you're going to come into my world, at least do it with a little more dignity.
I understand she has millions more fans, and is way more successful than I'll ever be, but it's like talking about slavery at a fucking blues concert. It's inappropriate."
Perhaps the musician didn't get the message Madonna sent out in response to Deadmau5's initial tweet criticizing her appearance. A few days after she made headlines when she asked the audience, "Have You Seen Molly," Madonna tweeted to @deadmau5 lovemau5," linking to a black-and-white photo of herself dressed as Minnie Mouse.
Then in a caption above, she wrote…
"From one mouse to another, I don't support drug use and I never have. I was referring to the song called "Have You Seen Molly" written by my friend Cedric Gervais who I almost worked with on my album."
One would have thought that would have put the feud to rest, especially after Deadmau5 tweeted back that he accepted her explanation, and she replied "that communication is always best" and wrote that if he'd called her first, "we could have cleared it up privately."
Maybe Deadmau5 is going back on that, because he's never got as much attention as he did that day…

Madame X is available in Box Set, CD, Vinyl and Cassette!
Get your copy HERE!