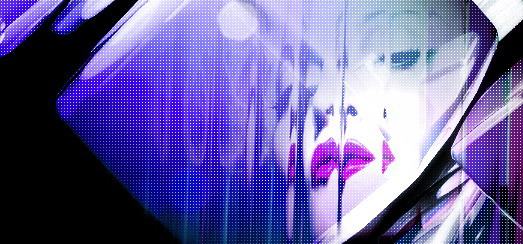 Today MDNA got released worldwide and a lot of Madonna info has hit the web.
Here's a small overview…
MDNA Nightlife Edition
The Smirnoff exclusive MDNA Nightlife Edition is finally available.
Order HERE!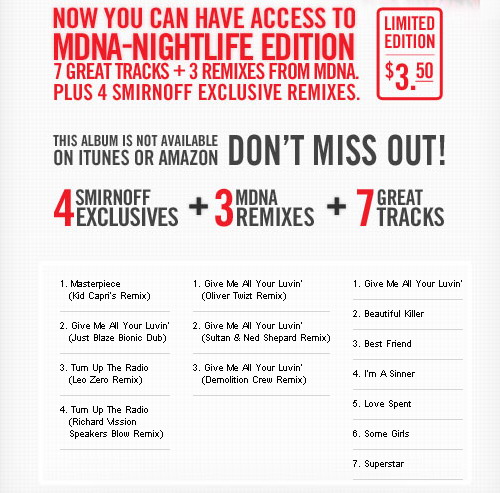 Madonna Launches Her First iPad App
To celebrate the release of her new album MDNA, Madonna has decided to take her fans' mobile experience to a brand new level.
Interacting, sharing, shopping, watching and listening was the goal when the superstar launched her first smartphone app, powered by the leading self-service mobile app platform Mobile Roadie.
Today, Madonna announced the release of her revamped iPhone app, but also the launch of her first iPad app. No matter where they are, fans can now stream Madonna's music, photos, videos and share their thoughts, images and news with other fellow fan friends from around the world using their favorite mobile device.
The free app is available for iPad along with iPhone and Android. Go ahead and download your copy of it from the iTunes App Store, Google Play or by visiting http://www.road.ie/Madonna
LMFAO to open for Madonna
LMFAO will open for Madonna at the Madonna World Tour at Hyde Park in London on July 17th and at the Stade Charles Herman in Nice on August 21st.
MDNA Promo
Yahoo! launched its "upload a picture of yourself with the MDNA album" contest to win PIT passes and promoted the event by posting a video of Madonna singing and kissing Nicki Minaj on the set of "Give me all your Luvin'".
Spotify also launched their first ever global super fan contest today. Tickets to the Madonna World Tour will be up for grabs.
All the details HERE!
iTunes Charts
MDNA is already #1 on iTunes in 34 countries… and still continues to do great!
New Madonna World Tour concert dates added
Live Nation UK announced that Madonna will perform at the National Indoor Arena in Birmingham on July 19th. A few hours later, Melnitsa confirmed that Madonna will perform on August 4th at the Olympic Stadium in Kiev.
All the details HERE!
Dr. Drew warns us about MDNA
Celebrate The Release Of MDNA With Madonna
Don't forget: Madonna will be celebrating her new album MDNA with her fans on the day of release, tonight at 10pm EST.
The Material Girl will answer your questions for one-day only via a Twitter account @MadonnaMDNAday. Send your question and include the #askmadonna hashtag at the end. Want to see the chat unfold in real-time? Go to www.madonna.com/askmadonna
Metrosource contest
Metrosource is hosting TWO Madonna contests this week! Win Madonna's "Truth or Dare" on Blu-ray and Madonna's latest album MDNA!
Win tickets to see Madonna in Birmingham
Listen to Free Radio tomorrow and win tickets to the Madonna World Tour at the NIA in Birmingham!
When you hear Madonna songs between 10am-4pm call up and win!
All the details at Free Radio!
Fab offering MDNA at discount
Fab is offering the MDNA Deluxe Edition at $7,99 compared to $14,99 at retail! All the details at Fab.com
Thanks helacool!
Madonna related Tweets
Arianne Phillips:
#MDNA day. Everyone gets 2 hear the music that has been my constant soundtrack 4 dreaming up costumes 4 Madonna's world domination in 2012.
William Orbit:
Salut @msolveig! Ma copie de MDNA est arrivée et j'apprécie vraiment vos chansons! Je suis Addicted !
Martin Solveig:
@WilliamOrbit ahah merci bcp sir William u BANG it hard too

Madame X is available in Box Set, CD, Vinyl and Cassette!
Get your copy HERE!