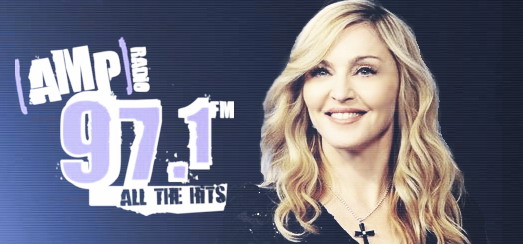 The one and only Madonna called in this morning on AMP Radio and talked with Carson Daly.
She talked about her epic Super Bowl half time performance, her feelings on the whole M.I.A middle finger debacle (and apology!) and of course her new album MDNA.
She told Carson…
I was up in the bleachers doing my pom pom routine. I was oblivious. In fact, I didn't really know about it until after I had come backstage and changed and came out to finish watching the football game…I was surprised, nobody knew about it. She surprised us all.

I like her and you know I believe in people having individuality and I like her punk rock attitude. Actually I think she's really cool and that's why I asked her to be in my show and be on my record. But I didn't think that was the time or the place for it, to tell you the truth.

That's the unfortunate thing and we were really careful to be super honest and the NFL was super honest with us about what we could and couldn't do and I had no interest in rocking the boat or doing anything to offend anybody. We were all clear on that and it was a joyous evening…not the place for it. It felt like a negative note, you know what I mean?

Yeah, yeah. She has [apologized]. I know she feels bad…I accept her apology, but you know, I think she still has her head in the sand right now. I'm not sure.

[The Super Bowl] was an overwhelming experience. I've never played in the round like that before in the middle of the stadium and so I was worried about that and also it was on NFL turf. I didn't know how people were going to respond and it was just crazy. I think it was the best time I've ever had on stage.

Madame X is available in Box Set, CD, Vinyl and Cassette!
Get your copy HERE!