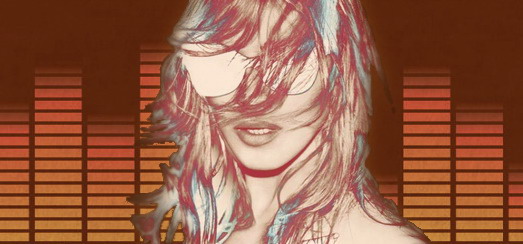 We at Madonnarama already revealed lots of details on the setlist for the MDNA World Tour and the collaboration with Basque trio Kalakan.
Now we have got more new exciting information from our very reliable sources!
If you don't want any spoilers, look away now, if you can't wait for the exclusive, then enjoy…
Just like any recent Madonna show, the MDNA Tour will again feature incredible backdrop videos!
The footage for the interlude backdrops have already been shot and the videos are currently in post-production. Madonnarama can reveal that Best Friend, Justify my Love and Nobody Knows me will be the three interlude backdrops for this tour!
The Justify my Love video interlude says one thing: "Dita is back!"
Madonna is being chased by carnival freaks who are wearing different masks, but goes hiding in a room to enjoy herself! It has the same feel as the "Truth or Dare by Madonna" commercial to it and is very sexy.

According to our sources, the video is a metaphor for everybody trying to take advantage of Madonna, judge her or exploit her private life. Instead, Madonna chooses to lock herself up in a room to escape from it all and to indulge in her own fantasies. All this in a very sexy setting!

The backdrop videos for the first "Transgression" section are very dark and deal a lot with violence and death.
Madonnarama sources confirm that Dago Gonzalez, who directed the "Paradise (Not For Me)" and "Bedtime Story" backdrop for the Drowned World Tour and Re-Invention Tour, will again be working with Madonna for the upcoming tour!
We previously reported that Basque trio Kalakan will be collaborating with Madonna and will also be featured throughout the show.

The trio will be adding some extra vocals to Masterpiece to give it a unique feel, so it shouldn't come as a surprise if we reveal that the footage for the Masterpiece backdrop is inspired by the Basque Country.

Some of the scenes including traditional dancing, locations and costumes have already been shot.
Our previous posts on the MDNA World Tour spoilers:
– THE MDNA WORLD TOUR 2012 – Setlist Spoilers Part 1
– THE MDNA WORLD TOUR 2012 – Spoilers – Madonna to collaborate with Kalakan
– THE MDNA WORLD TOUR 2012 – Setlist Spoilers Part 3
Stay tuned for more exclusive Madonna info, only at Madonnarama!
Big Thanks to The Beautiful Sinner

Madame X is available in Box Set, CD, Vinyl and Cassette!
Get your copy HERE!