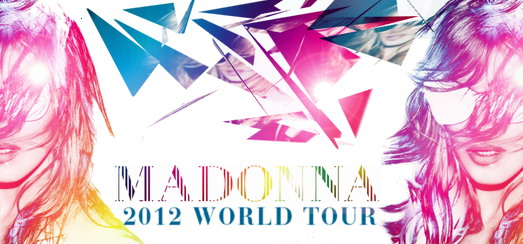 The MDNA World Tour will open on May 29th in Tel Aviv and, thanks to our sources, Madonnarama has learned some new info on the setlist Madonna is currently rehearsing for the tour!
If you don't want any spoilers, look away now, if you can't wait for the exclusive, then enjoy…
Keep in mind that Madonna is currently in rehearsals and that the final setlist might include some changes.
The MDNA Tour opens up with religious chants that lead into Girl Gone Wild. Just like the album version it includes the Act of Contrition intro and also has a new instrumental part featuring whip-sounds and even some Material Girl lyrics. Then comes Revolver featuring Lil Wayne, who will appear in the backdrop video, followed by Gang Bang. The fourth title on the setlist is the first real surprise: an edited version of Papa Don't Preach!
Hung up has completely been reworked to fit the theme of the MDNA tour and next up is guitar-heavy I Don't Give A featuring Nicki Minaj.
Some of you might have noticed similarities between Best Friend and Heartbeat from the Hard Candy album. You're not the only ones, because the tour version now includes more Heartbeat references and even some lyrics.
Express Yourself has some HUGE surprises that will have everyone talking, but we won't spoil these for the moment.
After this we go into the Just Blaze remix of Give me all your Luvin', followed by Turn up the Radio.
Another surprise on the setlist is a completely reinvented version of Open Your Heart, which is followed by a track from the MDNA album, Falling Free. The tour version is very similar to the album version, but has a more prominent violin sound.
The second part of the show also includes a totally reinvented version of the William Orbit remix of Justify my Love, including new lyrics, and a Nobody Knows Me video interlude.
Stay tuned for more exclusive Madonna info, only at Madonnarama!
Big Thanks to The Beautiful Sinner

Madame X is available in Box Set, CD, Vinyl and Cassette!
Get your copy HERE!