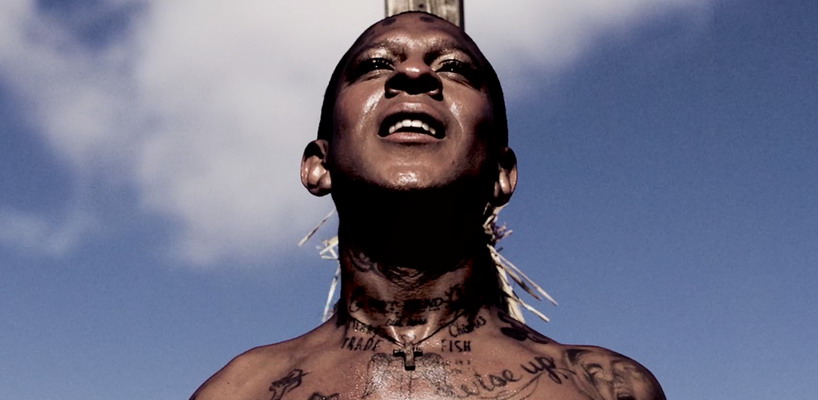 In an exlcusive interview with Billboard, rapper Mykki Blanco explains how he got in contact with Madonna
Last year, Mykki Blanco was walking around an IKEA in Lisbon, Portugal, attempting to find a couch to furnish his new apartment. All of a sudden, his phone buzzed as a text message came in saying, "Hello, is this Mykki?" When the star confirmed and questioned back, asking who was texting him, he received the reply, "Hi, this is M, Madonna."
It wasn't a total shock for Blanco — producer extraordinaire Mike Dean had reached out two weeks prior asking if he could give Madonna his contact information. But what started as a simple text conversation turned into an elongated phone call within the confines of the Lisbon IKEA.
He told Billboard…
I was hiding in a staged kitchenette set in an IKEA with the curtains closed, and we're talking on the phone for the first time. So you can imagine how surreal this was for me.
Madonna chose him to portray the legendary French heroine Joan of Arc in her video for "Dark Ballet," believing that the rapper could properly relate to the saint's struggle.
Blanco explains…
She tells me, 'Based on some of the things that you've told me you experienced in this industry and in this society, I feel that some of those things could be a modern day analogy for Joan.'Because think about if you had existed as you in her time — you would have been burned at the stake as well.'
While the video was directed by up-and-coming talent Emmanuel Adjei, Blanco says that Madonna basically served as an uncredited co-director for the project, advising on acting, choreography, cinematography, and even the costuming of the background extras…
She's so invested in every detail of what she does, and when someone's been doing this for 30 years, especially a pop icon like her, I guess you would expect that. Intention is very important to her, that's what I took away.

[Madonna even took over a choreography rehearsal, saying that she wanted to try something different for a section of the video] Within an hour and a half, we had new choreography directly from Madonna. Madonna's a hell of a dancer.

We don't just shoot something or move or flail our arms just for the hell of it. There's always a deeper, inner intention.

She's not doing me any favors. But for her to reach her hand out and lift me up creatively to her level … that does mean something to me. This project has exposed me to an audience that might not have been within my reach.
Blanco feels that Madonna's current innovations in her music are largely overlooked thanks to her age. Madonna would certainly agree with that statement — in an Instagram post on Thursday (June 6), the singer criticized the New York Times Magazine's cover story on her, saying that the writer was primarily focused on her age rather than her artistry. Blanco says he has not had an opportunity to read the story, but he agrees with Madonna that many in the industry overlook Madonna's creativity in favor of her age…
When people are making these comments that are so ageist, it's not only tacky, but it's so disgusting to me. It's so misogynist, because you're saying an artistic being shouldn't continue to play and manifest their imagination however they see fit.
Mykki Blanco also posted the following on his Instgram…
This video is the first time I have ever worked with a Black director, a genius of a man @emmanueladjei_.

This video is the first time I have ever worked with a female owned and run production company. @wearereadytoshoot.

@madonna you lift people up, you understand where your achievements have placed you and you extend your hand, your mind and your heart and you UPLIFT!

I hope the messages and metaphors in this video are understood. I hope that people watch it, pause for a moment and reflect and watch it again.

The "Stigma" surrounding those living with HIV is all too real. "Systematic Oppression" is not a "buzzword".

"Institutional Racism" is not a "trending topic"
.
"Misogyny, Transphobia and Homophobia" are things we have to actively dismantle. We have to stay vigilant and unafraid to be militant when others may want us to appear palatable.

Madame X is available in Box Set, CD, Vinyl and Cassette!
Get your copy HERE!
comments powered by

Disqus