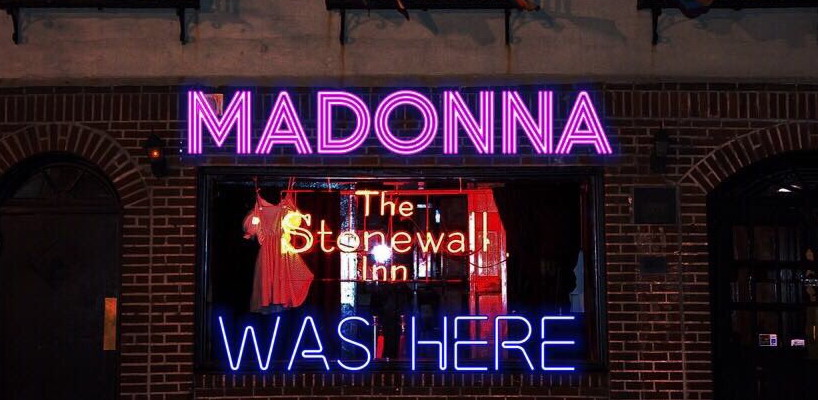 Madonna made a surprise appearance at the Stonewall Inn in New York on New Year's Eve where she gave a speech. She also performed two songs ""Like a Prayer" and Elvis Presley's 1961 hit "Can't Help Falling in Love" accompanied by David Banda (her adopted 13-year-old son) on acoustic guitar.
I just wanna say I've never performed on a stage this small!

You survived 2018? Are you happy to say 'Goodbye bitch'?
I do have some serious things to say.
2019 is the year I start wearing glasses.

I stand here proudly at the place where pride began, the legendary Stonewall Inn, on the birth of a new year. We come together tonight to celebrate 50 years of revolution.

If you can't imagine how happy I am to return home to New York City, where dreams are born and forged out of fire and brought to life, where I am proud to say that my journey as an artist began, and my commitment to equality for all people took root.

If we truly took the time to get to know one another we would find that we all bleed the same color and we all need to love and be loved.
Let's remember who and what we are fighting for — ourselves, for each other, but truly and most importantly, what are we fighting for?
Let's take a minute to reflect on how we can bring more love and peace into 2019, let's look at how we can bring random acts of kindness. Maybe we can find an opening to bring the light in. Are you ready to do that?
This follows last week's announcement that Madonna had been named an ambassador for the 50th anniversary celebration of the Stonewall Inn – the bar in New York's Greenwich Village where the riots that kicked off the modern LGBTQ movement took place in 1969.

Madame X is available in Box Set, CD, Vinyl and Cassette!
Get your copy HERE!
comments powered by

Disqus