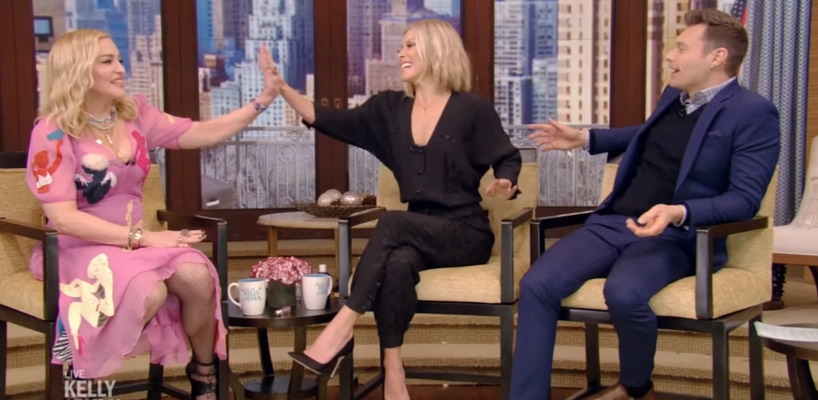 Madonna was a guest on "Live with Kelly and Ryan" where she talked about the move to Portugal, her career, philanthropic activities, as well as her current projects, including her brand new MDNA Skin care line, which was recently launched in the U.S.
The most exciting part was probably Madonna's short exchange with Anderson Cooper where he asked her when she was going back on tour:
Soon! I got to get my show together.
2017 was soccer mom in Portugal. 2018 I'm coming back baby and I'm coming for you!
Dressed in a pink dress with colorful appliques, Madonna talked about her recent move to Lisbon, Portugal. Why'd she move?
Soccer. I am an official soccer mom. I'm a soccer mom that moved to Lisbon. I'm a fat soccer mom.
Madonna did move to Portugal so her son David could join a soccer team, but according to the star, sports isn't the only thing that interests her kids.
My oldest daughter dances, my son Rocco paints. David is a soccer player but says his fallback career is being a singer/songwriter. Mercy announced to me the other day that she wants to be a designer of sportswear, loungewear…basically the next Kanye!
Madonna added that she's made a point of exposing her children to culture…
My kids can look at a painting and say, 'That's a Jackson Pollock, that's a Basquiat, that's an Andy Warhol,' and I am so proud of them.
To which Kelly replied…
My kids can do that with your album covers!
The most important info came from her short discussion with Anderson Cooper…
Check out the full interview…

Madame X is available in Box Set, CD, Vinyl and Cassette!
Get your copy HERE!
comments powered by

Disqus