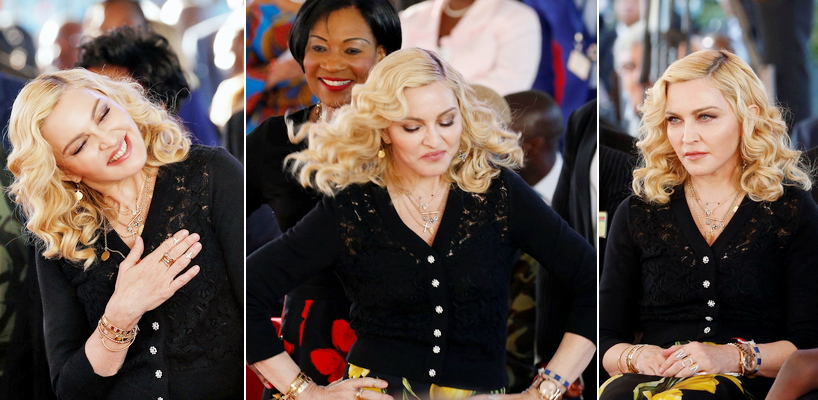 Madonna opened The Mercy James Centre for Pediatric Surgery and Intensive Care in Blantyre, Malawi on July 11, 2017!
Madonna was hailed as a "symbol of a motherly spirit" by Malawi President Peter Mutharika after the American singer opened a children's hospital named after her adopted daughter Mercy James.
The Mercy James Institute for Paediatric Surgery and Intensive Care located in Blantyre, Malawi's second-largest city, is the first such facility built in the country by Madonna's charity Raising Malawi.
Madonna said at the hospital's official opening…
We will ensure that not only will it be a world-class children's hospital, but also a superior center of learning. This is as much about healing as it is about empowerment.
Madonna criticized Malawi's slow pace of law reform, saying it nearly prevented her from adopting Mercy James…
It was not an easy battle.
The judge refused me because I was recently divorced. We hired lawyers, went to the Supreme Court. But I never gave up, I never backed down.
I fought for Mercy and won. We fought for this hospital and won. Love conquers all.
Speaking at the event, Mercy James drew applause and ululation from the crowd after saying…
Many kids and many lives will be saved. Thank you mum, you're the bomb.
Madonna established the non-profit Raising Malawi charity in 2006 to provide health and education, particularly for girls. The charity has built 10 schools in Malawi, according to its website.
Madonna then danced to a local song with Malawi's first lady Gertrude Mutharika.
Mutharika, who attended the hospital's launch, said…
Madonna is a symbol of a motherly spirit" and that the hospital was Malawi's "national pride."
The health minister Peter Kumpalume said the hospital will help save lives of newborns in a country where infant mortality is still one of the highest in the world, but steadily declining…
For our part, we will fully support the facility, we are bringing in doctors and drugs.
Malawi's infant mortality rate declined to 42 deaths per 1,000 live births in 2016 from 135 deaths in 1992, government data shows.

Madame X is available in Box Set, CD, Vinyl and Cassette!
Get your copy HERE!
comments powered by

Disqus