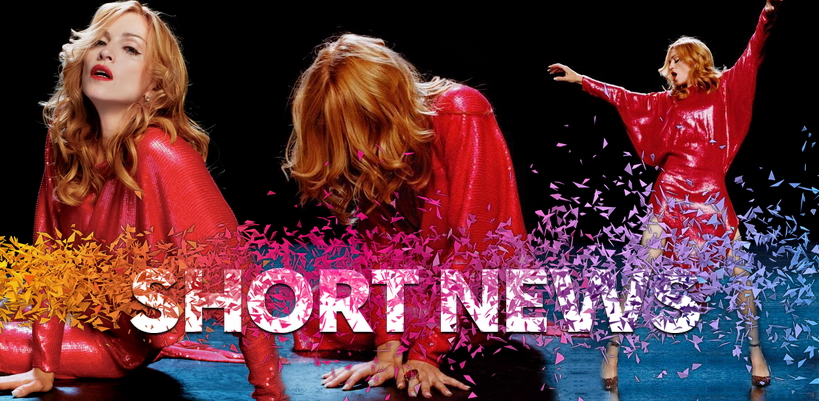 Camille Paglia: I think the present Madonna is a travesty.
During a talk with self–proclaimed "Amazon feminist," Camille Paglia, and Andy Cohen, an Emmy Award–winning host, producer and New York Times best–selling author, the topic of Madonna came up.
Camille Paglia already wrote a statement in December 2016 after Madonna gave a speech at the Billboard Women in Music event. This time, she had some harsh words, again…
In the past few weeks I've shown some of Madonna's brilliant videos of the 1980ies and 90ies. Works of art of such a level, I'm practically speechless when I see them again. I can criticise the present Madonna for the way she has betrayed the genius Madonna of the 80ies and 90ies.
I think the present Madonna is a travesty.
Check out the full segment…
Vision Quest Blu-ray release
Warner is releasing "Vision Quest" on Blu-Ray on May 16, 2017.
Pre-order HERE!
High school wrestler Louden Swain is a man obsessed, trying to shed 23 pounds in a dangerously short time and take on Shute, the undefeated, tough-as-nails 168-pound champion who's the best wrestler in the state. Matthew Modine stars as the mop-headed student undeterred in his Vision Quest…until the day a sexy drifter (Linda Fiorentino) threatens to pin Louden and his dreams to the mat of unrequited love. The hit soundtrack features Journey's "Only the Young," Foreigner's "Hot Blooded" and John Waite's "Change." In her first film, Madonna shines while performing "Gambler" and "Crazy for You." You'll go crazy for Vision Quest.
Madonna Dance Mix – Limited Edition
Rhino and Warner Bros are releasing an exclusive limited edition of the "Madonna Dance Mix" vinyl for Record Store Day on 22 April 2017.
Dance Mix is a 1985 four track EP originally released only in South America. The rare 12″ features Madonna's ground-breaking hit "Into The Groove" from the 1985 film Desperately Seeking Susan in which Madonna starred, an extended dance mix of 1984 single "Angel" produced by Nile Rodgers and mixed by Nile Rodgers and James Farber, a 12″ "Chica Material (Material Girl)" remix by John "Jellybean" Benitez and produced by Nile Rodgers and "Vacacion" (Holiday) produced by John "Jellybean" Benitez. Dance Mix is being released for the first time worldwide for Record Store Day 2017. (Limited worldwide release of 8000.)

SIDE A: "Into The Groove (Single Version)" 02 "Angel (Extended Dance Mix)" SIDE B: "Material Girl (Extended Dance Remix)" 02 "Holiday"
Madonna on the Empire State Building
In celebration of Harper's Bazaar's 150th birthday, 150 of the most iconic images from the pages of Harper's BAZAAR were projected on the Empire State Building with help from Tiffany & Co.
Watch below and see some of your favorite fashion photography against the city skyline…
God Bless You Glenn O'Brien
American writer Glenn O'Brien, who worked together with Madonna on her SEX book as an editor, passed away on April 6, 2017.
Madonna posted the following on Instagram…
Say Good-bye to an Amazing Soul and a Creative Genius! God Bless You Glenn O'Brien.
Timbaland on working with Madonna
Timbaland opened up about his past collaborations for Entertainment Weekly's Untold Stories issue…
The Queen of Pop brought the heat when she teamed up with Timbaland and co-producer Pharrell Williams for her Hard Candy LP — and not just metaphorically. Madonna has been known to turn down the air-conditioning at concerts and during recording sessions over concerns that colder, drier air could affect her voice. "The studio was hot," Timbaland remembers. But apart from her high-temp preferences, there was no diva behavior in the booth. "She was down-to-earth Madonna," he says. "She's just brutally honest about a lot of stuff: 'I'm doing this, I'm not going to sing that.' She's very matter-of-fact but still very fun and loving and into her craft."
Just Say 50: Sire Records 50th Anniversary Box Set featuring Everybody
Sire is releasing an exclusive limited edition 4-vinyl box set "Just Say 50: Sire Records 50th Anniversary Box Set" featuring Madonna's "Everybody" for Record Store Day on 22 April 2017.
A 4 LP, limited edition, numbered box set exclusive that celebrates the 50th anniversary of the legendary and influential Sire Records label, co-founded in 1967 by Seymour Stein. The compilation spans the years 1969 to 1995, and features 46 artists, including early releases from Climax Blues Band and the label's first #1 hit, "Hocus Pocus" by Dutch band Focus, plus all the key artists from Sire's amazing history: Madonna, Talking Heads, The Ramones, The Smiths, The Pretenders, Depeche Mode, Echo & The Bunnymen, The Cult, Ice T, k.d. lang, Seal, The Replacements, Wilco and the list goes on and on.
Patrick Leonard on Instagram
Organizing vinyls and found this test pressing. Was probably only played one time

Madame X is available in Box Set, CD, Vinyl and Cassette!
Get your copy HERE!
comments powered by

Disqus