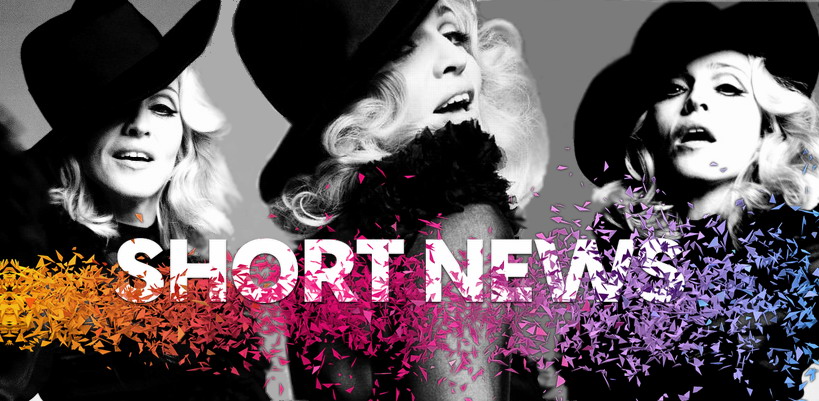 Forbes World's Highest-Paid Women in Music of 2016
Madonna, who was named the highest-paid woman in music in 2013, ranked third this year. Her recent "Rebel Heart" tour grossed $170 million, bringing her career total on the road to $1.4 billion pretax, according to Forbes magazine.
The top 10…
1. Taylor Swift, $170 million
2. Adele, $80.5 million
3. Madonna, $76.5 million
Coming in a close third place is pop legend Madonna. This year, Madonna went on a global "Rebel Heart" tour that generated $170 million thanks to her die-hard fans of decades in addition to new ones. Madonna also has a clothing and perfume line, Material Girl, that helps contribute to her yearly earnings.

4. Rihanna, $75 million
5. Beyoncé, $54 million
6. Katy Perry, $41 million
7. Jennifer Lopez, $39.5 million
8. Britney Spears, $30.5 million
9. Shania Twain, $27.5 million
10. Celine Dion, $27 million
Tove Lo's accidental Like a Prayer homage
With a focus on sexuality and female empowerment, Tove Lo's new album brings to mind another "Unapologetic Bitch" — but its cover drew those comparisons first!
Last month, the Swedish pop star released Lady Wood, her triumphant second album. But when she first revealed the record's cover art, fans wondered if the "Cool Girl" singer was paying tribute to Madonna's 1989 Like a Prayer.
Tove Lo tells People magazine…
It honestly just happened.
The Madonna cover did not come into my mind, but I saw it when someone put it up on Instagram and tagged me, and I was like: It's definitely like an homage — an accidental homage!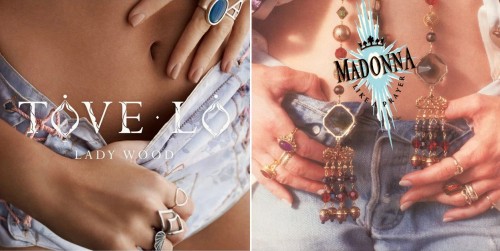 Madonna announces surprise concert on November 7th
Bitches Are You In My Gang??? Doing a surprise intimate very small acoustic concert Monday night in support of Hillary. Stay tuned!
Rain Remixed by Niki and Donna
Niki and Donna's new release, "Rain Remixed," which is a collection of remixes for their version of Madonna's "Rain" is out. The talented remixers on this release include Willie Ray Lewis, DJ Taj, Rezounder, and Chris Creek.
The links for purchase are here:
iTunes: http://bit.ly/NDRainRemixediTunes
Amazon.com: http://bit.ly/NDRainRemixedAmazon
Sire Records co-founder Seymour Stein embarrassed about Madonna deal
Nearly 60 years after getting his start as a chart researcher at Billboard, Sire Records co-founder Seymour Stein has a lot of accomplishments — and a few regrets — under his belt. In a chat with Yael Chiara, brand manager at European independent label and distributor PIAS, Stein reveals why he is "embarrassed" by the not-so-lucrative deal he struck with eventual superstar Madonna…
On why he's "embarrassed" by the Madonna deal, which was ironed out in a hospital:
Madonna agreed on $15,000 for three singles and then an option to pick up an album. That was not the usual kind of deal, but I felt that she would be the queen of the 12-inch  –  and she was. And when I heard the fourth single, 'Borderline,' I knew there'd be no stopping her. I always believed she'd be very big, but not like she became. I couldn't even think that big!

It was Madonna's success that convinced his parents he was a success:
They both lived to see Madonna be No. 1 on the charts. They were very proud of me.
Idris Elba and Madonna are not dating
After reports surfaced last weekend that Elba and Madonna were spotted kissing at London's M Restaurant , Elba sent out a tweet, in an attempt to shut it all down:
Am I sleeping with Madonna? No motherfuckers… "Don't believe the Hype".

— Idris Elba (@idriselba) October 31, 2016
Auction to raise funds for Stonewall Inn National Monument
June 24, President Obama designated Stonewall National Monument as the newest addition to America's National Park System. Stonewall is the first national monument to tell the story of the struggle for LGBT rights in America.
In support of this historic designation, Pride Live Nation has partnered with Charitybuzz and some of the biggest names in entertainment to raise funds directly for the Stonewall National Monument.
Visit charitybuzz.com/stonewall and bid on exciting experiences and items donated by Anderson Cooper, Cher, George Clooney, Taylor Swift, Justin Tranter, Jonathan Adler, Andy Cohen, Bryan Lourd, Cyndi Lauper, Mick Rock, David Karp, Taylor Swift, Dustin Lance Black, and Moncho1929.
In addition, Madonna has donated a pair of cherry red & purple velvet Prada couture shoes , Stevie Nicks has donated a trademark rhythm tech tambourine designed exclusively for Stonewall National Monument, and Demi Lovato has donated one of her specially designed Michael Costello sequin costumes worn on her Future Now tour.
The auction runs through Nov. 10, 3 p.m. EST.
The funds raised through the unique celebrity experiences and items will go toward helping to provide for dedicated National Park Service rangers, a temporary ranger station and visitor center, research and materials, exhibits, LGBTQ community outreach, public education and scholar engagement at Stonewall National Monument.
Playing Cards With Madonna
British artist Miranda Donovan, known for illuminating the shadowy aspects of humanity, is now turning her attention to global icons, placing them – in lieu of the standard queens, kings and knaves – in a pack of playing cards. Featuring showbiz heavyweights like Madonna, Prince and Bowie, political figures (Fidel Castro) and icons of darkness such as Charles Manson, the nine cards not only reveal hidden truths about their subjects, they also tell stories about the tussle between order and chaos. The Hand You Are Dealt is Donovan's first exhibition in Los Angeles, running from October 28th to December 8th at the West Coast gallery of jeweller Stephen Webster in Beverly Hills.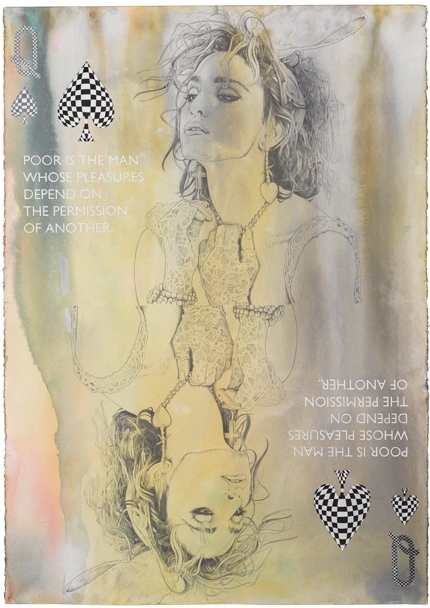 Madonna and Hillary Clinton are related
The 2016 Democratic presidential candidate revealed on The Ellen DeGeneres Show that she and the Queen of Pop are 10th cousins. "That's true," Hillary Clinton told Ellen DeGeneres. Clinton and Madonna share the same great-great-great-great-great-great-great-great-great-grandparents.
Julie Chen as Madonna
Julie Chen dressed up as Madonna for Halloween last year, so here is a throwback video…
Younger's Debi Mazar: My daughter vomited on Madonna!
Actress Debi Mazar, who plays Maggie in TV Land's Younger, was working at nightclub Danceteria when she first met the Material Girl. She soon became became the singer's makeup artist, music video costar and confidante. Appearing on The Jenny McCarthy Show on Wednesday, Mazar said her two children don't really get star-struck… not even by Madonna.
"They don't know if someone's really famous sometimes," she explained. "A couple of my friends are, like Madonna for instance. My daughter vomited on her, like, she never really realized what her career was."
"Wait, what happened?" McCarthy asked, cracking up.
"She got the flu, she was at a sleepover, and Madonna took care of her and she vomited all over her," Mazar said, laughing. "She thinks of her as like a kind mom."
Madonna to pissed off co-op board: Bitch, I'm Madonna
The pop superstar, fighting efforts by her Central Park West co-op to keep her family and hired help out of her apartment, argued in court papers that the tony building's managers knew exactly whom they were letting in when she started living there in 2004.
"At that time, I was, and still am, a world-known performing artist," the Material Girl sniffs in a Manhattan Supreme Court filing against One West 64th Street, which has objected to the comings and goings at a second unit she bought there in 2008.
"At that time, One West knew or should have known that I traveled extensively and owned other residences.''
She adds that the building "is a place I call home. It is there that I have my cherished personal effects and property such as artwork, paintings, sculpture, special furniture and the like.''
The "Bitch, I'm Madonna" singer is suing the co-op for trying to enforce strict residency requirements on who is allowed inside her unit while she is not there.
In new Manhattan Supreme Court papers obtained by The Post, Madonna and her lawyers say the board's actions violate a state "roommate law" that "renders unenforceable lease clauses that attempt to restrict a tenant's rights to use her apartment for her immediate family, a roommate and the children of the roommate."
The filing suggests the singer doesn't have time to be bothered with such legal shenanigans.
"Certainly such a requirement is ridiculous and impossible for almost any family to comply with, and certainly not someone with plaintiff's itinerant schedule,'' the documents say.
"To be sure, One West knew the plaintiff's living, working, traveling lifestyle as a celebrated entertainer when she purchased the apartment; One West never objected," the recording star's lawyers claim in the papers.
Madonna said that the apartment is her primary residence.
"I would like to have my children and a domestic employee reside . . . with me,'' she wrote.
Lawyers for building managers could not be immediately reached for comment.
Madonna has four children — Lourdes Leon, 19, Rocco Ritchie, 16, Mercy James, 10, and David Banda Ritchie, 11. She has been married and divorced twice: first to actor Sean Penn and then to British director Guy Ritchie.
Madge recently settled her custody dispute with Ritchie over their son Rocco, who skipped out on his mom while they were on her 2015-16 Rebel Heart tour in London and took shelter with Dad.

Madame X is available in Box Set, CD, Vinyl and Cassette!
Get your copy HERE!
comments powered by

Disqus