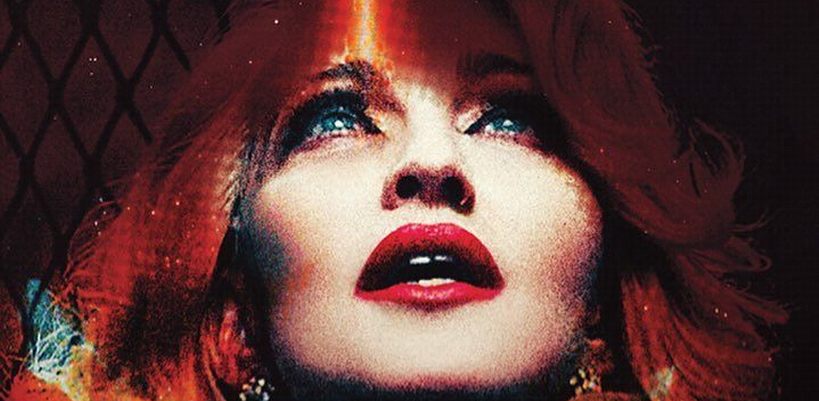 Update #8:
—
Update #7:
—
Update #6:
—
Update #5:
—
Update #4:
Tidal just added a new teaser that includes a snippet of "Rebel Heart".
Check it out…
—
Update #3:
Madonna messes around with her crew during a rehearsal and creates an impromptu song for undressing. Don't miss the premiere of Madonna's Rebel Heart Tour on Friday December 9th at 9 PM ET/PT.
—
Update #2:
Go behind the scenes and watch dancers from around the world compete for a spot in Madonna's Rebel Heart Tour. Don't miss the premiere of Madonna's Rebel Heart Tour on Friday December 9th at 9PM ET/PT.
—
Update:
The official poster of the Rebel Heart Tour show and full trailer have been released!
Check it out…
—
The original article continues below:
Today, Showtime Networks and MADONNA have announced that her highly-anticipated concert film, MADONNA: REBEL HEART TOUR will premiere on December 9 at 9 p.m. ET/PT on SHOWTIME, on-air, on demand and over the internet. MADONNA: REBEL HEART TOUR was shot around the world and features a collection of live and behind these scenes footage culminating in performances at the Sydney Olympic Park in March of this year. The film is co-directed by Danny B. Tull and Nathan Rissman, both of whom have worked extensively with Madonna on her feature films and tour movies. Madonna will be honored later this year as Billboard magazine's 2016 Woman of the Year award, at a star-studded event held in conjunction with the publication of Billboard's Women in Music list, which identifies the 50 most powerful female executives in the industry each year.
For a first look at MADONNA: REBEL HEART TOUR…
David Nevins, President and CEO, Showtime Networks Inc said…
When it comes to putting on a show, there is only one Madonna – an iconic performer that we're thrilled to have on our air. With her unique creative vision and unmatched stage presence, our viewers will see an arena show packed with visual theatrics, stunning costumes and intricate choreography, featuring new hits and beloved classic songs.
The set list for MADONNA: REBEL HEART TOUR spans all decades of the iconic superstar's illustrious career, including songs from Rebel Heart (the No. 1 dance hits "Living for Love" and "Bitch I'm Madonna") to classic fan favorites like "Material Girl" and "Holiday" and a "Dress You Up" medley that included "Get Into The Groove," "Everybody" and "Lucky Star." Memorable highlights from the tour include her first-ever live concert performance of "Take a Bow," acoustic versions of "Like A Prayer," "Secret" and "Don't Tell Me." At each tour date during the song "Unapologetic Bitch," Madonna would bring someone up from the crowd to dance with her during the song. Some nights it was a fan, another night it was Katy Perry. Other guest dancers included: Amy Schumer, Ariana Grande, Jessica Chastain, Idris Elba, Diplo, Gwendoline Christie, Graham Norton and Anderson Cooper.
Produced by Live Nation Global Touring, the Rebel Heart Tour kicked off on September 9, 2015 in Montreal and visited arenas in 55 cities on four continents over seven months. Madonna performed 82 shows, plus a special fan club show in Melbourne. The tour grossed $169.8 Million with 1,045,479 in attendance, making her the top grossing touring female artist in the history of Billboard Boxscore with over $1.31 billion in ticket sales sold over the course of her career. Madonna is also the fourth top grossing touring act (behind The Rolling Stones, U2 and Bruce Springsteen) since tracking began in 1990.
The Rebel Heart Tour was directed by Jamie King with musical direction by Kevin Antunes (the band's keyboardist Ric'key Pageot, drummer Brian Frasier-Moore, guitarist Monte Pittman, and background vocalists Kiley Dean and Nicki Richards), lead choreography by Megan Lawson, hair by Andy LeCompte, makeup by Aaron Henrikson, and costume design by Arianne Phillips.

Madame X is available in Box Set, CD, Vinyl and Cassette!
Get your copy HERE!
comments powered by

Disqus