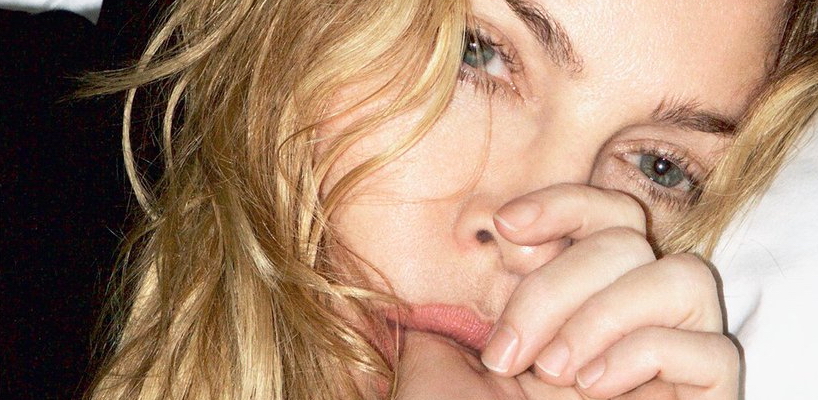 Update: New pictures added
—
The original article continues below:
It's here. The secret project between LOVE and Mert Alas titled LOVE 16.5. The special edition collectors issue 'LOVE by Mert Alas' supported by Marc Jacobs launches on 19th September during London Fashion Week.
Without any hair, make up or styling, cover star Madonna, shot by Mert Alas, is seen sucking her thumb in bed, wearing a hooded sweatshirt by Palace. 'Madonna 2:00AM by Mert Alas' is a 10-page reportage that the photographer shot of Madonnna in the early hours at his Hampstead home.
The Editor-in-Chief Katie Grand says…
In early 2016, the media was obsessing over the discord in Madonna's relationship with her son Rocco. I was struck by how mean the press were about a woman simply going to work and wanting her son to be a part of it. I spoke to Mert about the possibility of doing a shoot with her, as he, Madonna and Rocco are all friends. I wasn't sure it would ever happen, to be honest, but Mert said, 'Let me ask M and Rocco.' Much to my surprise, the morning after Madonna's reconciliation with Rocco, nine stunning images of Madonna arrived via WhatsApp. They had been taken at 2am at Mert's house in Hampstead where he and Madonna often hang out and have casual dinners.
Madonna tells Murray Healy in the accompanying interview with LOVE 16.5 how "acceptance by the establishment equals death" and says…
I don't consider myself a pop act, I consider myself an artist. And it's an artist's responsibility to be revolutionary in our work. It's our responsibility, our duty and our privilege.
On the burden of fame, she says…
I was already famous before social media, so for me fame isn't the burden. Fame is the manifestation or the by-product of my work, and that was two decades before social media. Now to me the burden is people are more focused on fame than actually doing the work or being an artist. Now it's easy to become famous. What isn't easy is to develop and grow as an artist without being distracted or consumed with fame.
Madonna also tells LOVE 16.5…
I like Instagram because it's like keeping a diary and every day I get to share different aspects of my personality, my life, and what inspires me, what infuriates me, or what causes I want to fight for. It allows me to be mysterious, ironic, provocative or proud. I get to use it as a platform to bring attention to people or issues that I think are important. It allows me to be the curator of my life.

Madame X is available in Box Set, CD, Vinyl and Cassette!
Get your copy HERE!
comments powered by

Disqus