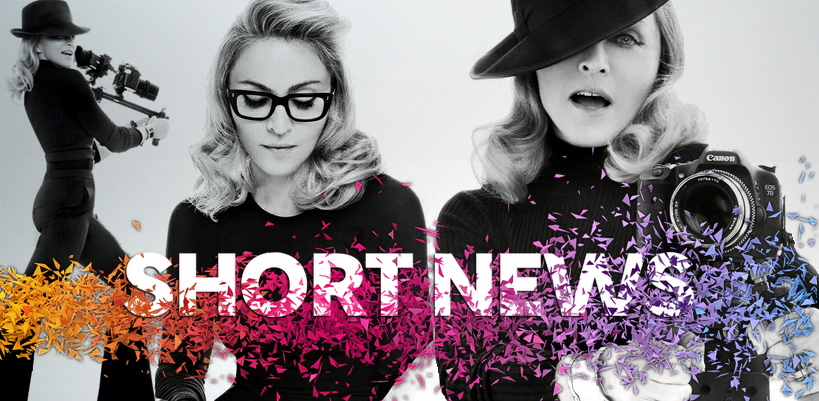 Emma Bunton: Madonna loves gossip
In the August issue of Attitude, Emma Bunton talks about how she felt when Geri famously quit the band in 1998.
I was very hurt at the time. As the youngest, I relied on Geri.
The 40-year-old adds that she bottled up emotions in the wake of the split, and didn't tell anyone how she was feeling – not even Madonna.
I remember when Madonna came to see us after Geri left and Madonna loves a gossip.
She was asking us all about it but, at the time, it was just so raw, I was like 'Er, I'm just gonna go play with [Madonna's daughter] Lourdes.
Bedtime Stories, Erotica & Bedtime Stories reissue on 180-gram vinyl
Rhino/Warner Music are releasing reissues of classic Madonna alums on 180-gram vinyl:
Bedtime Stories (August 12th)
Erotica (August 12th)
Something to Remember (September 13th)
Earlier this year they also released:
True Blue – 30th Anniversary

The World's Highest-Paid Celebrities Of 2016
Forbes released their annual World's Highest-Paid Celebrities list and Madonna took the 12th spot…
1. Taylor Swift ($170 million)
2. One Direction ($110 million)
3. James Patterson ($95 million)
4. Cristiano Ronaldo ($88 million)
4. Dr. Phil McGraw ($88 million)
6. Kevin Hart ($87.5 million)
7. Howard Stern ($85 million)
8. Lionel Messi ($81. 5 million)
9. Adele ($80.5 million)
10. Rush Limbaugh ($79 million)
11. LeBron James ($77 million)
12. Madonna ($76.5 million)
13. Ellen DeGeneres ($75 million)
13. Rihanna ($75 million)
15. Garth Brooks ($70 million)
16. Roger Federer ($68 million)
17. AC/DC ($67.5 million)
18. Rolling Stones ($66.5 million)
19. Dwayne Johnson ($64.5 million)
20. David Copperfield ($64 million)
Madonna's 20 Greatest Videos
Rollin Stone chose their "Madonna's 20 Greatest Videos"…
1. "Express Yourself" (1989)
2. "Ray of Light" (1998)
3. "Open Your Heart" (1986)
Check out the full list HERE
Madonna Birthday Boat Party (11 August 2016)
MADONNATHONNYC presents the biggest Madonna birthday party fan celebration of the year!
August 11th at 7pm
Calling all Rebel Hearts! Your are invited to a once in a lifetime dance party experience! Be apart of the Madonna Fan Documentary called "Living for Madonna'' that will be filming on board while taking a 3-hour cruise with breathtaking views of Manhattan !
+Win Deluxe Madonna Giveaways all Night!

Tickets are limited, you can buy tickets before boarding but theres no gurantee that there will be any left. So we advise you to buy them online

The party starts just before 7pm and we Don't Stop The Music til just before 11pm on this multi-level dance party cruise! Drinking, Dancing, and Partying on a yacht with breathtaking views of the NY Skyline and Statue of Liberty is the very definition of how to party in the summer….so grab your friends, family, co-workers, whomever….and purchase tickets for this ultimate late night summertime event.
More details HERE
13th annual MADONNATHON – Birthday Tribute Show & Dance Party (20 August 2016)
At Brooklyn Bowl for the 13th annual MADONNATHON!
Bigger + better every year, MADONNATHON is the biggest Madonna birthday show/ dance party in the world – featuring LIVE performances by some of New York City's most talented musicians/singers, collaborating to bring you the very best of Madonna's huge repertoire!

And this year for the first time, the party goes all night long with guest DJ Chauncey D (Madonna Worship) spinning Madonna & 80s dance music til 2 am!! Let's afterparty future lovers!

Hosted by Cathy Cervenka & friends!

SPECIAL APPEARANCE BY #1 Madonna Impersonator VENUS D LITE, as seen on RuPaul's Drag Race, Botched & My Strange Addiction!

Sat, Aug 20 doors 6pm, showtime 8pm
@ BROOKLYN BOWL
61 Wythe Ave (bet N 11th St & N 12th St), Brooklyn, NY
TIX ON SALE NOW! http://tinyurl.com/z4z7dof
More details HERE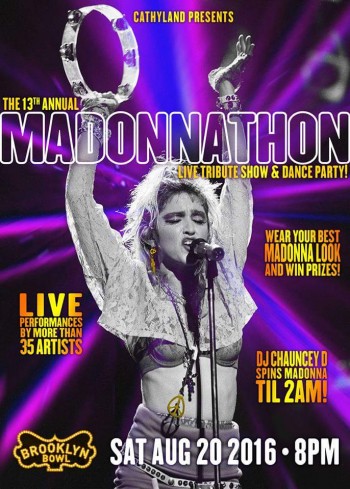 Shirley Manson: I don't know why Madonna cares so much
For the promotion of Garbage's new album "Strange Little Birds" frontwoman Shirley Manson talked to Yahoo about sexism in today's music industry and discrimination against aging female pop stars.
When asked about Madonna's outspokenness on the matter, Manson says…
When I look at Madonna, I think Madonna should not give a f— what anybody has to say about her age. She should explore who she is now. It would be infinitely more interesting [than her] being concerned with whether we find her sexy or not. She's got so much more to offer than that. She should be like, 'Kiss my ass. I'm Madonna. I may be old, but I will always have my legacy behind me and you motherf—ers won't!' I don't know why she cares so much.
Bobby Brown dishes on his past romance with Madonna
In his new book, Bobby Brown speaks out about affairs he had with Janet Jackson and Madonna. He commented to Us Weekly…
We met through mutual friends. One of her dancers was dating a friend of mine and I guess she told my friend that Madonna wanted to meet me. We ended up going down to the studio and the next thing I know, there was some strange things happening to me.
Madonna is really forceful. When she wants something, she'll take it.
Sky Ferreira and Madonna's cup sizes
L.A. Weekly ran an online column about pop artist Sky Ferreira, which was roundly criticized throughout the media world for being sexist. The piece — which spent an unnerving amount of words describing her breasts and comparing them to Madonna's — garnered an apology from its publisher the next day. Now, the artist herself has weighed in.
Ferreira then Instagrammed a photo of her with Madonna, along with a caption mocking the article, but acknowledging L.A. Weekly's apology:
That one time @madonna & I compared cup sizes. Neither of are as Madonna would say- "unapologetic" #BoobsOfPopMusic. (thank you LA weekly for the apology.)
Pia Mia is the first-ever Material Girl fashion director
Pia Mia opened up to US Weekly about being the first-ever fashion director of Madonna's Material Girl clothing line for Macy's …
I died [when I got the call]! I'm in music, so I've been watching all of Madonna's music videos my whole life. And I've seen her documentary Truth or Dare a million times. Just being inspired by her musically and then having her pick me as her first-ever fashion director, it's like blowing my mind right now.
Asked why Madonna, 57, trusted her to hand over creative control of the brand (which the music magnate launched in August 2010 with daughter Lourdes, 19), Pia pointed out that she and the superstar share a similar sartorial savvy.
I think [Madonna's] influenced my style just in the perspective of not caring what anyone else thinks and wearing whatever makes you feel comfortable. I think we're alike in that way.

One of the one things that I love most about Madonna is that in the Truth or Dare movie, when the [Toronto] police come backstage and they're like, 'You have to perform your show a different way because we're in this certain place,' and she is like, 'No, this me as a person. I'm an artist and this is what I want to do. I'm not changing my show.
I thought that was so cool because I feel the same way. Because people are constantly trying to change who other people are, and it's just like you have to stick to who you are and just do you.
Although Pia hasn't met the Madonna herself in person yet ("I honestly don't know what I would do!"), she's already dreaming about collaborating with her in the recording studio … well, maybe…
That would be just like — oh, I'd pass out," she joked. "I'd pass out in the booth!"
Until then, Pia is fully focused on making Madonna proud from afar…
I think it's dope, just because I've loved Material Girl for so long.
And just to be able to work with one of my idols and a brand that I love is so perfect. I'm giving this my all.
Raising Malawi on Instagram
Nonprofit Raising Malawi has launched its official Instagram account…
Rebel Heart Tour fan book
Madonna fan Dirk Timmeran is relesing a Rebel Heart Tour fan book scheduled for November 2016.
The book will be a celebration of the tour with more than 200 pictures in showreel and amazing show statistics and analyses.
If you want to be part of the project and share your story, send him an email at [email protected]

Madame X is available in Box Set, CD, Vinyl and Cassette!
Get your copy HERE!
comments powered by

Disqus