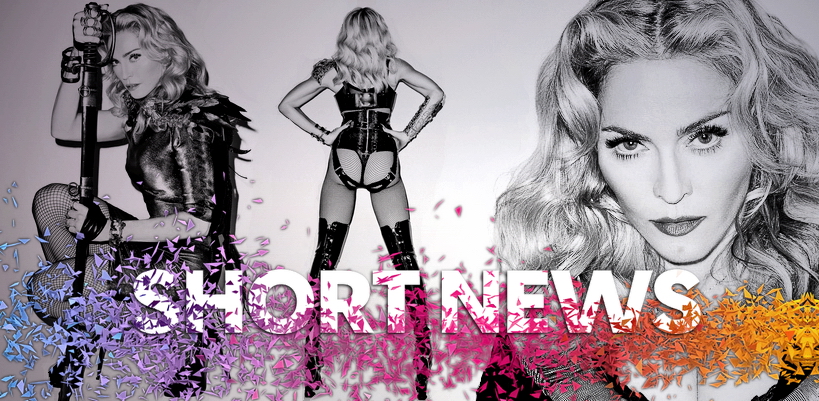 DJ Kaytranada on opening for Madonna
Haitian-Canadian electronic musician, producer & DJ Kaytranada opened for Madonna at the Rebel Heart Tour. Joining Sway in the Morning he speaks about the VIP treatment he received…
She didn't give me words of advice. I had a phone call from her, because I didn't want to do those shows… opening for a big stadium, it's not really the thing I like to do.
She eventually called me and asked me to do those shows.
She was like "You need to come to the show."
She brought me all the way to Quebec City, which is 3 hours away from Montreal. She had a show there.
She gave me the whole treatment, limo, VIP, all that… catering… so I could see how the show is.
It's Madonna… come on.
Miike Snow's Pontus Winnberg: Madonna is courageous
Miike Snow frontman Andrew Wyatt and the band's Pontus Winnberg sat down with Billboard at KROQ's Weenie Roast…
Billboard: Who are the artists you admire the way their careers have evolved, those artists who've had multiple careers?

Andrew Wyatt: If you think about the ultimate it's Bowie.
Pontus Winnberg: It's so obvious, especially now. I think that it's courageous minds, like Madonna. She's tried stuff, some of it works, some of it doesn't work as good. Or she might have a different opinion about what has worked and didn't work.
Madonna is America's Wealthiest Female Musicians
With a personal fortune of $560 million, she's one of the richest self-made women in the country–and claims the top spot on Forbes' first-ever list of America's Wealthiest Female Musicians.
Though Madonna has been in show business for decades, her earnings power is as strong as ever. Her recently-wrapped Rebel Heart tour grossed $170 million, adding to her whopping career total: an estimated $1.4 billion on the road alone.
1. Madonna – $560 million
2. Celine Dion – $380 million
3. Barbra Streisand – $370 million
4. Judyy Sheindlin – $290 million
5. Beyoncé Knowles – $265 million
6. Taylor Swift – $250 million
The 30 Most Memorable Fashion Moments of the '90s
Madonna took the number 2 spot on Marie Clair's The 30 Most Memorable Fashion Moments of the '90s…
Madonna's Cone Bra (1990)
Madonna is a fashion icon across the decades, but one of her most memorable (and most copied) signature looks was the cone bra that Jean Paul Gaultier designed for her Blond Ambition Tour in 1990.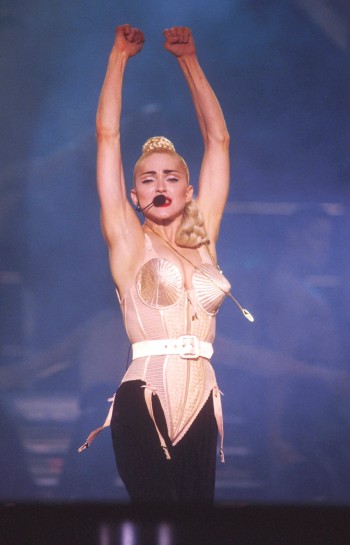 Prince's Revolution Keyboardist Doctor Fink Weighs In on Madonna's Billboard Music Awards Tribute
A key member of Prince's Revolution enjoyed Madonna's Billboard Music Awards tribute to the late superstar. But he felt there was room for improvement, too.
Revolution keyboardist "Doctor" Matt Fink, who continued playing with Prince for five years after the Prince dissolved the band in 1986, is threading the needle between critics who loved Madonna's performance and fans on social media who have been caustically critical.
I'm a huge Madonna fan, always have been, and I know her heart was in, all of it. My own personal opinion was I wish she'd done more of a medley, maybe, not just 'Nothing Compares' and go right into 'Purple Rain' with Stevie Wonder. I thought there should have been more thought put into it as a real tribute, give the fans more than two songs. Maybe she should've done three or four where it's more medley style and culminating with 'Purple Rain.'

I wish the producers of the show had asked affiliated Prince artists to be involved with it, too. I don't know if the Revolution would have done it. Even if we'd been asked in a proper way I think we may have turned it down because…it's too soon. I don't know how that would be perceived. But nobody asked us.
Prince's ex-gf Anna Fantastic talks about Madonna
TMZ asked Prince's ex-gf Anna Fantastic a few questions about Madonna, the Billboard Music Awards performance and more.
Here's what she said…
Well, I don't want to sound like Simon Cowell, but she's had loads of iconic performances but [the BBMAs] wasn't one of them.
You know, I was there when they recorded their duet together … and she really wanted to do a music video and he refused. I heard the phone conversation. I think he liked the song, but he didn't want to do the video. I even said, 'You and Madonna in a video could be really cool.' And he said, 'Me and Madonna in a video? No thanks.' "

She (Madonna) also said, 'I'm going through a lot right now with my divorce with Sean. And he said, 'What has your divorce with Sean got to do with me or this song? I'm not doing a video with you.' They didn't seem like really good friends.

Last year she wanted to do a tour with him and he said something like, "it's too much, the world can't handle this" or, "it's too much for the world to handle right now", but he had a great sense of humour.'
Gene Simmmons blasts Madonna again
Gene Simmons is back at it again.
He told Britain's Metro newspaper…
The Madonnas, the Shakiras, the Rihannas… they're all very good, talented – but dishonest. They never tell their fans, 'Fifty per cent of this is pre-recorded music, I'm actually just moving my mouth up and down, and whatever else is going on'.
St. Barthe "FKA Stacy Barthe" – Virgin
"Virgin" is St. Barthe's take on Madonna's 1984 hit "Like a Virgin"
Madonna Gets Victory Over 'Vogue' Sample at Appeals Court
On Thursday, the 9th Circuit Court of Appeals made it easier for musicians to sample small portions of song recordings by giving Madonna and her producer Robert "Shep" Pettibone a victory in a long-running lawsuit over the 1990 hit "Vogue."
The decision affirms a 2013 ruling by a California federal court that held on summary judgment that a 0.23 second sampling of a horn hit from the 1976 song called "Love Break" was de minimis, meaning small enough to be trivial.
After listening to the audio recordings submitted by the parties, we conclude that a reasonable juror could not conclude that an average audience would recognize the appropriation of the horn hit," writes 9th Circuit judge Susan Graber in Thursday's opinion. "That common-sense conclusion is borne out by dry analysis. The horn hit is very short — less than a second. The horn hit occurs only a few times in 'Vogue.' Without careful attention, the horn hits are easy to miss. Moreover, the horn hits in 'Vogue' do not sound identical to the horn hits from 'Love Break' … Even if one grants the dubious proposition that a listener recognized some similarities between the horn hits in the two songs, it is hard to imagine that he or she would conclude that sampling had occurred.
Live Nation's CEO Michael Rapino talks Madonna
Live Nation's CEO Michael Rapino sat down recently with Recode's Peter Kafka to talk…
on 360 deals (and that time they added album deals to the mix): "It's an insurance policy for the band. That motive to us is the best. We're fully vested, we've got sponsorship, we're trying to bring deals to the table to build the pot. At that point, what happened is, when we started talking to the U2's and the Madonna's about this kind of deal, they'd say 'geez, to buy my rights to touring for ten years, that's 85 percent of my value… why don't I just throw the record on top of that. It's almost like a cherry on top of the… We didn't wake up thinking we wanna be a record label but we went, 'I get it,' because that's their leverage, so let's do it. Now, we didn't do it with U2, which was smart — we just stayed to our knitting. Madonna, we ended up taking the cherry."

on why it didn't work: "We're not in the rights business. Back then we didn't have any secret sauce on how to distribute that record than somebody else. That's why we thus sold Shakira and Madonna back to the label to recoup our record investment."

Madame X is available in Box Set, CD, Vinyl and Cassette!
Get your copy HERE!
comments powered by

Disqus