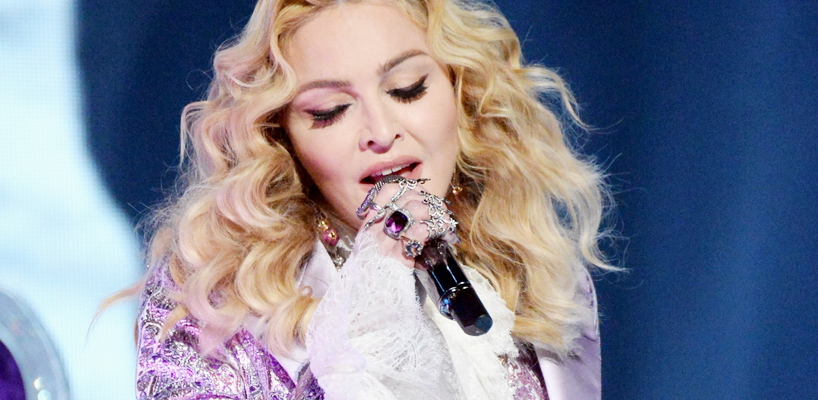 Madonna's mission wasn't an easy one. She had to pay proper homage in less than 10 minutes to an incredible artist who had a unique style all of his own, who released music for almost 40 years and had an incredible onstage presence.
Twitter was full of negative comments surrounding Madonna's Billboard Music Awards performance and it seems a large part of the media decided to give a voice to the haters, but don't let this fool you!
Madonna took the number one spot on Billboard's "Top 10 Best Performances of the Night" and a lot of others agreed!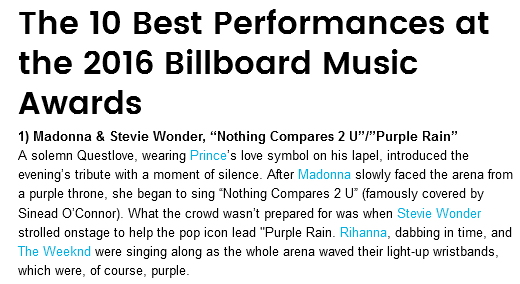 Here are some of the positive reviews by established websites and magazines…
US magazine: "Madonna's heartfelt tribute to Prince"

Rolling Stone: "A moving rendition of Purple Rain"

E Online: "Madonna's performance was must-see"

Vanity Fair: "A moving tribute to Prince"

Telegraph: "A touching performance"

Yahoo!: "Madonna pulls off stunning Prince tribute"

The Guardian: "Madonna delivered"

ET Online: "Madonna brought the BBMA audience to its feet with an epic tribute to Prince"

Cosmopolitan: "A moving rendition of "Nothing Compares 2 U," followed by a "Purple Rain" duet with Stevie Wonder."

Harpers Bazaar: "The Queen of Pop was joined by Stevie Wonder to remember the Purple One with an incredible performance."

Reuters: "The audience rose to its feet, arms gently swaying above their heads and singing along with Madonna"

The Daily Beast: "As an entertainer, and one skilled at capturing the gravity of a moment and grounding an audience in the immediacy of that moment, Madonna excelled"

Variety: "Madonna paid tribute to Prince in only a way Madonna could — with big flare and even bigger emotion."
Celebrities also joined in…
So respectful! @Madonna making this tribute truly about #Prince. And giving us that old school pop voice of hers I LOVE!!! #BBMAs

— Perez (@ThePerezHilton) May 23, 2016
Celine Dion: Madonna did an incredible job
Questlove, who introduced Madonna, took to Twitter to defend her…
Because of [Prince's] well known love for the *poof* vanishing act. A lot of us are left feeling incomplete in the act of saying goodbye. For starters it's hard to accept him no longer being here. [And] in the upcoming award season for '17 there will be a gang of tributes. Naturally there will be folded arms & shade thrown because the Purple Standard is hard boots to fill & a lot of us don't wanna come [to] grips [with] the fact that Prince – (an on the surface) face of health & invincible agelessness – [succumbed] to something so… friggin basic.

So I know there is gonna be A LOT of 'feel a certain ways' about who you want to see do his music justice – but you gotta put that aside y'all.
Every Prince rendition will not be a life changing orgasmic [experience]. Just to SING his work is brave enough. Again feeling are on high, and EVERYBODY wants and deserves a chance to say goodbye in their own way. But remember: there will be AMAs, SoulTrain, NAACP, mtv, GRAMMYS, and a gazillion other tributes. But the point is let's not get ugly with playing the 'Prince would and wouldn't approve' game.
More red carpet moments…
It didn't take long for haters to slam her performance. She and Stevie Wonder, 66, were barely off the stage before BET released a promo dissing the tribute as lame. "Yeah, we saw that," the network's promo for their BET Awards, airing June 26, said. "Don't worry. We got you." It seems that BET thinks they can honor the Purple One better than Madonna ever could.
The usual suspect…
Piers Morgan on live TV: Madonna's homage to Prince was "Poor Karaoke"
David Allan "Dave" Stewart, English musician, songwriter and record producer, best known for Eurythmics…
Please don't have Madonna attempt a prince song

— Dave Stewart (@DaveStewart) May 23, 2016
All in all, Madonna said it best…

Madame X is available in Box Set, CD, Vinyl and Cassette!
Get your copy HERE!
comments powered by

Disqus