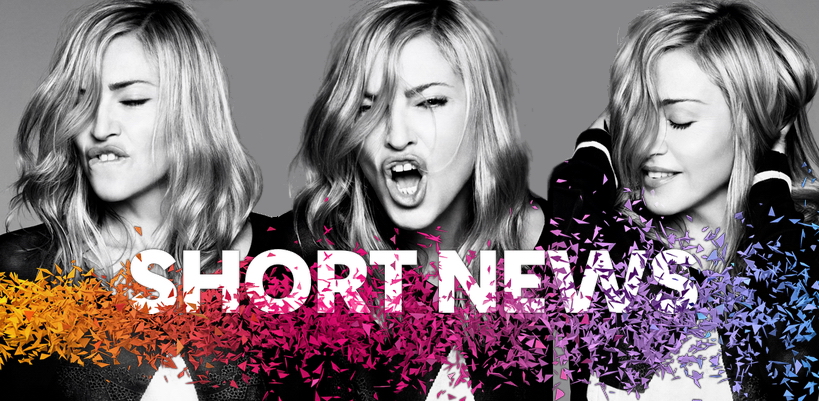 2016 Billboard Music Awards commercial
Check out the 2016 Billboard Music Awards commercial announcing Madonna's Prince Tribute!
Madonna made Billboard's Top Money-Makers List of 2015
Billboard ranks the highest-paid musicians of the past 12 months…
01. Taylor Swift – $73.5 million
02. Kenny Chesney – $39.8 million
03. The Rolling Stones – $39.6 million
04. Billy Joel – $31.7 million
05. One Direction – $24.2 million
06. Grateful Dead – $23.8 million
07. Luke Bryan – $23.1 million
08. U2 – $21.8 million
09. Adele – $20.5 million
10. Maroon 5 – $19.2 million
11. Jason Aldean – $18.9 million
12. Shania Twain – $14.4 million
13. Dave Matthews Band – $14.1 million
14. Madonna – $12.7 million
Always-evolving Madonna would probably bristle at the designation, but she was one of a few heritage acts on this list — including U2, Dave Matthews Band and Elton John — who sold more digital downloads of albums than physical copies (plus 934,000 individual tracks).

15. Elton John – $12.4
16. Rush – $12
17. Ed Sheeran – $11.6
18. Juan Gabriel – $11.6
19. Florida Georgia Line – $11.5
20. Fleetwood Mac – $11.3
METHODOLOGY: Money Makers was compiled with Nielsen Music and Billboard Boxscore, using 2015 U.S. data only. All revenue figures cited are Billboard estimates and may not equal the sum of the subcategories due to rounding. Revenue from merchandising, synchronization and sponsorship is not included. The following royalty rates, minus a 4 percent producer's fee, were used: album and track sales, 22 percent of retail revenue; streaming revenue, 22 percent for current artists and 50 percent for heritage artists. Publishing royalties were estimated using statutory mechanical rates for album and track sales; the Copyright Royalty Board streaming formula; and an average of $2.50 per play for hit radio and 60 cents per play for heritage spins. For labels' direct deals with interactive services, blended audio and video rates of, respectively, $0.0063 and $0.0015. (A 10 percent manager's fee was deducted from each category.) Touring revenue, after the manager's cut, equals 34 percent of an act's Boxscore. The top 10 lists for sales royalties were calculated based on physical and digital albums and track sales, the streaming royalty list, track on-demand audio and video streams, and estimated royalties from webcasting, SiriusXM and Music Choice.
Billy Eichner Dishes on Madonna
Comedian Billy Eichner talked about his humor, growing up gay, and his favorite "Billy on the Street" segment on the staid PBS NewsHour's series "Brief but Spectacular."
His favorite Madonna moment was the segment where he barrels through the 2012 Super Bowl trying to get the dudes who were there for the game to talk about the reason he was there: Madonna's over-the-top halftime show.
How Madonna's Toronto Hard Candy Gym Failed
Turns out Toronto was more interested in the Material Girl than getting into the groove.
As of early May the Madonna party at her only North American location ends.
The club will close for two days to undergo its own re-branding and reboot as Aura Fitness in order to better co-habitate with the building it shares a name with—and end its partnership with Madonna.
"Madonna was fabulous," says Leonard Schlemm, owner of Hard Candy Toronto, now Aura Fitness.
So why the sudden need for a re-branding? Schlemm points to the lack of visibility of the gym (it's located on the fourth floor of a mixed condo building) as well as issues around the club's branding and marketing.
When he first signed the lease back in 2008, Schlemm was promised large signage on the building's façade with the Hard Candy branding. But by the time they were ready to open, the City passed a new ordinance preventing any signs above the third floor—and this proved to be a problem. "When you stopped people on the street and asked them about Hard Candy, they had no idea what you were talking about even though they were often standing right outside the building," says Schlemm.
The other issue was around the brand itself. "People couldn't figure out where Hard Candy was and then they were turned off by the brand because they thought it was a dance studio," says Schlemm, who is willing to take the marketing blame here.
Trump once impersonated his own spokesman to claim Madonna to date him
Back in the day, Donald Trump was a bit of a gossip, leaking stories about his ex-wives and friends to the New York City tabloids. "Trump almost single-handedly revived the fortunes of The New York Post and The Daily News in the 1980s," journalist Tom Robbins explained to The New York Times. More often than not, it seemed Trump's tips turned out to be true.
But when it came to dishing the juicy gossip on his own life, Trump could be a bit more, well, creative:
Sue Carswell, a former writer for People magazine, had been wooing Mr. Trump for an interview in 1991 by mailing him gifts of pink Hermès ties. ("This is all back in the days when we had expense accounts," she recalled.) When Mr. Trump claimed he'd had an affair with Carla Bruni — who denied it — Ms. Carswell found herself on the telephone with a Trump spokesman who introduced himself as John Miller, and who claimed that Madonna and Kim Basinger were eager to date the real estate developer.

It dawned on her that the spokesman sounded a lot like somebody else: Mr. Trump. Ms. Maples, a friend, confirmed that it was indeed her husband on the line, impersonating his own (fake) spokesman. [The New York Times]
Does Mercy's family want Madonna's adopted child back?
According to Malawi24.com, Madonna has been warned that she will be forced to send her adopted daughter Mercy James back to Malawi if she fails to make an arrangement that satisfies the girl's natural family.
According to British media, a friend of Mercy's biological mother says the pop star should talk to Mercy's family or she will face a huge battle to keep the child.
The friend, 25 year-old Agatha Molande, claims that Mercy's family never wanted to be separated from the child permanently and were deceived into believing that they will be visiting the girl regularly.
Mercy's family claims they have never talked to the child since the adoption.
However, a spokesperson for the 57-year-old superstar insisted that the "girl has never had her past or her heritage hidden from her and she visits Malawi every year to learn about her roots and to visit friends and family."
The spokesperson added: "Inaccurate stories about Mercy's adoption harm no one more than the child herself."
Madonna tops Global Concert Tours
Madonna is the world's top tour earner, pulling in an average of $3,928,805 per city with an average individual ticket price of $212.39.
The Top 20 Global Concert Tours ranks artists by average box office gross per city and includes the average ticket price for shows Worldwide. The list is based on data provided to the trade publication Pollstar by concert promoters and venue managers.
1. Madonna; $3,928,805; $212.39
2. David Gilmour; $3,113,475; $108.97
3. Bruce Springsteen & The E Street Band; $2,289,068; $129.36
4. Maroon 5; $2,198,012; $58.39
5. Justin Bieber; $1,538,582; $101.36
6. Ricky Martin; $1,255,474; $75.76
7. Iron Maiden; $1,205,080; $57.64
8. Muse; $1,096,393; $60.64
9. The Who; $1,034,024; $91.94
10. Kevin Hart; $997,235; $75.56
11. The Illusionists; $928,993; $79.14
12. Carrie Underwood; $759,203; $67.29
13. Ellie Goulding; $515,608; $46.70
14. Jerry Seinfeld; $513,076; $100.44
15. Jason Aldean; $502,552; $56.42
16. Fall Out Boy; $417,813; $52.32
17. "Riverdance"; $408,203; $58.24
18. Bryan Adams; $387,849; $57.86
19. Brad Paisley; $386,542; $50.30
20. Jeff Dunham; $366,192; $49.61
Madonna's Material Girl names singer Pia Mia as first celeb 'fashion director'
Madonna's junior fashion label Material Girl has chosen singer Pia Mia Perez as its newest face, and fashion director.
In a statement submitted to WWD this week, Madonna justified her decision based on Perez's "creativity, confidence and unique sense of style."
First made famous on YouTube at the age of 11, Perez, a Guam native, is now a 19-year-old social media phenomenon. Her vocal talents have helped produce songs by Chris Brown, Tyga, G-Eazy and Will.i.am and her unique fashion sense has made statements on many a red carpet. Pia Mia is also best friends with reality star Kylie Jenner.
"The fact that Madonna chose me to do this literally makes me die," Perez told WWD.
The Material Girl brand has also partnered with StyleHaul to produce a six-episode docu-series following Perez's life to promote her new role. It will debut digitally May 10.
"We think Pia will bring her distinct perspective to the clothing as well as the overall voice of the brand. Lending both her fashion and social influence will not only bring fresh energy and elevate brand recognition, but as a vested ambassador for Material Girl, she has already proven her passion to see this partnership be a success," Material Girl senior director of marketing for women's division, Preeti Singh, added.
The initial partnership will last 16 months.
Derrick Barry on meeting Madonna
Derrick Barry, well known on the Vegas strip for his uncanny impersonation of pop star Britney Spears, spoke to Zap2it about meeting Madonna…
Madonna [once] pulled me up on stage, and said, "You'll always be Britney to me" during "Unapologetic Bitch" while she was on the Rebel Heart tour in Chicago. Everyone's been really cool.
Whose 'Sorry' is the Best: Beyonce, Justin Bieber or Madonna? Vote!
Billboard asked their readers which "Sorry" track is the strongest.
You can vote HERE!
Life after Madonna – star's Blond Ambition dancers reveal all with Josh Sabarra
Three of Madonna's Blond Ambition tour backing dancers have opened up about their time with the pop superstar.
Speaking with GT columnist Josh Sabarra on his new podcast series Porn Again, dancers Luis Camacho, Kevin Stea, and Carlton Wilborn revealed some interesting details about the Material Girl.
When asked about their thoughts on the tour documentary Truth Or Dare, where Madonna called her dancers "emotionally crippled," the men confess that they were "hurt" by the comments.
Kevin said: "I didn't feel betrayed about it, but what I did realise when I heard those words is that we were generalisations, we were tools in a story – very stereotyped across the board to make a point.
"It made me feel sad that we weren't given the opportunity to be individuals and to be ourselves and to really be shown as people rather than just like broken, gay dancers."
All three dancers were given the opportunity to spend time with the icon, and naturally talk turned to what she's really like behind closed doors.
Carlton said: "I spent time in her apartment with her. I did a play for the New York Shakespeare Festival in New York and stayed with her — waking up and having coffee and chilling out at the end of the day.
"The thing that's always been amazing to me about her is how really normal she is in her personal life. She's very normal hanging out with; she's not extreme."
Despite the apparent closeness with her dancers presented in the 1991 documentary, they assured that they were aware of their temporary role.
Carlton continued: "In regards to how close she felt… she definitely felt close but I was also aware of what she was and what we were there to do. And I was really clear, early in the game, not to get it twisted."
So what do they think of Madonna in 2016?
"I hope she's happy," Kevin said, "I see her with this new family and these kids; I know how much she wanted it when we were with her and how much we were that for her."
Kelly Brook sings Like a Virgin
Kelly Brook enjoyed a boating trip with a difference as she took to the water with her girl pals to celebrate her friend Lisa's birthday.
The 36-year-old and the rest of the group sang along to Madonna classic Like A Virgin, while filming a very high-spirited video and posting the results on Instagram.

Madame X is available in Box Set, CD, Vinyl and Cassette!
Get your copy HERE!
comments powered by

Disqus