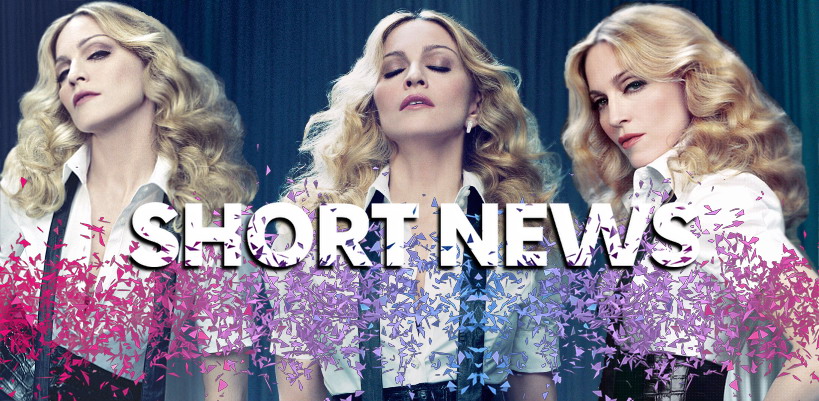 Madonna spotted in Taiwan
Madonna was spotted leaving her hotel for the Rebel Heart Tour rehearsals in Taipei, where she'll kick off the Asian leg of the tour tomorrow!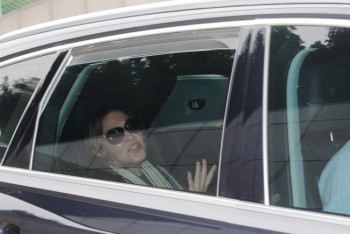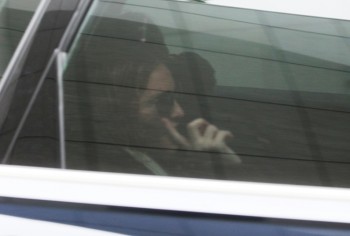 Strike a Pose!
Ever wondered what happened to the dancers that were in Madonna's "Truth or Dare"?
Here's your chance!
Blond Ambition Tour dancers Salim, Carlton, Oliver, Kevin, José and Luis will tell their story in Strike a Pose, a new documentary that will be premiered at the Berlinale on the 15th of February!
In 1990, seven young male dancers – 6 gay, 1 straight – joined Madonna on her most controversial tour. On stage and in the iconic film Truth or Dare they showed the world how to express yourself. Now, 25 years later, they reveal the truth about life during and after the tour. Strike a Pose is a dramatic tale about overcoming shame and finding the courage to be who you are.
Sneak previews, clips, stills and quotes are released on their social media channels, so if you want to stay tuned, you know what to do:
Facebook: https://www.facebook.com/strikeaposefilm/
Twitter: https://twitter.com/StrikeAPoseDocu
Website: www.strikeaposefilm.com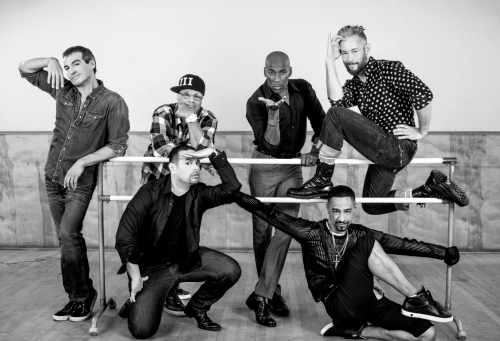 Perez Hilton: Madonna needs to stop disrespecting her fans
Infamous blogger Perez Hilton was a guest on Wendy Williams' talkshow and talked about Madonna making her fans wait at the Rebel Heart Tour concerts.
Here's a transcript by Madonnarama…
I'm a huge Madonna fan.
I dressed up as her for one of my birthday parties, but even I'm upset by this.
Last week, you talked about how Madonna was [3 hours] late to her show in Nashville.
Reba [McEntire] was there. She was tweeting and instagramming about how inappropriate it was for Madonna not to be there.
Well, she showed up even later to her show in Atlanta. In fact, she showed up so late on a weekday, that before Madonna went on stage, the arena put up an announcement that the last train out with public transportation went out at 1am. The show didn't end till after 1 am and a lot of fans left early.
Now, Madonna has been around the block a while. Her fans are rich, old people. A lot of them are demanding refunds.
Wendy Williams added…
I would want a refund if I was one of those people who had to get on the train like that.
The tour ended up ending on a high note, because she showed up only an hour and a half late in Miami.
Perez Hilton continued…
She showed up a little bit earlier in Miami and gave them a little bit of a longer show. She did "Don't Cry for me Argentina" for the first time and brought out some special guests.
Although, the shows weren't sold out. There were still some empty seats.
She did the same thing last tour when she went to Miami. She showed up really late and people were really upset. I have a feeling that the next tour will sell even worse than this one.
If you keep disrespecting your fans, your fans aren't going to show up for you.
The video…
Here are the Instagram posts of American country music singer, songwriter and actress Reba McEntire they were referring to…
At the Madonna concert. She's not on yet…really???
We're here!! Where is she???
She came on at 10:31.
Digital Marketing Lessons to Learn from Madonna's Foibles
When it comes to branding and digital marketing, few have as recognizable a brand as Madonna. She's been entertaining audiences for 30+ years, and has reinvented herself again and again.
Still, recently, she's made some daring career moves that have been criticized. Is she succeeding at creating a buzz around her, or is her relevancy to today's music audience dwindling? Whatever your opinion, you have to admit, there are lessons that marketers can learn from her, says Susan Payton for Foibles…
– Know Your Audience
– If You're Going to Use Social Media, Know What You're Doing
– Be Brazen, Not Offensive in Your Digital Marketing
– Focus On a Niche
– Have a PR Crisis Plan
– Don't Get Stuck in a Rut
More at Foibles
Madonna replies to fan on Instagram asking her about the Jewish holiday Tu Bishvat
It doesn't happen very often, but Madonna replied to someone on Instagram last week.
After she posted an Instagram picture to celebrate Tu Bishvat, the jewish holiday that's celebrated as an ecological awareness day, someone asked her why she would refer to the Jewish holiday if she's not Jewish.
It seems Madonna did not take it lightly…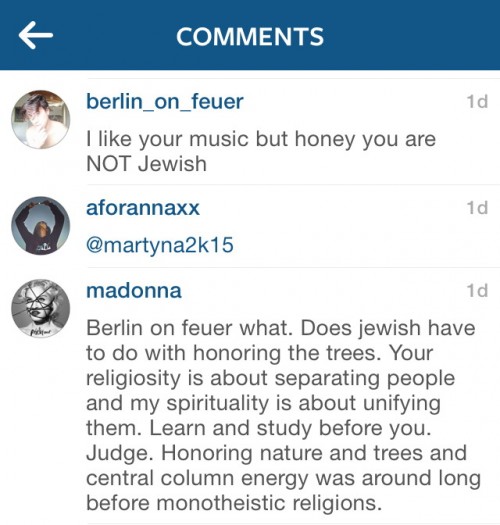 The Game: Madonna, stop pretending you give a fuck
The Game and Avita Water have teamed up to donate $1 million worth of water bottles to the people of Flint, Michigan amid the water crisis, and the rapper is personally covering half of the donation. On Tuesday, he announced his $500,000 pledge on Instagram, and also called out other celebrities, specifically Madonna and Jimmy Fallon, who he feels aren't donating enough…
So, I'm on tour & not in the US as I'd like to be to help with this water crisis in Flint, Michigan 1st hand…. #1 because my younger sister & her children live there & 2nd because I care….. Most of these celebs on here faking using the word "Pledge" in their so called donations are not fooling anyone !!!! The truth is the population in Flint, Michigan is about 105,000 people & it takes at least 9 bottles per person a day just to use to bathe, brush their teeth, drink & cook with… So on behalf my charity @TheRobinHoodProject I am donating $1,000,000 in water bottles…. $500,000 coming out of my own pocket (which is everything I've made on tour up to this point) & the other 1/2 being met by @AvitaWater & the 1st drop is being made TODAY 1pm eastern time at "Food Bank East Michigan" 2300 Lapeer Road flint Michigan 48503 & the 1st drop will be 1400 cases of water equaling about 33,000 bottles today & everyday that follows until 1,000,000 bottles of water are dropped !!!! To those who think it's easy getting this water to Flint, it's not so the people who are PLEDGING they are, show us.. We want proof !!! Stop using others tragedies for your own celebrity gain… You're not fooling ANYONE ! I seen @Madonna & @JimmyFallon's $10,000 donations… that's cute, but not nearly enough…. So I challenge both & anyone else in the world to match me & DONATE $1,000,000 in bottled water to Flint, Michigan & we want proof, shipping order receipts, bank wire receipts, pictures etc……….. No more pretending to give a fuck….. I donate money all the time & it comes out of my pocket, out of my bank account & never once have I written anything off on my taxes because that's not why I do it !!!!!!!! So, if any other celebrity wants to MATCH MY MILLION here's the site where you can donate http://selfmadefoundation.org or pick your own.. JUST MAKE SURE THE WATER ACTUALLY GETS TO THE PEOPLE WHO NEED IT !! & I don't wanna see anyone else using the word "PLEDGE" in their donation or press release because we all know that that means…. "YOU JUST TALKING & TRYING TO MAKE YOURSELF LOOK LIKE A HUMANITARIAN" !!! #WaterForFlint #TheRobinHoodProject #AvitaH20Corp #SelfmadeFoundation
Eddie Redmayne: I also puked at Madonna's Oscar party
Jennifer Lawrence previously admitted to redecorating the porch of Madonna's manager's house with her own spew when Madonna hosted an after-party there last year.
While recounting the incident to Graham Norton on his chat show, as well as adding she'd recently puked out of the side of her publicist's car, Eddie Redmayne interjected…
This something I have never admitted to the world, but I puked at Madonna's party too!
Religious conservatives in Singapore are against Madonna's performance
Madonna's 'Rebel Heart Tour' is coming to Singapore on 28 February 2016 and some religious conservatives in Singapore are against Madonna's performance here.
Facebook user Carrie Shalom, posting in the group 'We are Against Pink Dot in Singapore' (a network which encourages mostly anti-LGBT (lesbian, gay, transgender and trans-sexual) discussions), said that after the Adam Lambert concert, now Madonna's coming here, and that such concerts would "corrupt more of our people, our young people and harm society".
Their page stated…
Singapore IS ROTTING… Fast… When authorities permit Pink ROT to be celebrated and promoted, year after year after year, homosexuality, transgender affirming propaganda films in our cinemas, Adam Lambert in Celebrate Countdown 2016 and NOW trashy, crude and vulgar Madonna with her profusely Sacrilegious, Sexually and Religiously Offensive and Obscene Rebel Heart World Tour IN Singapore to corrupt more of our people, our young people and harm society!

Parents and sound-minded citizens, you have a duty NOT to sit on the fence or stay silent when you see our morals and values being eroded away by militant secularists and LGBT activists!"
Fenton Bailey: Mapplethorpe was exactly the same as Madonna
Fenton Bailey and Randy Barbato are best known in Hollywood for their reality hits like RuPaul's Drag Race and Million Dollar Listing.
This year at Sundance, they will unveil the feature documentary "Mapplethorpe: Look at the Pictures" about the life and work of Robert Mapplethorpe.
For his influence outside of photography, Mapplethorpe shaped the images and work of everyone from Madonna to more recently David Bowie.
Bailey said…
Mapplethorpe was exactly the same as Madonna — very strategic in who he collaborated with — Madonna and Mapplethorpe being both very singular artists but very good collaborators. The other parallel I see at the moment is David Bowie's [final album] Blackstar. Again, it's knowing they were going to die and what could they leave behind. Having turned their lives into art, how can they turn their deaths into art, and I think Mapplethorpe and Bowie both did that.

Madame X is available in Box Set, CD, Vinyl and Cassette!
Get your copy HERE!
comments powered by

Disqus