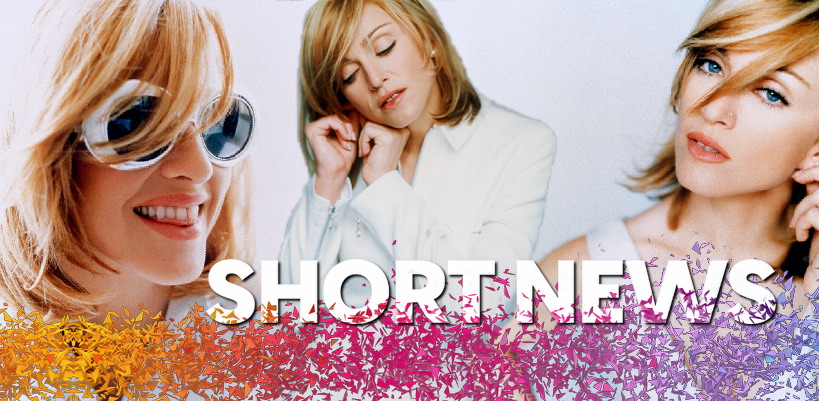 Jimmy Kimmel's "Lie Witness News" Gets People to Believe Madonna is Dead, John Lennon is Alive
Idris Elba got Madonna call while sat in his slippers
Idris Elba was sat in his slippers when Madonna called to ask him to open her concert for her.
During an appearance on 'The Jonathan Ross Show', he said…
Here's the story, I was sitting in my house on a Sunday in my slippers, the phone goes and her manager calls me and says, 'Listen, Madonna would love you to DJ on Tuesday in Berlin.' I was like 'What?' He calls me back, I go, 'Are you joking?' He goes, 'No, seriously do you fancy the job?' And my mates were like you, 'Don't say no to Madge, you've just got to do it, you've just got to do the job.' So I ended up going to Berlin and doing that!
Bill O'Reilly Blasts Madonna's 'Gibberish' on Paris Attacks
Culture warrior Bill O'Reilly took on Madonna's "gibberish" over the Paris attacks, which caused the pop star to tear up at a concert.
Madonna had said there are people who do atrocious things like ISIS, but we will never change the world if we "don't change ourselves" or how we treat each other on a daily basis.
O'Reilly sarcastically told Fox News guest Bernie Goldberg…
So Bernie, if only you would be a nicer guy, ISIS would retreat.
The "O'Reilly Factor" host said Madonna's "gibberish" makes him go, "My god."
Dessy Di Lauro's Neo-Ragtime London Premiere
The Piano Works in London has invited Madonna to an event held by one of her close friends tonight!
Dessy Di Lauro's Neo-Ragtime London Premiere will be backed by a full band led by her pianist/producer Ric'key Pageot, currently on tour with Madonna's Rebel Heart Tour.
The organiser is also providing a lucky attendee with 2 tickets to Madonna's show this week at the O2. All they need to do is buy a ticket for tonight's event and attend to be entered in the draw.
More details at Eventbrite
Natalie Dormer and Timbaland talk about how it's like to work with Madonna
Actress Natalie Dormer and rapper/producer Timbaland stopped by Bravo's "Watch What Happens Live" on Tuesday and dished what it's like to work with Madonna.
Timbaland…
She's like a real boss. You kind of be nervous because she's like very stern.
It's kind of like a challenge.
Natalie Dormer…
She really does. You can't give into her. And that's how she gets her…
If you jump back, you're weak.
Rita Ora talks about sleeping with Madonna
Although Rita Ora – who has previously dated Calvin Harris, Ricky Hil and Travis Barker – isn't sexually attracted to women she admitted she would consider having sex with the 57-year-old star just so she could tell people about it.
Speaking to Alan Carr on his 'Chatty Man' show, she said…
You know what, if it could happen I think I might so when I die I can say I had sex with Madonna. That would be amazing.

So Madonna does this thing where she gives you five seconds to tell you what you want to do on stage, which really isn't much time. She drags you around everywhere. She told me what we going to do and she said, 'You're going to bend over, I'm going to spank you and them I'm going to hump you'. Pretty Madonna fashion, right? We were going down the little aisle thing and all these handsome guys in suits just distracted me.

I am not going to lie it was pretty impressive. It was like a good grab. It went right where it needed to be. It wasn't too uncomfortable but it was enough.
When Alan asked "Did you have a bit of a tingle?" she answered…
No. I didn't have a tingle. It didn't tingle the mingle. Bit of a shame really.
Grado Enters The SECC with "Like a Prayer"
Stephen Webster: Madonna changed my life
Stephen Webster is sharing his jewelry journey in a book that delves into his 39-year "love affair with gold," and also features his original poetry and a short story.
He writes about his career highlights, including a major Madonna moment that impacted his business significantly. He designed a cocktail ring — and later her engagement ring — before Madonna's wedding to her now ex-husband Guy Ritchie.
He said…
It was all about timing. Nobody knew who Steven Webster was. Through my encounter with Madonna and being asked to go over to her house and showing my jewelry, she picked a ring.

Madonna came back into the room and in this mist of smoke she said 'I burnt my toast.
From that moment, she was this real human as opposed to a slightly scary encounter. Later on, she met Guy Ritchie and the first picture shot of them together in the newspaper, she was wearing the ring on the finger. That spread like wildfire. And then you go from complete obscurity to the hottest thing in jewelry. I think after that time in the mid-Nineties, jewelry started to be something connected to fashion. Before that it was difficult to connect it. Jewelry was sort of going through this transition.
Outdoor 'In Bed with Madonna'screening will overlook SydneyHarbour
Mardi Gras and Queer Screen have announced they'll celebrate the 25th anniversary of the Madonna film documentary In Bed with Madonna by playing it on the huge Harbourside screen overlooking Sydney Harbour in February.
The outdoor screen is scheduled at Fleet Steps set against Sydney harbour for after 8pm – as the sun sets – on Wednesday 24 February.
Morrisons bans Madonna song from in-store playlist
Morrisons, the fourth largest chain of supermarkets in the United Kingdom, has banned Madonna's "Santa Baby" song from in-store playlists during the holiday season.
The full list…
1. Christmas In Blobby Land – Mr Blobby
2. The Christmas Song – Alvin and the Chipmunks
3. I'm The Christmas Queen – Miss Piggy
4. The Christmas Song – David Hasselhoff
5. Christmas Wrapping – The Spice Girls
6. Holy Night – Celine Dion
7. Please Daddy (Don't Get Drunk This Christmas) – John Denver
8. Christmas Tree – Lady Gaga
9. Christmas Conga – Cyndi Lauper
10. Santa Baby – Madonna
Madonna nominated for Popcrush "Best Album" Fan Choice Award
Madonna's Rebel Heart album has been nominated at the Popcrush Fan Choice Awards.
You can vote for "Best Album" HERE!

Madame X is available in Box Set, CD, Vinyl and Cassette!
Get your copy HERE!
comments powered by

Disqus