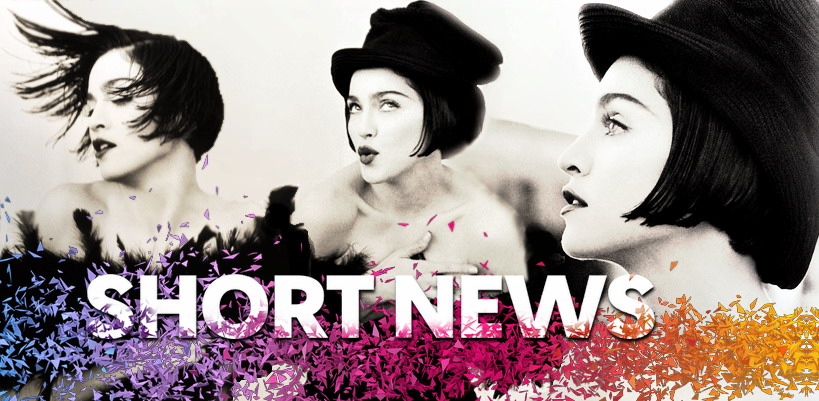 Madonna snubbed by 2016 Grammy Awards nominations
The 58th annual Grammy Awards nominations have been announced and it seems they forgot Madonna…
She's Madonna — remember? Featuring some of her strongest tracks in 15 years, Madonna's "Rebel Heart" enlisted an A-list roster of producers and special guests, including the Grammy-nominated Diplo, West and Nicki Minaj. Despite featuring a familiar sort of bravado in singles such as "Bitch I'm Madonna," she was shut out for this year's Grammy nominations. But don't shed too many tears for an artist in Madonna's class — as she wrote in her liner notes while quoting Michael Moore, "You can't stick your chin out and not expect to get punched."
Source: LA Times
Ja Rule: Madonna gave me the best advice ever about this business
In an interview with Billboard, Ja Rule gave his advice for up-and-comers trying to navigate the music business, which he got from Madonna…
It starts with you. It starts with the person in the mirror. Know yourself. Know what you want. Madonna gave me the best advice ever about this business. She said, "Anything in this business you want, just ask. The worst they can tell you is 'No.'" And that stuck with me.
Idris Elba: Madonna is a legend
Alexa Goddard: I'd definitely kiss Madonna! She's a strong boss woman!
The Gay UK talked with English pop and R&B singer Alexa Goddard about her love for Madonna, Caitlyn Jenner and why she's more of an otter girl…
The Gay UK: Ok, which is the most iconic moment of pop history? I've got three options for you.
A)Sinitta… basically anything that she does,
B) Kylie's golden hot pants,
C) Madonna locking lips with Britney.

Alexa Goddard: That's a tough one, all pretty big moments, I'm gonna say the Madonna and Britney kiss. But… why does everyone forget about the fact she kissed Christina as well?

The Gay UK: I know, I don't think there was as much lip. She was just really momentary. But when you slow it down, there was like parting of lips with Brit. What do you think Madonna was really thinking when she and Britney locked those lips?

Alexa Goddard: I mean, it's Britney Spears, everyone fancied Britney, especially at that point, so, doesn't matter whether you're gay, straight, bi, you fancied Britney.

The Gay UK: Would you lock lips with Madonna?

Alexa Goddard: Hell yeah, and I'm straight but oh my god, definitely, she's a strong boss woman.
Deadmau5 doesn't give a f*ck about Madonna
Skrillex and Deadmau5 traded shots on Twitter during the late hours of Halloween. During their heated exchange, Deadmau5 randomly took a jab at Madonna…
Michael Michalsky: Madonna is a very important pop artist
Michael Michalsky is the founder and head designer of the fashion label Michalsky.
During an interview with Zefyr Life he says he would like to meet Madonna…
DAVID (Zefyr Life): Is there someone you would love to meet that you have not met yet?

MICHALSKY: I am very lucky i have met a lot of people that I find very very inspiring. But everybody knows that I am a very very big Madonna fan; I have met her on a couple of occasions and I never said more than hi and she never said more than hi, but I would really like to meet her more properly, because I think that she is very very inspiring and she is a very very important pop artist. I think that if Andy Wharol were still alive today he would see that she is equally important in the world of art than his art was…And what is amazing is that she is driven and always looking for new things and is breaking boundaries; and also each and every one of her albums corresponds to a certain phase of my life that I relate to, and I just really really like her.
Krept & Konan: Rita Ora could be bigger than Madonna
The hip hop duo are pals with the singer and have gushed about her talent, insisting she's got enough star quality to surpass the 'Material Girl' hitmaker as the queen of pop.
They said…
If she carries on doing what she is doing she can be bigger than Madonna if she wants to.
I feel like with her the sky is the limit – it depends how hard you work.
She's on her way there man – she has put out a lot of songs and a lot of hits.
She does well on the fashion stuff too – big up Rita man.
Madonna Continues To Impress On Resale Market
Madonna – Most Expensive International City: Macau, China – Date: Feb. 21 – Ticket Price: $1,234
It's been an epic fall for Madonna, who kicked off her major headlining "Rebel Heart" world tour on September 9 in Montreal. The tour will hit 35 major North American cities until it heads out overseas to hit additional dates in Europe and the U.K. for November and December, with additional dates scheduled overseas for 2016. As of early October, Madonna's Rebel Heart Tour had already grossed $20 million based on 132,769 sold tickets from the first eight arenas on the schedule, according to Billboard. It should come as no surprise that Madonna tickets are skyrocketing. Her priciest show is on February 21 in Macau, China, where a get-in ticket is a whopping $1,234. Her cheapest show is much more affordable, and is currently scheduled for her Nov. 4 stop in Cologne, Germany, where a get-in ticket is just $38.
Source: Forbes
Jamie Laurita: I build Madonna's world every day
On tour with Madonna and preparing for the release of his new wine, Deep, Chicago celebrity chef/designer Jamie Laurita is firing on all cylinders.
He told Michigan Avenue Magazine what his role as Madonna's backstage coordinator is…
I build her world every day with the team. When you're on the road, the one thing you're deprived of is that feeling of home base, so it's my ultimate goal to create a level of consistency that feels the most like home.
The Tao of Werner Herzog: 'I'm Not Someone Like Madonna'
The iconic German filmmaker opens up about his new book, love for the WWE, saving Joaquin Phoenix's life, and much more…
"I think I'm not one of those people who reinvents himself all the time," Werner Herzog confided on a recent evening in Los Angeles as he prepared to present a reading from his acclaimed book Of Walking On Ice in that dulcet, measured, unmistakable voice. "I'm not someone like Madonna."
Source: The Daily Beast
Philly's First Lady is a Madonna fan
Lisa Nutter attended singer's concert with seven others on free tickets
Mayor Michael Nutter's wife got eight free tickets from the mayor's office to the singer's Sept. 24 Wells Fargo Center performance, the day before Pope Francis came to Philadelphia
At the performance seen by Lisa Nutter and her guests, Madonna said: "Since Popey-wopey is on his way over here, I want to dedicate this song to him." Madonna then launched into a version of "La Vie en Rose," a French love song.
Mayor Nutter's press office referred a request for comment about the First Lady's Madonna fandom to her.
The press office said 428 – or 37 percent – of the tickets given away in the past three months were distributed to children from recreation centers, nonprofits and other groups who attended Wells Fargo Center, Citizens Bank Park and Lincoln Financial Field events.
Those venues, plus the Eagles and Phillies, provide the free tickets to the mayor's office, which gifted many members of City Council with free tickets during the time period.
Since the city began giving away the free tickets in April 2008 to "The Mayor's Box," more than 37,000 tickets have been distributed.
ICONIC – Portraits & Artwork inspired by "The Queen of Pop"
In honor of the only Italian performances of Madonna's Rebel Heart Tour, which brings her back to Turin for the first time in 25 years, ICONIC – Portraits & Artwork inspired by "The Queen of Pop" opens THURSDAY NOVEMBER 19TH in the Master Apartment of Palazzo Saluzzo Paesana (Via della Consolata 1bis – Turin – Italy).
An iconografic tour through the art created by MADONNA's fans
in honor of the only Italian performances of the "Rebel Heart Tour"

Curated by Gabriele Ferrarotti, in collaboration with Ettore Ventura

from 19 to 24 NOVEMBER 2015
Palazzo Saluzzo Paesana – Appartamento Padronale
(Via della Consolata 1bis – Turin – Italy)

With the endorsement of the City of Turin
More details at Palazzo Saluzzo Paesana

Madame X is available in Box Set, CD, Vinyl and Cassette!
Get your copy HERE!
comments powered by

Disqus