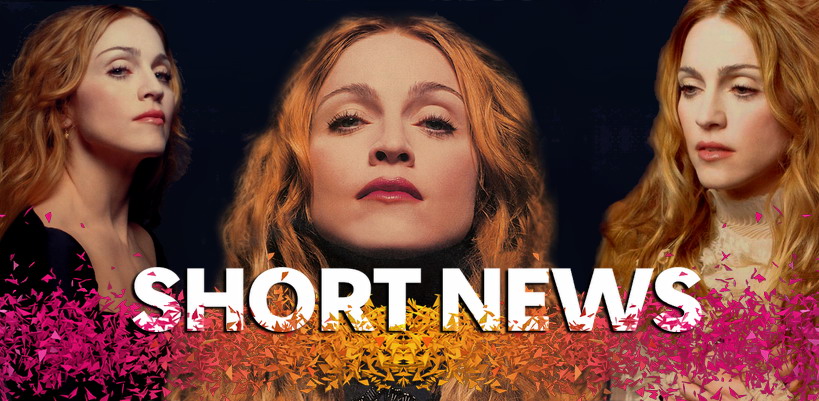 Amy Schumer and Sean Penn attend Vancouver Rebel Heart Concert
Amy Schumer and Sean Penn both were spotted at Madonna's Rebel Heart Tour concert in Vancouver, Canada on Wednesday.
Amy and Sean were joined at the concert by actress Jeanne Tripplehorn, who starred with the singer in the 2002 movie Swept Away.
Couple gets engaged with Madonna's help in Edmonton
Madonna shone a ray of light on an unsuspecting couple in the front row at her Sunday concert in Edmonton.
A YouTube video shows Madonna goading a gay couple to get engaged. She turns the microphone to one of the men, who proclaims his love for his partner before saying, "Will you marry me, please?"
For more videos of the Rebel Heart Tour, go HERE!
Madonan nominated for the 2016 Songwriters Hall of Fame
George Harrison, Marvin Gaye, Jimi Hendrix, Madonna, Tom Petty and John Mellencamp are among the A-list contenders nominated for the 2016 Songwriters Hall of Fame.
Eligible members have until Dec. 11 to submit their votes for three non-performing nominees, two performing nominees and one deceased nominee.
The 2016 Songwriters Hall of Fame Annual Induction and Awards Gala will take place June 9, 2016
Madonna concert turns into disappointment for two Alberta fans
According to Global News, two Calgary men made the trip north Sunday to enjoy a concert by a legendary performer in Edmonton, but instead it turned into a "humiliating" experience.
The pair bought tickets to Madonna's concert at Rexall Place Sunday night. They were in their seats when security asked to see their tickets for a third time. The electronic tickets were on one of the men's phone which had died during the concert.
It was taking too long to log in on another phone, so security escorted them out and they were met by police.
Travis Robertson, who ought e-ticket to Madonna concert said…
They were asking kind of the larger group to present tickets. We were the first and then as we were slower at presenting them the situation really just escalated until police actually had security kind of cool their engines a bit.

It was a significant investment, so there's loss there.
But even if this wasn't an investment, it was humiliating. We had friends who had come here from Calgary as well. We made a holiday out of this.
Guy DeBlasio added…
I thought like we were singled out because we're already in the show. They let us on the floor.
The men were finally able to prove they had the tickets and returned to their seats, but by that point, the show was nearly over.
Guinness World Records declares Madonna best-selling female artist
For years, it's been debated who is the best-selling female artist of all time. From Mariah Carey to Céline Dion, it's not often the one who holds the record is put into those debates. Guinness World Records frequently updates and has declared Madonna the best-selling female artist of all time.
Madonna set the record in January 2014, but the link has been circulating social media over the last several weeks as if it's a new feat and the new 2016 edition still puts her at the top. The singer-songwriter who is often dubbed the "Queen of Pop" has sold more than 300 million albums since she first debuted in 1983 with her self-titled album. In the U.S., Madonna is the No. 2 best-selling female artist with 64.5 million albums being certified by the RIAA behind Barbra Streisand who has 72.5 million albums certified.
Sean Penn's Note To Madonna Reveals He 'Finally Appreciates' Her Art
Sean Penn and his daughter Dylan attended Madonna's Madison Square Garden concert last Thursday, and the Oscar winner enjoyed the show so much that he sent his ex-wife a congratulatory note afterwards. Penn's note to Madonna expressed how he "finally appreciates" her art, some thirty years after they were married. The singer gushed about it during her Rebel Heart tour stop at the Barclays Centre in Brooklyn on Saturday, Yahoo 7 news reports.
Madonna told the audience…
I did a show at Madison Square Garden the other night if you heard about it. And my ex-husband was there! Could you imagine?

He had been at my show 30 years earlier when I was at Madison Square Garden, and he was very upset with me for wearing a costume that was too revealing. That's not a lie!

Anyway, after the show he wrote me a letter and said he finally appreciates my art. And that is what I have to say about marriage, OK? Thirty f**king years later.
Check out the video below of Madonna telling the crowd about Sean's reaction.
Ariana Grande's religious bond with Madonna
Adriana Grande opened up about Madonna in her latest interview for V Magazine…
Yes, I love Madonna.

I met her a few times and she was so overwhelmingly kind and sweet, and down to earth, and motherly. She's very, very maternal. I practice Kabbalah as well, so that was one of the first things she mentioned, because I had my Zohar in my pocket. She may have noticed, maybe not, but she brought it up. And we danced together at her Oscar party. That's all I can ever ask for.

She inspires me endlessly. I'm so inspired by her fearlessness…
Like, this is me, and if you don't like it, go fuck yourself. That's so cool, you know? So many people are afraid to be themselves and say what they believe in. For a long time, I feel like I was as well. I'm not anymore. But it takes a lot of growing up to really embrace yourself and embrace your voice, and say, Hey, why am I doing this? Am I doing this because I want to stand on stage with a pretty ponytail and sing pretty songs? Or am I doing this because I want to entertain and I want to say something that will help a lot of people? Do I want to use my voice to help as many people as I can? It takes a certain amount of bravery and growth to get there.
Jean Paul Gaultier on loving Madonna
In Jean Paul Gaultier's Euronews interview, he recalls that he felt that meeting Madonna was a meeting of minds. In fact he was so enamoured by Madonna that he asked for her hand in marriage, three times, only to be turned down…
The most beautiful thing I could offer her was marriage but maybe not for her. In fact she proved it was not for her: she divorced twice!

Madame X is available in Box Set, CD, Vinyl and Cassette!
Get your copy HERE!
comments powered by

Disqus