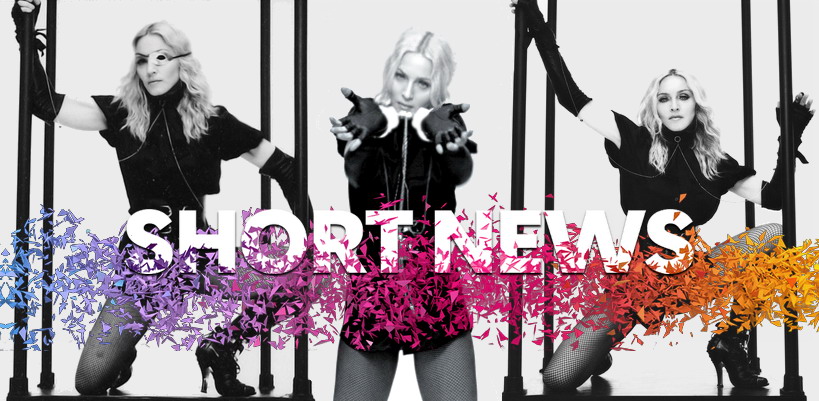 Karlie Redd inspired by Madonna to pose nude for Playboy
American hip-hop artist Karlie Redd decided to take a deal to pose nude for an upcoming issue of Playboy magazine.
In a new interview with Page Six, she discusses posing for the mag at the age of 37 and explains that she took inspiration to bare it all from 57-year-old pop legend Madonna…
They say 40 is the new 20 – that's how I feel. I'm like a big kid, but I'm a big sexy kid. Madonna still tours and she looks gorgeous so if she can do it, I can do it.
Desparately Seeking Susan – 30th Anniversary Screening
On 6 September 1985, just as Madonna"s fame exploded, Desperately Seeking Susan opened in UK cinemas. The number 1 hit single Into the Groove was still in the top 5, Holiday was in the top 20, and Crazy for You had just left the top 40 after three months in the charts. Plus her two albums were both in the top 10. Madonna fans, labelled Wannabes, couldn"t get enough of their new idol and flocked to see her on the big screen.
Thirty years on, Madonna"s star still shines bright and original Wannabes – and younger fans who weren"t even born in 1985 – have the chance to celebrate Desperately Seeking Susan"s milestone by attending this special celebration screening on Sunday September 6th at The Prince Charles Cinema in London.
After the film Peter Michael Marino, creator of the West End musical based on the film, will present clips from his Desperately SCREENING Susan show – about the process of adapting the film for the stage.
More details at www.princecharlescinema.com
Dress code: As Wannabes of course! Or Jim, Dez, Gary… Prize for the best outfit!
Yuri Righi – King of La Isla Bonita (Years & Years + Madonna Mashup)
Dangerous Game gets a Blu-Ray release
Dangerous Game is coming to Blu-Ray on October 27th and you can pre-order it HERE!
Release Date: October 27, 2015
Rated: R
Country: United States
Runtime: 105 minutes
Year Filmed: 1993
Languages: English
UPC: 887090110402
Cat #: OF1104
Abel Ferrara, the director of the thought-provoking Welcome To New York and Bad Lieutenant explores the dark side of the artistic mind in Dangerous Game.
Enfant terrible director, Eddie Israel (Harvey Keitel, Bad Lieutenant) is in Los Angeles working on his latest project, a lacerating tale of a crumbling marriage, in what will become a cinematic Rorschach test as on-screen events mirror his own deteriorating marriage and the personal lives of his actors. Eddie will push the jaded leading lady, Sarah Jennings (Madonna, Desperately Seeking Susan) and her promiscuous co-star, Francis Burns (James Russo, Extremities) to the brink of insanity all while capturing every lurid detail on celluloid.
Dangerous Game, written by Nicholas St. John (King of New York) co-stars Nancy Ferrara (The Blackout), Reilly Murphy (Body Snatchers) and Victor Argo (Taxi Driver).
Get your copy HERE!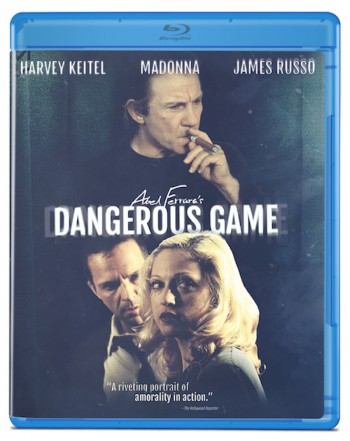 Madonna is Coming Back to D.C.! Win Tix All Week
The One and Only Material Girl is coming back to D.C. — and 94.7 Fresh FM has your tickets to the show!
Listen afternoons to Darik Kristofer for your chance to win a pair of tickets to the "Rebel Heart Tour," featuring Madonna on Sept. 12 at The Verizon Center.
Tickets are on sale now — but win your way in by calling the station hotline at 877-947-0947 when you hear the cue to call all week long.
The Confessions Ball at the Eagle London
Celebrate Madonna's Rebel Heart World Tour and her Confessions era.
A special night dedicated to the Queen of Pop starring international acts including the celebrated cabaret star Jonny Woo, global DJ David Oh and the No.1 Madonna performer Melissa Totten.
All this being held in one of London most iconic venue Eagle London on the last Saturday of August.
An exclusive 'Living for Love' from international Madonna impersonator Melissa Totten armed with backing dancers and ready to get you Hung Up!
Followed by dancing boys and titillating girls this show is going to be a must see for all Madonna fans.
**WIN** 2 x tickets to MADONNA's London show at the o2
* HD screening of the CONFESSIONS Tour
* HUNG UP reception with Bubbly, Canapés and cocktail @ 7.30pm
* Mirror ball CONFESSIONS dance floor
* MADONNA Shop
* LIVING FOR LOVE 'ALL-LIVE SHOW'
* *VOGUE 'runway' show
* CONFESSIONS Booth
* REBEL HEART photowall
* 'SECRET GARDEN' + Queen Of Pop 'ART' installation
* MADONNA GIVEAWAYS
Dress Code: MADONNA – CONFESSIONS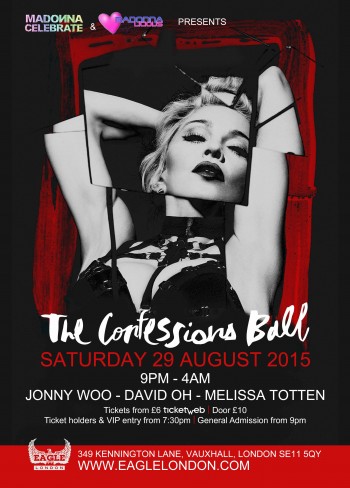 Lady Gaga: I'm not the next Madonna, I'm the next Iron Maiden
Lady Gaga has told CR Fashion Book magazine that she would rather be called the next IRON MAIDEN than be compared to pop veteran Madonna…
They're one of the greatest rock bands in history, in my opinion. Some people really don't know the importance of metal and the scope of it. Those guys were filling stadiums, and they still are. And it's because of the culture of the music, the poetry that's so powerful, that whenever the fans come together, they unite in the essence of what IRON MAIDEN is all about. I always used to say to people, when they would say, 'Oh, she's the next Madonna.' No, I'm the next IRON MAIDEN.
The cops paid Madonna a visit
According to TMZ the cops made a stop at Madonna's birthday party, because of a noise complaint…
We're told Madge threw her 57th B-Day party Saturday night and it was so loud the neighbor's houses were shaking. Law enforcement tells us, around 2:30 AM, they were called after a neighbor complained about ear-shattering noise.

Cops say they never spoke with Madonna, because by the time they got there the partygoers knew something was about to go down so they muted the noise.

One source says … after cops left the party started raging again.
Joe Henry: Madonna felt the spirit of Elvis Presley pass through her when he died
Joe Henry, Madonna's brother-in-law, who collaborated on songs like Don't Tell me, Jump, Devil Wouldn't Recognize You and Falling Free, wrote the following on Facebook post on Madonna's birthday…
this is the young woman i met shortly after our family's move to michigan in 1975 –as i entered my sophomore year of high school and, she, her senior one. together, we were in the Thespian Society; and in that winter's first production, we were cast as mother and son –the wife and child of ralph waldo emerson– in a play about thoreau.

she was whip-smart and short on patience; and to tell the truth, she scared me more than a little. but along with her sister Paula, her presence upon my landscape nudged open a door through which i would pass and find my life utterly and forever changed…that unusual and sprawling family becoming, years later, my own.

no one is more surprised than i by the way our lives have expanded; by the way that our journeys have diverged and become entangled. like anyone, i can sometimes forget to see the flesh and blood/heart and mind behind the parade float that is her public persona. but then i will find myself across the kitchen table from her, sharing a martini, and be additionally shocked to recognize anew the compact, terse-yet-compassionate human at the switches.

i have told this tale before, but it bears repeating: when elvis presley died on this date in 1977, this upstart professed in real-time that she felt his spirit had passed out of his body and through her own in exodus.

i laughed at her then for such outrageous self-possession, at the arrogance that i assumed must allow her to declare such publicly.

today, when there is laughter, it is the laugh of recognition i hear –and it begins somewhere high above me, where things that once seemed implausible play with wild abandon and in broad daylight.

happy birthday, madonna louise veronica ciccone.
100 Greatest Songwriters of All Time
Madonna took the 56th spot on Rolling Stone's "100 Greatest Songwriters of All Time" list…
Before she was a star, Madonna was a songwriter with a sharp ear for a hook and a lyrical catchphrase, playing tracks like "Lucky Star" for record companies in the hope of scoring a contract. Her earliest hits honed the electro beats coming out of the New York club scene into universal radio gold. But songs like her greatest statement, "Like a Prayer," can also summon an anthemic power to rival Springsteen or U2. Madonna has enlisted numerous collaborators en route to selling more than 300 million albums — she started working with longtime writing partner Patrick Leonard after he brought her "Live to Tell" in 1986, and from Shep Pettibone and William Orbit in the Nineties through Diplo, Avicii and Kanye West on 2015's Rebel Heart, she's worked successfully with producers across many genres. Through it all, her songs have been consistently stamped with her own sensibility and inflected with autobiographical detail. "She grew up on Joni Mitchell and Motown and. . . embodies the best of both worlds," says Rick Nowells, who co-wrote with Madonna on 1998's Ray of Light. "She is a wonderful confessional songwriter, as well as being a superb hit chorus pop writer."
Pop's 20 greatest female artists
Madonna tops The Telegraph's "Pop's 20 greatest female artists" list…
1. Madonna
Love her or loathe her, it would be hard to deny Madonna's pole position as the greatest female pop star of our times. Her world-beating, shape-shifting, trend-setting and at times ground breaking pop music has covered the gamut of female archetypes: virgin, whore, wife, mother, witch, diva, saint, sinner and 50-year-old cheerleader, and put it all to dance beats and catchy hooks. She might not be the greatest singer, she may not be the finest songwriter, she may favour surface over depth and make music that barely ripples the soul, but Madonna's pop genius has carried her on a three decade winning streak that no other star, male or female, can match.

2. Tina Turner
3. Kate Bush
4. Debbie Harry
5. The ABBA Girls
6. Aretha Franklin
7. Amy Winehouse
8. Beyoncé
9. Adele
10. Patti Smith
11. Janis Joplin
12. Lady Gaga
13. Dusty Springfield
14. Siouxsie Sioux
15. Whitney Houston
16. Grace Jones
17. Dolly Parton
18. Joni Mitchell
19. Chrissie Hynde
20. The Spice Girls

Madame X is available in Box Set, CD, Vinyl and Cassette!
Get your copy HERE!
comments powered by

Disqus