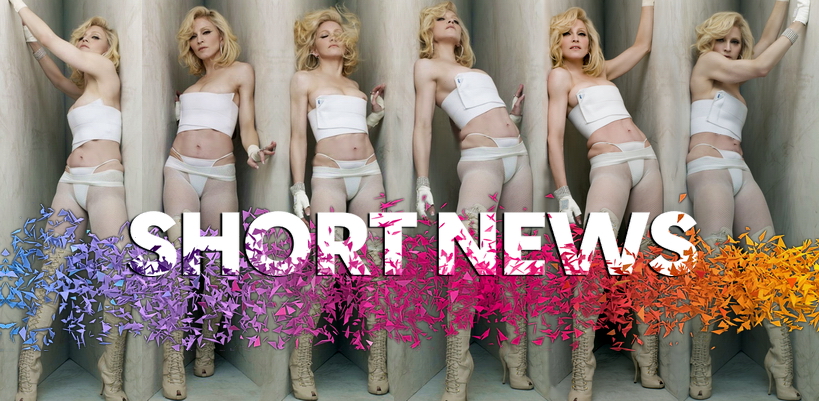 Charlie Hides wishes Madonna a Happy Birthday
Exposure presents Madonna Night
Exposure is having a drag tribute night on Monday the 17th in honor of Madonna's birthday!
The drag queens will be lip syncing to some of Madonnas hits.
The location of the event is in Highland Park, Los Angeles at the Offbeat Bar, 6316 York Blvd, 90042 LA. Showtime is at 10h30 followed by a second show at 12h.
#ApproveMadonna
18-year-old DJ named Nick Deboni placed a classified ad in the Los Angeles Times on Tuesday (Aug. 11), asking Madonna to approve his "Devil Pray" remix.
Check it out…
Singer Kavana ignored Madonna's phone call
Can you imagine missing a phone call from pop superstar Madonna? Well that once happened to Middleton singer Kavana.
The Lucky Star and Into The Groove singer was keen to meet Kav, who found fame in the 1990s with hits including I Can Make You Feel Good and MFEO.
But he ignored her call because her number showed up as unavailable on his mobile phone. He found out it was Madonna calling when he listened back to a message she left on his phone, mocking him for missing the call.
Speaking to Gaby Roslin on the ITV morning show Lorraine, Kav said…
I was at my mum and dad's place 12 years ago.
I became friends with a director that knew Madonna.
My phone rang and it was an unavailable call.
I thought 'I don't need to answer that'.
It was Madonna.
She said "Hi Kavana. We were going to invite you round here tonight but you didn't answer the phone call. So long sucker."
Jenny McCarthy crashed Madonna's Oscar party
Jenny McCarthy and her friends turned up to the 'Material Girl' hitmaker's annual Academy Awards bash a few years ago in their pyjamas after enjoying six bottles of champagne.
Recalling the night, she said…
Me and my girl friends and my sister were hanging at my house in the valley watching the show and I don't usually watch the Academy Awards because it's a reminder of everything you failed at, especially if you're in this business. But my friends thought it would be a good idea to watch the Academy Awards whilst getting completely lit.
So we sat around and between five of us, I think it was, we went through about six bottles of champagne … And one of my friends said, 'Hey, Madonna has an after party every year at Guy Ritchie's house. Why don't we crash it?'
I had one too many and I had confidence like I've never had before. And I looked at my girl friends and my sister and we were in our pyjamas. We looked like hot messes; just gross. And it was midnight at this point and I said, 'Screw it. Let's do it!'
The group thought they'd try their luck and were shocked when a bodyguard let them in.
She told Entertainment Weekly…
We drove to Guy Ritchie's house and we get in this huge line. We get to the guy and guys surrounding him with clipboards and I rolled down the window and I go, 'Jenny McCarthy'. And he goes, 'I don't see your name.' …
And he says, 'How many people?' And I say, 'Just six.' Now most people can only bring one person … and this isn't a party where celebrities bring their friends. And the guy goes, 'Just go.' So my friend hit the gas pedal and was like, 'F**k yes!' So we go in the house and every single person is a huge celebrity.
30-minute Madonna Fireworks Tribute
Madonna by Yoo Hyun
Using an X-acto knife and tweezers, Korean artist Yoo Hyun hand carves intricate cut-paper portraits that feature the likes of movie stars, world leaders, and musicians. Up close, Hyun's pieces look like abstract designs, but from afar they read as photo-realistic depictions of his subjects. He achieves this by incorporating a zig-zag pattern into his compositions, where each line is specially cut to build a three dimensional-looking form.
Check it out…
Once a portrait is done, its negative space is see-through. That means Hyun can layer his handiwork onto any surface or pattern, making the same piece look radically different, depending on its backdrop. A black ink-splattered background is a popular choice, but sometimes Hyun goes for bold colors and illuminates the portraits in blue and red.
You can find Hyun's cut outs, works in progress, and inspirations on Facebook, on his Instagram, @yoo.hyun. If you want to see close-up detail shots of his pieces, check out his @yoohyun_artist account. There, his artwork is blown up and tiled, one piece over many photos, allowing you to examine each section of his work.
Australia's longest-running Madonna Party returns 15 August
Australia's longest-running Madonna party celebrates 10 years of CONFESSIONS ON A DANCEFLOOR, the chart-topping album which helped launch this party in 2006…
Strike a pose and get into the groove as the entire New Globe Theatre is transformed into a dance club playing only the music of Madonna – 1980s, 1990s, Noughties & Now!
Three rooms of entertainment!
With licensed bar, roving photographers, merch stall and more!
PRIZES FOR THE BEST DRESSED FEMALE and MALE & BEST VOGUER!
FROM 6PM
Arrive early to meet other fans, grab a drink and chill-out in the retro cinema with a fan-compiled collection of Madonna music videos, live clips & rare footage
8PM TIL MIDNIGHT
Dance the night away as DJ Kristian Fletcher plays you nothing but the best music of Madonna – the greatest hits, fan favourites… and everything in between!
From 'Everybody' to the latest 'Rebel Heart' songs.
SATURDAY 15 AUGUST 2015
New Globe Theatre, 220 Brunswick St Fortitude Valley
Tickets $15 (presale) or $20 (at the door)
18+ event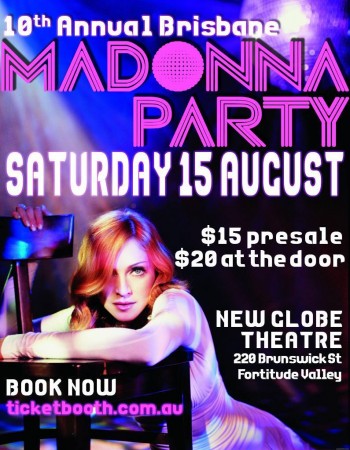 Add Madonna to the VMAs Video of the Year Nominations
If you also find it unacceptable that MTV has ignored Madonna's "Bitch, I'm Madonna" video for this years' MTV Video Music Awards nomination, you can sign this petition.
Madonna Bar – LA Edition – September 19th
5364 Wilshire Blvd, LA, 90036
Early Bird Tickets $10
Live to Tell the Secret to Everybody you know. Get Ready to Jump and Strike A Pose to The Queen of Pop! You will Cherish our Ray Of Light, DJ Ray Isaac, as he gets you Into The Groove with Beautiful Strangers. Its one day out of life, it will be so nice!
Material Girls and Angels will Get Together to pay tribute to Madonna whilst Causing A Commotion. So prepare your Rebel Heart to meet Unapologetic Bitches from all over the Drowned World. Once you decide to start living for love you only got 4 Minutes to buy your tickets!

Madame X is available in Box Set, CD, Vinyl and Cassette!
Get your copy HERE!
comments powered by

Disqus