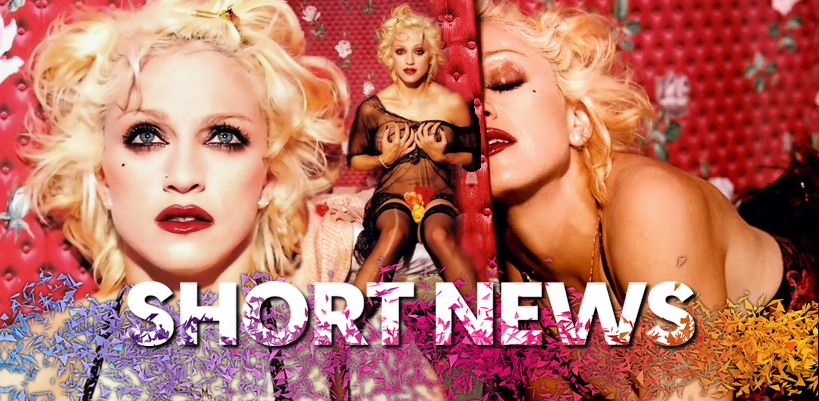 Tupac's half-brother tells all about Madonna and Tupac's affair
Recently speaking with Tupac's older half-brother Mopreme Shakur, Vlad TV asked him about Tupac's relationships with certain people including pop star Madonna…
We were doing press for Above The Rim and we were in New York and just like them, I was sitting there while Pac was doing the interview.
Pac, Marlon, they did it together and then Madonna came down and sat right next to me [and asked] 'When is he finished?' [I'm like], 'A little while.'
She gave me a note to give to him.
[I didn't read it] I was just happy she was giving him a note.
Everybody was there, I went and gave it to him. He was about that business and then they linked up and I would take him to our house and shit when we got back to L.A.
They were a thing for a minute.
The Madonna question starts around the 2min50 mark…
Don McLean: I loved Madonna's cover of American Pie
Donald "Don" McLean is an American singer-songwriter best known for the 1971 album American Pie.
The Berkshire Eagle asked him what he thought of Madonna's rendition of American Pie…
The Berkshire Eagle: A few years ago, Madonna covered "American Pie." I'm sure you've heard it. What did you think of it?

Don McLean: I loved it. I thought it was outstanding. I thought Madonna did a great job with it. To me, she's an artist for the 20th and the 21st century. She's magnificent.
Andy Cohen interviews Madonna
In this week's issue of Entertainment Weekly, Andy Cohen, 47, is serving as guest-editor. The magazine also features an exclusive interview with Madonna!
A preview…
Cohen, who has made no secret about wanting to interview Madonna on WWHL, sat down with the Queen of Pop as she gets set to launch her Rebel Heart tour in September. It's the first time he has ever interviewed his favorite singer—and no question was off limits. The two discuss everything from her setlist to her thoughts on Taylor Swift and Beyonce to why she loves using Instagram. "It's an important part of my work now," she says of the social media platform. "I like to think of it as a kind of art gallery for my thoughts, my dreams, my wishes, my state of mind. Can't ignore social media."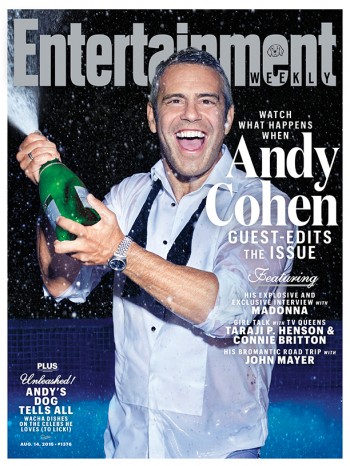 New Madonna/Miley Cyrus collaboration?
Wayne Coyne, the producer of Miley Cyrus' new album, posted this on Instagram…
Behind the Scenes with Madonna's dresser Tony Villanueva
Madonna "Rebel Heart" Tour rehearsals. Costume Dept being polite. We have a GGGreat on tour wardrobe team. They are working very hard to map out quick changes and will maintain the beauty of the costumes on tour. They will have their hands full. I'll introduce them over the next few days.
Costumes "1" hints at the magnitude of the costumes. You THINK you've seen it all? I did too until I saw the opening number. SUPER successful (Beautiful) fitting last night!
"Rebel Heart" rehearsal most exciting job on earth.
Vogue (The Rough Cut)
Jeffrey McHale's fanmade creation using unreleased studio vocals and music video outtakes…
A$AP Ferg in the studio With Pharrell & Madonna
A$AP Ferg says that he's been in the studio with Pharrell and Madonna, and that his sophomore follow up to 2013's Trap Lord will be out before the end of 2015.
He told Revolt TV during an interview at the Pitchfork Music Festival…
I'm working on my album. The album is coming out this year, definitely. I got a lot of collaborations on there, I got a lot of my own songs on there. So far, everybody I played it for said it's crazy. I was in the studio with Pharrell, I was in the studio with Madonna, and they said, 'oh, this is crazy.' Missy said it's crazy.
Madonna third on YouGov's "Gay Music Icons of 2015" list
New analysis from YouGov Profiles data reveals that, among adult fans, Madonna is third on the "Gay Music Icons of 2015" list…
1. One Direction
2. Kylie Minogue
3. Madonna
4. Kate Bush
5. Pet Shop Boys
6. Lady Gaga
7. Dolly Parton
8. Bette Midler
9. Eurythmics
10. Sam Smith
These aren't the music artists that are most popular within the British gay community (that award goes to Sam Smith, actively liked by 15%) – but rather the artists that are most over-represented by it.
There are no official statistics for the size of the lesbian, gay and bisexual population in Britain, and the census has been viewed as an inappropriate method, due to insufficient privacy when it is filled out. LGBT rights charity Stonewall say 5-7% is a "reasonable estimate" – YouGov Profiles estimates it at 7%.
Nicole Kidman on meeting Madonna at the Oscars
Several of Kidman's high-profile gowns have been displayed in Costume Institute exhibits, including the bias cut gold lamé Christian Dior Haute Couture dress she wore to the 2000 Oscars.
Here's what she told Fashionista about that night…
I remember just being so excited to wear [the gown to the Oscars]. And then I remember Madonna coming up to me at the after party — and I was, you know, still very new to everything — and saying 'best dressed! Best dressed!'
Boston Gay Men's Chorus take on Rebel Heart
Madonna's Beverly Hills mansion for sale at $28 million
The French Country estate on fabled Sunset Boulevard is now listed for sale by Kurt Rappaport and Drew Meyers of Westside Estate Agency at WEAhomes.com.
Set at the end of a 500-foot gated drive on 1.14 acres, the house is 5,800-square feet, slightly 64 feet larger than one on the 2015 Street of Dream.
Madonna's old pad has nine bedrooms, 15 bathrooms, two living/reception rooms, a two-story dining room, a junior dining room, large kitchen/breakfast room/den, a full-size screening room/theater, two offices, assistants' offices, a gym, staff rooms, two guest houses, tennis court and a resort size pool.
Madonna bought the house for $12 million when she married Ritchie in 2003. She listed it for sale in 2012 for $28 million and sold it in 2013 for $19.5 million, according to the listing agent.

Madame X is available in Box Set, CD, Vinyl and Cassette!
Get your copy HERE!
comments powered by

Disqus