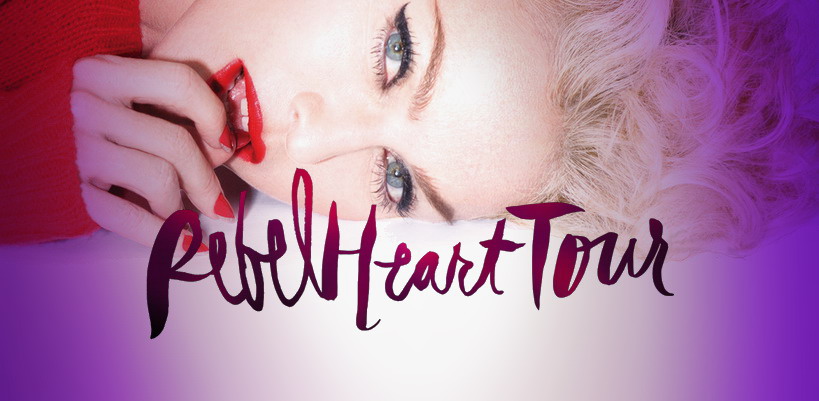 During a phone interview from her home in New York City last week with the Associated Press, Madonna talked about the Rebel Heart Tour, Amy Schumer and more…
About the Rebel Heart Tour…
The theme I really truly explore in this show more than anything is love and romance. I want people to walk out like they're feeling inspired and like they've seen something they've never seen before (and) felt something they've never felt before.

I realize I have 32 years of other songs, so I have to pick and choose. I sit there for weeks and weeks and weeks trying to figure out which of my old catalogue I want to do.
It's a puzzle that we have to put together 'cause thematically the songs — the old and the new — they have to go together; sonically they have to go together.

What people wear, from their footwear to the buttons on their jacket, is all very important to me.
About Amy Schumer…
She's a role model for women, and I am too, and I think it's a good match.
The idea to bring Schumer on board came from my management team.
I love her and … I just thought, 'That's interesting.' (I'll) try something new and different rather than the usual run-of-the-mill — have a band, have a DJ. It's definitely a new thing. I hope it works — fingers crossed.
Madonna thinks artists deep into their careers should stop if they don't have anything more to say. But at 56, the singer says she still has things to talk about, and in short, she feels like Pablo Picasso…
I like to compare myself to other kinds of artists like Picasso. He kept painting and painting until the day he died. Why? Because I guess he felt inspired to do so. Life inspired him, so he had to keep expressing himself, and that's how I feel.
Madonna released her self-titled debut album in 1983, and her latest album, "Rebel Heart," earlier this year. She said the key to sticking around is her continual desire to inspire others…
I don't think there's a time, a date, an expiration date for being creative.
I think you go until you don't have any more to say.

Madame X is available in Box Set, CD, Vinyl and Cassette!
Get your copy HERE!
comments powered by

Disqus