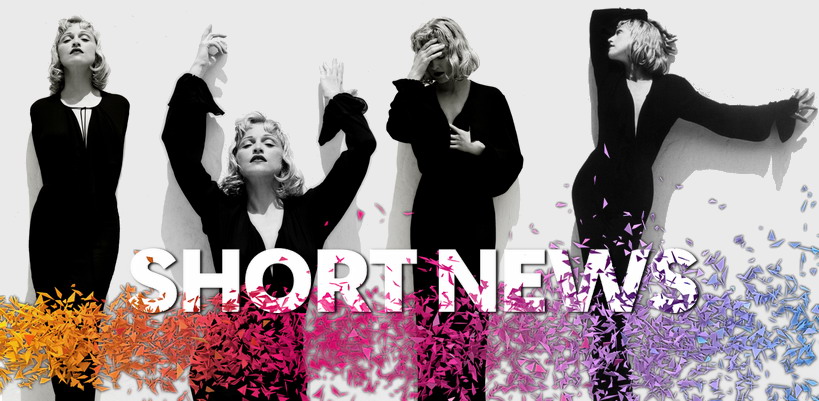 Kelly Ripa posts throwback photo of herself with Madonna
#tbt MADONNA AND CHILD.
(Joaquin- 6 weeks old) 2003. madonna
Cyndi Lauper: I just sign Madonna
Cyndi Lauper will be appearing on tonight's Graham Norton Show, where fellow guest Mark Wahlberg discussed how he has come to see the funny side of being so often confused with fellow actor Matt Damon.
Lauper revealed…
It happens to me once in a while. I just sign Madonna.
I don't care and as long as I don't talk I get away with it.
Early Madonna by Elio Fiorucci
i-D posted this rare picture of Madonna by Elio Fiorucci…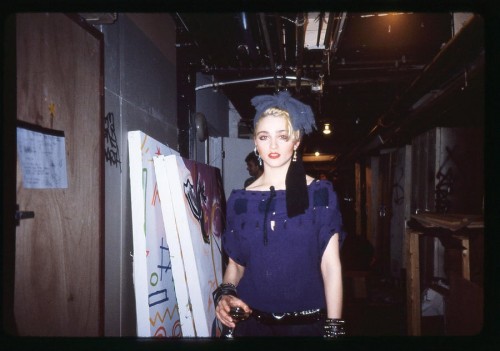 Madonna at the 1978 American Dance Festival by Jay Anderson
Check out this rare picture posted by the News & Observer…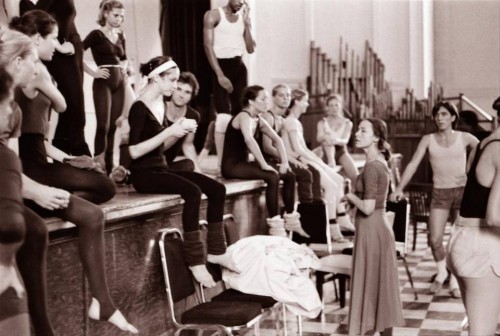 "Nobody Knows Me" Backdrop – MDNA Tour – RAW Footage
Tina Fey kisses Amy Schumer in a Madonna kind of way
The incredible Tina Fey made a surprise appearance at the 74th Annual Peabody Awards Ceremony at Cipriani Wall Street in New York City Sunday, where she presented an award to Comedy Central's Inside Amy Schumer.
Fey praised Amy Schumer for her provocative, hilarious, feminist-centric show, telling the crowd…
Amy is killing it, she's the biggest deal in comedy right now, and that's why I really wanted to come down here tonight in a Madonna kind of way… maybe suck her soul out in a maybe very awkward staged lesbian kiss, um, but when I pitched that idea to Amy's camp, they came back with such an immediate yes that it kind of grossed me out.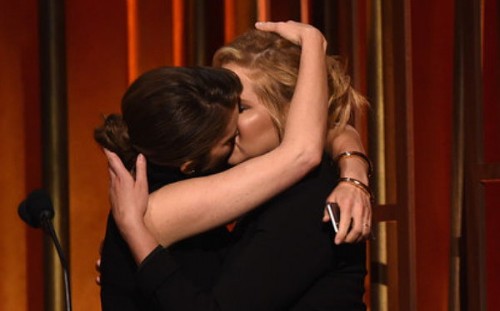 Kindergarten Vogue 2015
Donate and receive a signed pair of Louis Vuitton boots
The non-profit organization Ruben's Shoes collects gently used shoes and gives them to people in need. In countries like the Dominican Republic, without shoes kids can't go to school. They give a pair of shoes a second life which gives people in other countries a chance at a new beginning.
To raise more awareness and funds, they've set up an indiegogo page where one lucky person can donate and get a signed pair of Louis Vuitton boots worn by Madonna.
More details at indiegogo.com…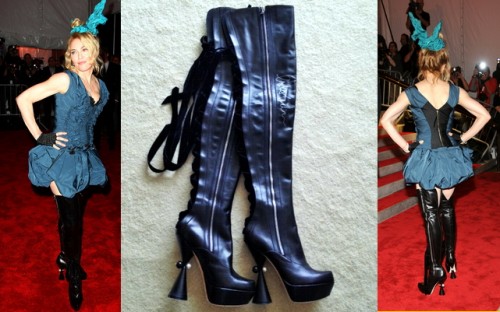 Ghosttown (Paul Andrews Reconstruction Mix)
Paul Andrews posted the following on his website…
I'm so honored and thankful that I was given the opportunity to do a mix of this song. I think it's one of Madonna's best songs, falling in line with her other classics. And, as of this post, Madonna has made history on the Billboard charts with "Ghosttown" giving her the most Number 1s ever by an act on a singular chart.

I was approached to do a mix of "Ghosttown" because of my "Living For Love" mix. When discussing the idea for the mix, I explained that I heard the song in an orchestral setting. I was told to go with what I felt, be creative and to "do what you do." That was all I needed to hear!

The lyric of "Ghosttown" created a story for me. In fact, the video that was made for the song was very close to what I had envisioned. I wanted the music to set the mood: two people in a dark place with destruction all around them, but they have each other. The verse would represent the reality of the situation and the chorus (a euphoric dance) would represent their view of the world through their love.

Madonna approved my mix. Being able to say that means so much to me. I know I took a chance by doing a non-dance version, but I believed that Madonna would appreciate my creativity.

It's fitting that this entire experience follows the themes of Madonna's new album: listen to your heart; be a rebel. #rebelheart

Thank you for listening!
Will Young: I had Madonna's SEX under my bed!
For the promotion of his latest album "85% Proof", Will Young gave an interview to The Guardian and mentioned Madonna a few times…
The Guardian: Your videos are getting more erotic – the one for the new album track Like a River reminds me of Madonna's Sex book, in parts.

Will Young: I had Sex under my bed! I think my parents gave it to me. I love the video. It's the legend of the minotaur – it was about letting go and killing something from the past, this journey to kill the beast. It's the beast inside of me: do I accept it or do I kill it? I love the fact that I can do visual art that has so much pathos to it. It's a Greek word, "pathos", just like "minotaur". Greek legends were full of drama, and to bring that into a video was amazing.

The Guardian: So what are the bad bits?

Will Young: I used to think I was super-important. You can get so engrossed in yourself. Someone asked me the other day about Madonna kissing Drake, and I said, "I really am more interested in Nepal at the moment than Madonna kissing another pop star" – but I [also] like watching the Kardashians, and I love pop culture. I do enjoy it! But there are times when I don't give a shit.
Rita Ora: You pay respect to people who deserve it… like Madonna
In a recent interview with Vice magazine, Rita Ora talks about Madonna…
I think [Taylor Swift] is one of the most incredible songwriters of our generation. I'm not even just saying it. I absolutely adore her music and love what she stands for. You pay respect to people who deserve it—Beyoncé and Madonna. When Madonna was going through it on this last record, I was one of the first people to post my support on Instagram. Don't battle her because of her age. I'm a girl's girl, I support women and it comes back to you. I'd love that support. There's a fine line between believing in yourself and being a fucking arsehole. I don't step on people's toes.
Madonna moves into her new, 58-acre Bridgehampton mansion
According to the New York Post Madonna has finally moved into her new-construction Bridgehampton mansion on Mitchells Lane, which is beside the horse farm she bought from Kelly Klein.
The pop songstress will be ensconced there for the summer. The estate comes with a pool and spa.
"Madonna has already been out here on weekends, riding her horses on her 58 acres," a spy says. But don't expect to see her hanging out at Candy Kitchen or any of the fancier joints in town. "She never goes out. She's so happy in her house that she never leaves," the spy said.

Madame X is available in Box Set, CD, Vinyl and Cassette!
Get your copy HERE!
comments powered by

Disqus