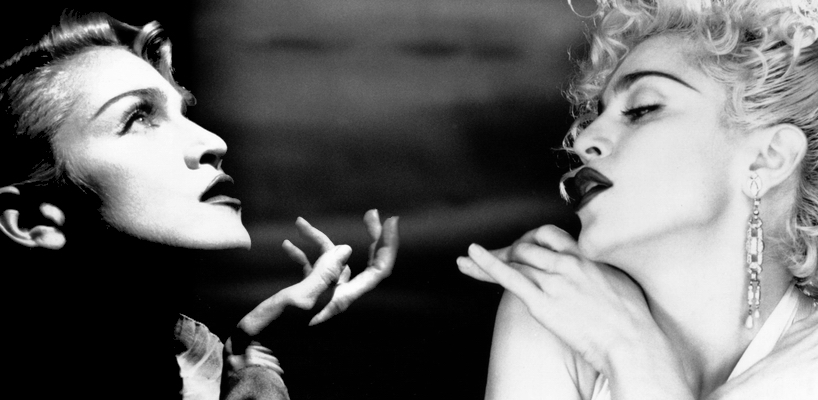 To celebrate the 25th anniversary of Madonna's "Vogue" reaching No. 1 on the Billboard Hot 100 singles chart, Billboard.com reached out to the song's co-producer and co-writer, dance legend Shep Pettibone, for — amazingly — his first interview in 20 years.
They talked to Pettibone, of course, about the genesis and making of "Vogue," but also his later work with the diva on The Immaculate Collection and Erotica, the sampling lawsuit against him and Madonna over "Vogue," and why he stepped away from the music business nearly 20 years ago.
The producer/writer/remixer and DJ, now 55 years old, rose to prominence as a go-to remixer in the 1980s for such acts as Janet Jackson, New Order, Pet Shop Boys, George Michael, Whitney Houston and, most spectacularly, Madonna. His reworkings would often earn official promotion to radio, be used in an artist's music videos, and be heard on tour. (A search for the phrase "Shep Pettibone" on YouTube turns up a treasure trove of sterling remixes.)
For Madonna, Pettibone reworked such classics as "Into the Groove" (his version is heard during Madonna's Who's That Girl Tour and on her You Can Dance album) and "Causing a Commotion," in addition to crafting the popular single versions of "Like a Prayer" and "Express Yourself."
Billboard: So, how are you doing?
Shep Pettibone: Actually, good.

Billboard: Are you not normally good? [Laughs.]
Shep Pettibone: [Laughs.] No, I'm just getting over something, so I'm a little bit under the weather. But I'm doing good.

Billboard: You know I am amazed that it's been 25 years since "Vogue" hit No. 1 [on the Billboard Hot 100]. I don't know if you sort of contemplate that sort of stuff very often. Does it even register that it's been that long since the song has been out?
Shep Pettibone: It doesn't, really. First of all, it seems like the song that never ends. I mean, you're forever hearing it. It's always on a radio somewhere, or being played somewhere, you know, in a club. It's still a dance floor filler after all these years too, which is amazing.

Billboard: It continues to live on, through covers and interpolations, and so forth. Certainly that must be very nice to know that something you've made continues to have a long life.
Shep Pettibone: Yeah, exactly. But no, it doesn't feel like 25 years. It's wild.

Billboard: You obviously have the club now, and the hotel [in New Jersey] — do people spin it there still today? Is it weird to hear songs that you made played in the club that you own?
Shep Pettibone: It does get played all the time, you do hear it. And there's so many remixes of it and interpretations of it. It fits it with so many different things. It's been sampled to death, so you hear "ladies with an attitude" all over the place.

Billboard: Let's take it back, so we can explain to people how the song came about. So we're going to take a historical journey backwards in time. I don't think most people understand how the song actually came together. My understanding — and please correct me if I'm wrong — my understanding is that, I think it was Craig Kostich [the then-head of dance music at Warner Bros. Records, Madonna's then-label, in 1989] asked you to create a song for Madonna. And then it was going to be a b-side for "Keep It Together" [the fifth single from Madonna's Like a Prayer album, and ironically, its official single remix was created by Pettibone] …I'm not sure exactly how the song originally came about, so tell me exactly what happened.
Shep Pettibone: I was kind of, I guess at that point, Madonna's favorite remixer, so I was remixing all of her songs. I did the You Can Dance album with her [Pettibone remixed the album's "Into the Groove" and "Where's the Party"], and I was doing a lot of additional production on the songs as well. For instance, "Like a Prayer," she chose my single version after I had done what I did on that.

Billboard: And the most popular versions of "Express Yourself" [including the 7-inch single remix version] are your remixes of the song.
Shep Pettibone: [The "Express Yourself" remix] was a total reproduction and I totally rewrote the music. And I really started from scratch with "Express Yourself." And I think she was really impressed with that and she really… liked it. And, you know, the label liked it… She actually did the video to the album version, and then they synced my version to the video. So if you watch the video of "Express Yourself," you see the horn players on the carousel, but there's no horns playing, because I took those out.
Billboard: I remember seeing the original video [at the time of its release] and then a couple weeks later, the new version started playing. So at one point there were two different versions of the video [one synced to the album version of the song, and another to the Pettibone remix] that you could see on VH1 and MTV. I was like, "Wow, what happened? I love this other new version." Your version. Anyway! So, she liked you a lot, clearly.
Shep Pettibone: Yeah, and we'd been friends from my days when I was working at [radio stations] WBLS and KISS-FM [WRKS] in New York, also. So, we had known each other for quite a while. She went on and became Madonna, and I was doing records and production and stuff. So Craig, he had this idea to see how we would work together, and he asked me to come up with a track for her. I did. She liked it. And she came into the studio and said, "I hope you don't mind, but I'm going to call it 'Vogue.'" And vogueing was almost kind of over at that point. At least in the underground dance scene. Not over, but it had been done, let's put it that way…

Billboard: When they reached out to you — the powers that be — was it sold to you as "We're doing this song that is going to be a b-side"? Or "We would just like you to give us something for Madonna"? Was there any sort of … end goal in mind at the beginning?
Shep Pettibone: I don't really remember. I think it was the b-side thing, but I'm not 100 percent sure.

Billboard: It would have made sense at the time, because "Oh Father" — [Like a Prayer's] previous single — hadn't done incredibly well on the [Hot 100] chart [it peaked at No. 20, her first single to miss the top 10 since 1984]. And it was kind of standard that sometimes you would enhance a single by putting on a really hot b-side to help sales. Did you have something already kind of done, or was the "Vogue" music something that you created specifically for the Madonna offer?
Shep Pettibone: Like I said, I sent her a track, and that was the basic music for "Vogue." Which she wrote her lyrics to and after she sang them, then I changed certain things about the music to fit what she sang better.

Billboard: Was there something that you can recall changing that [readers] would recognize?
Shep Pettibone: Um… the piano was added, for instance, after she sang the song. The bass lines in the verses were changed to make them go with the verse better. Before that I think it'd just been like a two-bar loop of the bass line throughout the entire song — which she liked. She didn't want me to change it. But I was like, "I'm gonna change it anyways." So… [Laughs.] She wanted to keep it very underground, and I was like, "Just trust me. Let me do what I do." Which she did. She went back to L.A. after she sang the song and I got to finish it off in New York.

Billboard: How long from start to finish — from the initial reaching out to you, from that point until you've actually finished recording the song?
Shep Pettibone: Hmm. I would say I sent her the track [and] within possibly like two weeks she came to New York to sing it. I think right after that she was on to something else, and I think it was within a week or so that I finished up the production and the mix and sent it off to Warners.

Billboard: That was a pretty quick turnaround.
Shep Pettibone: I think at that point they were going to put it for the b-side, and "Keep It Together" was coming out, so there was a bit of a rush thing there. But then after they heard it, the attitude was like, "This isn't gonna be a b-side." You know, what avenue… how can we [Warner Bros.] get this out there? She had just done Dick Tracy. So that's why it was part of the Dick Tracy soundtrack [I'm Breathless]. That was the album avenue to get it out on.

Billboard: Did she or Warner ever ask you to contribute anything else to the I'm Breathless album? Because that's the only song of yours that's on that album.
Shep Pettibone: No, because in general the album was done. She had done that album with [Stephen] Sondheim and whoever…

Billboard: Patrick Leonard and some other folks, yeah…
Shep Pettibone: …So it was done. So they just kind of like tacked ["Vogue"] on, so to speak.

Billboard: It's funny how such an iconic song came from a one-off. Something that wasn't part of a larger project, but just sort of a "Let's try this and see what happens." And then it turns into one of the most memorable dance songs ever.
Shep Pettibone: It was Craig that came to me, and he's like, "You have a budget of $5,000." Which, you know, really isn't a lot because you have to pay the studios, you have to pay engineers, musicians, et cetera, et cetera. So, the whole thing was really done on a shoestring budget. Where we recorded it, and where she actually sang the vocals was in somebody's basement on West 56th Street, I think. [Laughs.]

Billboard: So for the song, you had a budget of $5,000?
Shep Pettibone: Right.

Billboard: And she recorded the vocals in a basement?
Shep Pettibone: Yes. Somebody had made a home recording studio, and I remember they had converted a closet that had bi-fold doors on it. They had put a sliding glass door on it, and that was the vocal booth.

Billboard: Keeping it really underground there.
Shep Pettibone: [Laughs.] Totally! Totally. It was underground.

Billboard: That's kind of hilarious that it only cost $5,000.
Shep Pettibone: I remember the multitrack [recording machine]… it was a 24-track multitrack, but I think only a few of the cards were working right. Because it was a secondhand machine. So, to record a track you'd have to pull out, slide out a card, and then move it to the next track to be able to record the next track. And so on, and so on. It was that low-budget.
Billboard: I think people today maybe don't appreciate the amount of technology that we have now that can enable us to record things so quickly, and the kind of stuff that we have at our disposal, as opposed to 25 years ago, when it was a very different time. Certainly, the remixes that you did, and the production that you did, sounds still very contemporary today, because of the kinds of advances that you had made on your own. Like, you made things sound so advanced even though, you were in a way, limited by the technology that we had at the time.
Shep Pettibone: I was. Time-wise, budget-wise… For instance, you mentioned "Express Yourself." I did both the, let's call it a remix of the album version, and then I did my whole other production and everything. The mixes of both of those productions, or versions, were done within like, you know, a 15-hour time span. So a lot was fit into a small amount of time.

Billboard: Wow.
Shep Pettibone: I was really the innovator of doing that [reproducing a song entirely for its remix]. Because before that, people would remix or you know, add some percussion or something onto a track, and then that would be called a remix. Here I was re-recording all the music and everything.

Billboard: The kind of remixing that we know today certainly can be traced back to what you did in the '80s. It's informed the kind of remixing and the kind promotion that happened with dance records and pop records. Certainly the reinvention of songs where a remix could be [promoted] to pop radio and they would [play] that version instead of the original album version. It was just a slight tweak here and there, it was sometimes a complete reinvention of a song, which you did a lot. Back to "Vogue," did you have any input in the lyrics at all? Or were they all Madonna's working lyrics?
Shep Pettibone: She had the choruses together, and the verses together. And she sang those in place, one by one. And I gotta also add: first take. Especially the verses. She was always a first-take artist. You didn't have to go back in and punch a word. No tonal problems. She was pretty amazing that way… For the middle part, I was like, "How about if we do like a rap or something in here?" Because we didn't have anything for that, really. And she's like, "What do you mean?" I'm like, "Oh, how about like you know bringing in movie stars and stuff?" So, we just wrote down a whole bunch of names of movie stars and that's how the rap came up.

Billboard: Wow. OK, so, the bridge that we know with the rap ["Greta Garbo and Monroe…"] that came from you guys just brainstorming: "Let's put in a rap with a bunch of Hollywood movie stars."
Shep Pettibone: Yeah. In the studio.

Billboard: That's crazy.
Shep Pettibone: But I mean that's how she writes. You know, she's fast. It's just like, give her an idea or a direction to go… The end of the song, also, she was just singing "C'mon vogue, let your body move to the music" over and over. I'm like, "We gotta take this to the next level?" And she's like, "What do you mean?" And that's when I sang her the "Ooooh, you've got to, let your body move to the music." So the ending part, I changed up also, because she had never really done an ending like that, and that just really was a great finale to the song.

Billboard: Wow. Everyone knows the story, obviously, about the success of the song. The music video is so iconic, and it's become a regular occurrence on her tours. And undoubtedly she'll probably be singing it on the next tour. Did you ever think, at the time — I mean, obviously you guys knew had made a cool song — but did you ever think, "Wow, this could be a No. 1 hit!"
Shep Pettibone: No. Absolutely not. I did my best, and I was like, "This is really good." That's about as far as it went. Until [DJ] Frankie Crocker at WBLS — who was the first person to premiere the song during his radio show — played it and he was like, "Well, you've never heard anything like that before here on WBLS." That was a pretty defining moment to hear it on the radio like that. And then within a week or so it was on every radio station everywhere. [Editor's note: in the April 7, 1990-dated issue of Billboard magazine, it was reported that WQHT (Hot 97) was the first radio station to play "Vogue," on March 27 — two days ahead of its scheduled release.]

Billboard: Did your career change at that point? Were you suddenly getting a million phone calls from everyone saying "We need to work with you. Can you produce my record?" Was it sort of an overnight thing for you?
Shep Pettibone: No. I was really, really busy up until that point anyway…

Billboard: I didn't mean to insinuate that you weren't. [Laughs.]
Shep Pettibone: No, no, no… the only thing that did change … was everybody, of course, was like, "Can you make it sound like 'Vogue?'" [Laughs.] And I wasn't in the habit of repeating myself. I mean there's a certain groove to it that I carried into some of the Janet Jackson remixes and a couple others. But never recreated it. I'm sure you're aware of how record companies want everything to sound like your best last thing.

Billboard: Right. And you, in a way, this sort of dovetails into it, you actually revisited "Vogue" itself in "Deeper and Deeper" on Madonna's Erotica album, where she re-sings the lyric "let your body move to the music." That had to be a conscious decision…
Shep Pettibone: Oh yeah, definitely. We got to that point and we're like, "What the hell. Let's have fun with it." We had a lot of fun doing that album.
Billboard: You continued to work with Madonna after "Vogue" — you [co-produced and co-wrote] on "Rescue Me" for The Immaculate Collection. You remixed the songs on The Immaculate Collection in Q Sound, which, at the time, I think people were — I don't know if upset is the right word — but certainly it was kind of a big deal that an entire greatest-hits album sounded different than the hits that people were used to. [Q Sound was a technology used to create an effect where the music would surround the listener.] Was that kind of an unusual thing for you to be offered at the time?
Shep Pettibone: Well, actually some of the songs we changed up a bit, but most of the songs we kept in their original form. Like "Holiday," "Lucky Star," et cetera, et cetera, those were all the original productions. The remix was just really to create the Q Sound, and make the song kind of envelop you when you listened to it in a certain sweet spot in front of the speakers.
Billboard: Which I still contend it's pretty cool, because when you listen to something like "Lucky Star," you hear the [swirling opening synth] "whrrrrrrr" [sound] actually circle your head.
Shep Pettibone: Yeah! It was actually a lot of work, I gotta say. That wasn't easy to do. But then again, that was one of those — you know, "Hurry up, this has to be out last week." That was a rush rush job.

Billboard: There always seems to be very little time with Madonna when she works on albums. It's [very much] like "We're not gonna waste time, we have only a few hours…" I've read a lot of information about you working with her and it was very "Alright, we don't have time to waste. I'm getting bored. We have to move on."
Shep Pettibone: Oh, she was always like that. It was almost to the point of intolerable. If a piece of equipment would break, she'd make you feel like it was your fault because the multitrack broke for instance. [Laughs.] I don't miss those days.

Billboard: Obviously you had a great working relationship, and a very fruitful one with her, after "Vogue." Not just The Immaculate Collection and "Rescue Me." You had another No. 1 hit with "This Used to Be My Playground," and then the whole Erotica album, effectively, was co-written and co-produced with you. Is there any particular reason why you did not continue to work with her after [Erotica]?
Shep Pettibone: I actually did. We wrote some songs for what became Bedtime Stories. But, halfway through, she changed her direction and wanted to go more hip-hop. And that's what happened.

Billboard: It wasn't any sort of negative thing? It was just a "I'm going to go in this direction now and I'm going to go work with these other people." It wasn't like a bitter thing, right?
Shep Pettibone: No. I mean, that's just how… she's like that 'til today. She's always moving on. That's why she's always been able to change herself because she always works with somebody else. They all inspire her to do something else and different.

Billboard: You must have stuff stashed away somewhere. Are there unreleased remixes that you did for her, or unreleased songs that were never completed that you have sitting around in vault?
Shep Pettibone: Yes there are. Some of them have gotten out there. I don't know how they got out there, but some of them have kind of found their way out. But there's also some that nobody has ever heard.

Billboard: Hmm.
Shep Pettibone: And that's how it was supposed to be.

Billboard: Right. Obviously, if it was meant to be released, it would have been released.
Shep Pettibone: Exactly.

Billboard: I look forward to the night where I can come to your club and I'll hear an unreleased remix that you did…
Shep Pettibone: That wouldn't be in the vault! [Laughs.]

Billboard: Darn it! On a more serious note, it must have been a gratifying moment — I don't know what the right word is — back a couple years ago when you and Madonna won that lawsuit over allegations of sampling in "Vogue." [VMG Salsoul contended that "Vogue" sampled a horn heard in the Salsoul Orchestra song called "Love Break," which was remixed and released in 1983 by Pettibone, on Salsoul Records, as "Ooh I Love It (Love Break)."] You must have been very happy with that decision when it was made, I would assume.
Shep Pettibone: Very happy. It was a very expensive lawsuit and the whole thing was frivolous. Just lies. It's just amazing that somebody could come up with a concoction of "we found a new technology that proves that you sampled and stole this sound and put it in your song," when they were using something called waveform technology. Which had been around since the '80s. So all that stuff came out, we went to musicologists. Oh my gosh, so much stuff to prove that the sound had been re-created, not taken from the record.

Billboard: Right. Because the suit was never about where the inspiration of "Vogue" came from, it was more about the assertion that it was actually a direct lift of the horn stab from "Love Break." I think most people would agree that when you listen to "Vogue" and "Love Break," there's certainly an inspiration there… [In 2013, a U.S. District Court judge in California found "that any sampling of the Horn Hit was de minimis or trivial."]
Shep Pettibone: If you listen to one, you go, "OK, it sounds like that." And you listen to the other, "Boy, they do sound similar." But when you play them right next to each other, that's when you're like, "Oh, it does sound different."

Billboard: Yeah. And I don't mean to belabor this, but was "Vogue" inspired by that whole sound — that late '70s/early '80s Salsoul sound? To me, it sounds like it was inspired by that material.
Shep Pettibone: Oh, it totally was. I always enjoyed that groove. If you listen to my Cathy Dennis remixes and stuff, they all had a similar kind of bounce to them, if you will. From the whole Philly Salsoul era of music, which I always loved.

Billboard: At some point you kind of moved away from production, remixing and the music business, and segued over to running your own hotel and club. At what point did you make that transition?
Shep Pettibone: It was like mid-'90s. Because everything really at that point… dance music was really pretty much taboo. Everything had gone hip-hop. And I really… I don't know. I'm not a hip-hop person. I didn't have it in me to write it or produce it, and I'd kind of had enough of music at that point. I'd been doing it for 15 years. It was like, "There's gotta be something else." [Laughs.]

Billboard: And you found it in running your business, from what I've heard, it's a wonderful place to go to and hang out. You guys are doing quite well, right?
Shep Pettibone: Very well. This is actually year number 16. Which is really wild it's been going this long. … Asbury Park had really become so desolate, that nobody even went [there]. So this old hotel came up for sale that had been abandoned for eight years. And I bought that, and there was an area in it for a club, and I put together a club with the idea that if you build it with a great sound system — they will come. And that's what I did. And they did. And then six years later, the town said, "We're gonna take the building by imminent domain if you don't have all the hotel rooms built and finished in the next six months." So that was my next beeline. I went to Amazon.com and got every book there was on hotel management and front desk management, housekeeping. I really self-taught myself about hotels and put the hotel together.

Billboard: Wow. Good grief. So in six months you had to turn it around, or did you find a way to counter the city's assertions?
Shep Pettibone: No, I did it. I found out after they had to approve me that I was kind of the running joke in town. It's like, "He'll never get that done." But I did. I like a challenge. [Laughs.] And that was a big challenge to get 100 hotel rooms together.
Billboard: My god. How often, if at all, do you actually play the club? How often can we find you spinning on the dance floor?
Shep Pettibone: At this point, I just in general do special occasions, like New Year's or Halloween. Or in the summer we do tea dances by the pool. I'll do several of those also.

Billboard: What would it take to lure you into doing a remix for someone? If you were commissioned by a label? Is that something you would entertain? If the promoters of Madonna's new album, that are working it to clubs, if they called you up and said, "Hey, can you remix Madonna's next single?" Would you consider it?
Shep Pettibone: I don't know that I really have the time. Let me tell you, running a hotel, a restaurant, a nightclub and a bar is pretty much a full-time thing. I'm very hands-on. So, it takes a lot of work. I've kept up with the new ways of producing and stuff. I use Logic on my laptop, but I'm not full-blown at it. The way you make music now is night and day as to how you did it 25 years ago. So maybe the answer is: I don't think so, but you never know what can happen.

Billboard: I like the non-committal vague answer. That's a good one. [Laughs.] I hope you realize that there are so many people that would just absolutely lose their mind if a new remix or a new production by you were to be released today. There would be a collective "Oh my god!" around the world. I'm not just saying that because we're on the phone. I think people would lose their minds.
Shep Pettibone: It better be good, too! [Laughs.]

Billboard: True, but it would be! Because you know, it's you!
Shep Pettibone: Yes. Yeah. Thanks, Keith.

Billboard: Is there anything else that you would like to tell me about "Vogue" or Madonna that I'm missing? Actually, I'm kind of curious, when was the last time you spoke to her or had contact with her directly? I'm assuming it's probably been a little bit?
Shep Pettibone: Oh, it's been a long time. Maybe 20 years?

Billboard: Wow.
Shep Pettibone: At least it was before I built the club. And that was 16 years ago. So, yeah, it's been at least… about 17 years. 17 to 20 years.

Billboard: Maybe we can lure her into your club. [Laughs.] The next time she's coming through.
Shep Pettibone: My crowd would love it. They would definitely, definitely love it.

Billboard: … Well, thank you sir, so much. It's been a great pleasure speaking to you. I could talk to you for a very long time and pick your brain about a million different remixes and so much stuff. But I know that you probably have a lot of other stuff to do right now. But thank you so much.
Shep Pettibone: You're so welcome. It was a pleasure talking to you.

Madame X is available in Box Set, CD, Vinyl and Cassette!
Get your copy HERE!
comments powered by

Disqus