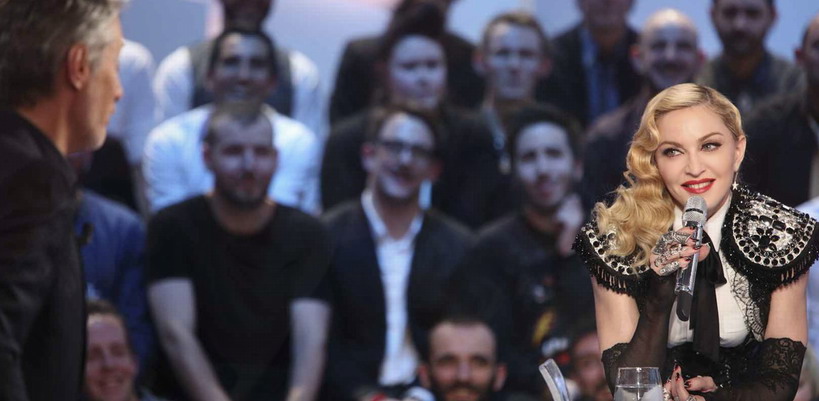 On March 2nd, Madonna was a guest on French TV show Le Grand Journal on Canal+ for the promotion of her new album Rebel Heart.
In an exclusive interview with French TéléObs the host Antoine de Caunes talks about how it all went down and how difficult her manager was.
He explains…
When American artists come to Paris for a promo tour, they're surrounded by a huge entourage of publicists – it's even worse than politicians – and they demand full control over everything. Whenever something goes a little off track, like asking them to put a jerrycan on their head, we get a "No way, no fucking way."
What happened with Madonna is very funny and revealing.

We discussed her appearance on the show, had email exchanges with her manager and decided to create a full episode around her.

The day of the recording, her manager comes to us. It seemed he didn't read any of the emails, because he said "She'll only do two songs, answer three questions about the album and that's it. Done!"

I go "No, we're also going to ask her questions about current events".
He replies "No way".
And the whole day, things went like that.

Before we went on air, that manager, who stands an impressive 6.4 feet tall, comes to me, puts his finger on my breastbone and says "You don't fuck with me."
In my French accent I tell him "No, no, no, of course. Why should I fuck with you? »

When the cameras roll, straightaway I ask Madonna how she reacted on 7 January when she learned about the attack against "Charlie". Her manager went crazy.
We did the whole show like we planned: Madonna goes along, she's delighted.
Luz shows up. They hug.
Her manager wanted to break everything. But when he saw Madonna was happy, he changed his attitude.
Source: TéléObs
Translation: Madonnarama

Madame X is available in Box Set, CD, Vinyl and Cassette!
Get your copy HERE!
comments powered by

Disqus